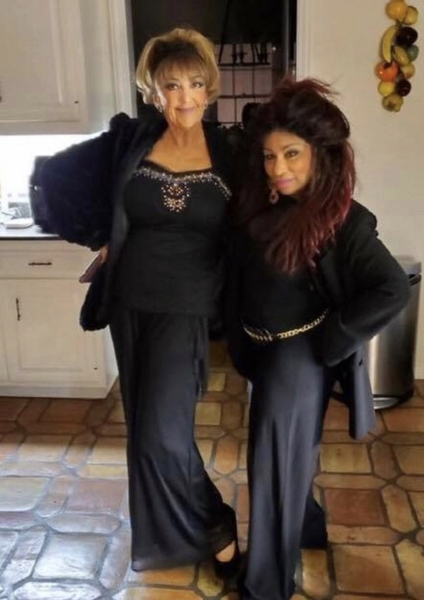 I got a call the day before New Year's Eve from Chaka Khan who said "Gurl, would you like to be my date on New Year's eve?" Date? OK. Where? What are we doing? "Joni Mitchell's party". Yes.
Turns out Chaka wanted me to accompany her on 'Round Midnight and basically any song I cared to play because she can sing anything, as you know! Drove to Chaka's house in L.A. I got dressed and she did my make-up and naturally, I looked like I'd been to the tropics because her make up matched her skin tone, not mine! But somehow it worked. Hairpieces, heels, 'highlashes', the whole shebang.
"Leave your guns at the door" was written on a large board at the entrance to Joni's Spanish-tiled house in Bel Air. Guests unloaded their cell phones and put them in individual Ziploc bags with their names on them. The young ones were veritably anxious and could not make a conversation. Not used to being without their phones. It was the ultimate test.... to see teens and a bunch of 20 somethings visibly lost without their devices. There were to be no selfies or any snaps of any kind.
Joni is now in a wheelchair having suffered a brain aneurysm but is stable, alert and listening but slow to speak. The walls were heaving with her art, her photographs, her portraits. A rich colorful life well-lived. However, the party was dead when we arrived. Chaka stood with her back to the fire and began singing along to Motown playing through the speakers. It all started to liven up. Her energy alone! Then a young person, unaware of who she was, turned to her and said 'Wow. You know you can really sing! You should be on The Voice!!'
Eric Idle arrived (Monty Python) and began tapping on a log percussion instrument parked on a coffee table. I saw some bongos and began playing them. The crowd was surprised! Then I decided to move over to the piano and played for 2 hours. I played songs people could sing along to. Did some bossa novas. I sang Ipanema, the Boy from, the woman's perspective. Eric was playing guitar at this point, singing it from the man's perspective. His chorus went "when The Girl from Wolverhampton goes walking". Classic Eric!
A strange moment when I started the intro to my version of 'Round Midnight when.... in walks Herbie Hancock....jazz hero! I stopped cold and offered him the piano stool as he is famous for his rendition but no, he said to play on. It went over well, thank God.
It was adorable to see Chaka kneeling at Joni's feet checking on her from time to time. CK at this point had become a musical director! She encouraged Joni to sing. She walked very gingerly (with help) over to the piano and said she wanted to sing Summertime. I play it in C minor. Chaka said, 'Move that down 4 or 5 keys'. I simply couldn't transpose that quickly because I had so much music in my head from ragas to ragtime, Bach to Beatles, etc. I grabbed a glass of wine poured it down my throat and it came to me! Then suddenly I was ordered to play Auld Lang Syne. It was midnight!!!! I couldn't remember it! How can someone not remember that song?! I asked someone to quickly 'pass me that glass of champagne' and it came flooding back. Honestly, without the assistance of alcohol stimulating my brain buds at that last moment, I couldn't have made it. It tied me over and I'm comfortably back on the wagon again after 43 days of abstinence.
A great way to close 2019 and welcome 2020! Happy New Year to all!!
p.s. I had a sweet moment alone with Joni at the end. I was complimenting her on the colorful little bands wound into her two long ponytails draped over her shoulders. I said she looked very Native American. She said she was. A Sami. The Sámi people are an indigenous Finno-Ugric people inhabiting Sápmi. That made sense. We talked about The Chumash here in Ventura. Then I asked her if I could kiss her on the cheek. One from a friend of mine and one from me. A precious moment to be treasured forever...