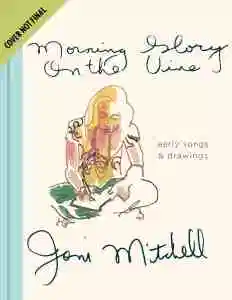 UPDATE: Joni Mitchell has signed 2,000 deluxe editions of her new book. Find out all the details on the standard and deluxe versions below!
Music icon Joni Mitchell has been in the news a lot lately. In November, she organized and attended the Joni 75 birthday tribute concerts in her honor, which were turned into a film. There was also the 8-LP reissue of the Love Has Many Faces collection, Norman Seeff's photo book, the blue vinyl reissue of Blue, not to mention the release of Joni 75: A Birthday Celebration on CD, and the news of a 2-LP edition due for Record Store Day Black Friday!
Back in March, Joni Mitchell announced the October 22 release of Morning Glory On the Vine: Early Songs & Drawings. It's an expanded version of a rare privately pressed and handmade book that Mitchell originally created as a gift for close friends in 1971. Originally 58 pages long with 30 illustrations and watercolors and handwritten lyrics, the new version is a 128-page volume that features even more "lively, full-color watercolor paintings, depict[ing] a superb array of landscapes, still-lifes, portraits of friends, self portraits, innovative abstractions, and more." It will also incorporate "several additional works that Joni had intended to include for her friends in 1971," plus an original introduction written by Joni herself.
We recently got word that Joni has personally signed 2,000 copies of the book. Each will be presented in a deluxe edition that features a tip-in insert with Joni's signature. The edition is bound in a cloth textile one-piece green cover (selected by Joni) with bronze metallic foil stamp on the front and spine. It is housed in a full-color, silk-effect slipcase and includes two loose art prints in a vellum envelope. Copies will be available at Barnes and Noble (U.S.), Waterstones (U.K.), and through Premiere Collectibles online. A select number of independent brick-and-mortar retailers will also have copies available.
Waterstones is offering fans a chance to win a signed copy of the book (and a commemorative tote bag). All you have to do is pre-order a copy of the standard edition from their online shop. 35 lucky winners will have their book upgraded to the signed edition. The contest closes on October 21.
Morning Glory on the Vine: Early Songs and Drawings sees Joni Mitchell revisiting her early artwork and lyrics with a stunning compendium that invites fans and newcomers alike into her distinctive visual world. The standard version and signed, deluxe edition are due on October 22 from Houghton Mifflin Harcourt.