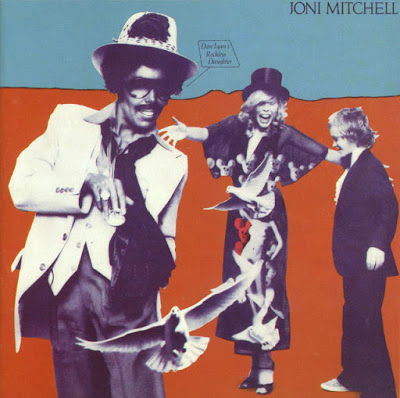 I discovered I didn't own Don Juan's Reckless Daughter either on LP or CD -- which means I don't know the music from it, except for anything performed live or on compilations.
This means I have only my current opinions and impressions, and no earlier thoughts to compare them to. I can conjecture that I wouldn't have liked this album when it was released in 1977, or in 1987 for that matter, because I wouldn't have understood it. I hope by 1997, when I was beginning to explore jazz, I would have been ready to listen.
It is jazz. And it is Joni. I like it a lot, and I can tell that repeated listenings will yield more meaning.
On DJRD Joni works with a group of jazz artists, including four members of the Weather Report ensemble -- Jaco Pastorius (who was already Joni's friend and collaborator), Wayne Shorter, Manolo Badrena, and Alex Acuña.
The first track, "Overture," is played on six guitars in different tunings for a shimmering, echo-y effect. On the first vocal track, "Talk to Me," we hear the unmistakable rhythms of Joni strumming over a jazz backdrop. Joni's vocals have the talk-singing quality that she used on Hejira, but more so, almost as if she's reciting a poem. "Talk to Me" is marked by Joni-style humour -- which critics may think is an oxymoron.

We could talk about Martha
We could talk about landscapes
I'm not above gossip
But I'll sit on a secret where honor is at stake
Or we could talk about power
About Jesus and Hitler and Howard Hughes
Or Charlie Chaplin's movies
Or Bergman's nordic blues
Please just talk to me
Any old theme you choose
Just come and talk to me
Mr. Mystery talk to me

. . .

Is your silence that golden?
Are you comfortable in it?
Is it the key to your freedom
Or is it the bars on your prison?
Are you gagged by your ribbons?
Are you really exclusive or just miserly?
You spend every sentence as if it was marked currency
Come and spend some on me
Shut me up and talk to me
I'm always talking
Chicken squawking
Please talk to me
"Paprika Plains" is a 15-minute piano and orchestral piece, reminiscent of Court and Spark, with some lyrics printed on the album cover but not sung. The lyrics are widely open to interpretation, as poetry often is.

Restless for streets and honky tonks
Restless for home and routine
Restless for country safety and her
Restless for the likes of reckless me
Restless sweeps like fire and rain
Over virgin wilderness
It prowls like hookers and thieves
Through bolt locked tenements
Behind my bolt locked door
The eagle and the serpent are at war in me
The serpent fighting for blind desire
The eagle for clarity
What strange prizes these battles bring
These hectic joys these weary blues
Puffed up and strutting when I think I win
Down and shaken when I think I lose
There are rivets up here in this eagle
There are box cars down there on your snake
And we are twins of spirit
No matter which route home we take
Or what we forsake
We're going to come up to the eyes of clarity
And we'll go down to the beads of guile
There is danger and education
In living out such a reckless life style
I touched you on the central plains
It was plane to train my twin
It was just plane shadow to train shadow
But to me it was skin to skin
The spirit talks in spectrums
He talks to mother earth to father sky
Self indulgence to self denial
Man to woman
Scales to feathers
You and I
Eagles in the sky
You and I
Snakes in the grass
You and I
Crawl and fly
You and I
Those last lines reference "Down to You," the Court and Spark song with a long instrumental bridge -- "you can crawl, you can fly too". Here again, Joni contemplates her own duality and the duality of human potential.
"The Tenth World" is an extended Latin percussion piece: congas, bongos, surdo, cowbell, shakers, and whatever else, with some vocals in Spanish. Joni shares writing credits Don Alias, Manolo Badrena, Alejandro Acuña, Airto Moreira, and Jaco Pastorius.
"Dreamland" is the most well-known song on DJRD, because it's been captured on live albums; Joni was performing it live before Don Juan's was released. It's the most accessible song on the album. Joni sings about all of us here in the first world, in the global north, using other cultures as vacationlands, insulated in the national identities that we carry with us. She might also be musing on we Canadians using our own national identity as a defense against accusations of imperialism.

It's a long long way from Canada
A long way from snow chains
Donkey vendors slicing coconut
No parkas to their name
Black babies covered in baking flour
The cook's got a carnival song
We're going to lay down some place shady
With dreamland coming on
Dreamland dreamland
Dreamland dreamland

Walter Raleigh and Chris Columbus
Come marching out of the waves
And claim the beach and all concessions
In the name of the suntan slave
I wrapped that flag around me
Like a Dorothy Lamour sarong
And I lay down thinking national
With dreamland coming on
Dreamland dreamland
Dreamland dreamland
The title track is a poetic self-portrait. The music has clear links to Hejira -- you can hear strains of "Coyote" -- but the poem is unique in the lexicon of Joni's self-reflection.
On the whole, Don Juan's Reckless Daughter is a complex, layered, textured, somewhat challenging album. It has a hypnotic quality, almost dreamlike. It's not a collection of songs; it's a work that needs to be heard in its entirety. Those who enter into it and spend some time wandering through will be richly rewarded.
Racism and Islamophobia? 
One song on DJRD makes me cringe -- at least one line does. It stands out so much that the man who runs jonimitchell.com has added an asterisk and some news stories by way of explanation.
Apparently the song was written after a terrorist attack in Washington, when a group of people identified as Hanafi Muslims held hostages at Washington's B'nai B'rith offices, an Islamic centre, and some local government offices. Apparently the incident had nothing to do with Israel or Palestine. Nevertheless, these lines -- repeated as a refrain throughout the song -- are so jarring!

They've come for sun and fun
While Muslims stick up Washington.
Considering the US's relationship to Muslims and Muslim-majority countries, this line is more than a bit strange.
Racism, well... that's the cover story.
Bad critic comment of the album
Is there ever a lot to choose from! This album was called "remote," "bland," and "weird".
For worst, I'll take this entire review from People magazine:

Tedious and morose melodies - conveyed by poetic histrionics - fit perfectly with Mitchell's funereal delivery. A downer.
The album cover
This is the only album cover of Joni's that I dislike. It's awkward and graceless, and seems beneath her.
More importantly, the album cover is controversial. There are images of three people, who are all Joni, in costume -- including the African-American man in the stereotypical 1970s pimp outfit. Yep, that's Joni in blackface. Apparently this is one of Joni's alter-egos, named Art Nouveau. Much has been written about this, from writing off Joni as a racist, to downplaying it as "things were different then".
An interesting analysis is here on the BBC website. There's more explanation in this excellent long piece from The Cut: Joni Mitchell, Unyielding. That piece includes some funny lines about Taylor Swift playing Joni in a biopic.
What do I think?
I don't know what to make of either the blackface or Joni's answers about it. I find the "Muslim" line in the song much more disturbing than Joni's dress-up -- although both are puzzling.
Do I think Joni is racist? No, I don't. If we're going to label someone as a racist, there should be more evidence than this.
Has she ever had a racist moment -- a thought, a comment, a misstep? We can assume so. We can assume that everyone has had racist moments. We live in a racist world, and none of us is completely unaffected by that.
Joni dressing as a pimp for a Halloween party is an odd choice, but also funny.  Using that same costume on an album cover is seriously tone-deaf. I don't get it. But I don't think that one act makes her racist. I do think it's interesting that these images are always discussed as blackface, and never (that I've seen) as cross-dressing.
I see no evidence that Joni Mitchell is a bigot, and plenty of evidence that she is not. I hope she's not Islamophobic. But either way, I don't expect her to be perfect. It's one line on one song, one image on one album. At worst, it's one minor misstep in a very long and rich career.
Cacti or stockings?
I haven't found any cactus, stockings, or nylons on this album. Those images have been replaced by Indigenous imagery -- eagles, serpents, feathers, braids, drum beats -- and to being a settler, a foreigner, or a tourist. There are also repeated images of Blackness, and many references to dreams and dreaming.
Other musicians on this album
Bass, Jaco Pastorius
Drums, John Guerin
Bongos, Snaredrum, Sandpaper Blocks, Don Alias
Congas, Don Alias, Manolo Badrena, Alejandro Acuña
Shakers, Alejandro Acuña
Surdo, Airto Moreira
Cowbells, Jaco Pastorius
Congas, Manolo Badrena
Soprano Sax, Wayne Shorter
Electric Guitar, Larry Carlton
Vocals, Chaka Khan
Piano, Michael Colomber
"Paprika Plains" orchestrated and conducted by Michael Gibbs