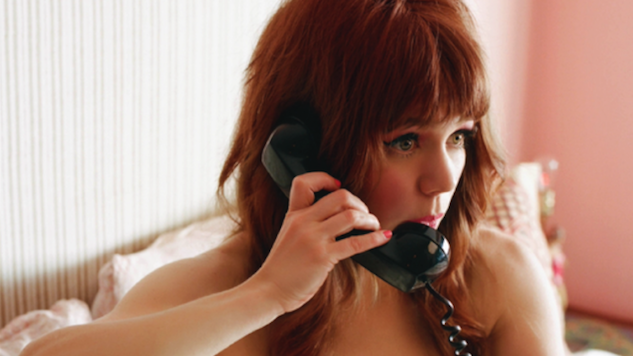 The title track of Joni Mitchell's 1970 album Ladies Of The Canyon describes three women. They lived in Laurel Canyon, up in the Hollywood Hills, along a mountain gorge that had long been a bohemian refuge not far from Sunset Strip. In the late '60s, folk and rock 'n' roll musicians began moving into the cheap cottages on the dead-end streets branching off Laurel Canyon Boulevard.
Mitchell lived in one such home with her then-lover Graham Nash, who immortalized it as "a very, very, very fine house with two cats in the yard" and who has always insisted he first sang with David Crosby and Stephen Stills in that cottage. Also hanging out in the Canyon were Neil Young, Jackson Browne, J.D. Souther, Glenn Frey, Don Henley and Gram Parsons, but it was the women who set the tone: Linda Ronstadt, Emmylou Harris, Cass Elliot, Carole King and especially Mitchell.
There was a lot of sex and drugs going on, but we'll leave those stories to the anthropologists. What endures from that time is a particular kind of music, a sound still practiced today by artists from Molly Tuttle and Weyes Blood to Jenny Lewis and Patty Griffin, from Josh Ritter to Dawes. It was a musical reaction to the urban, street-corner masculinity of most rock 'n' roll before 1970. By contrast, the Laurel Canyon Sound was rural, domestic and feminine - even when created by Browne, CSNY and Souther - full of introspective lyrics, twangy wood instruments and pillowy vocal blends.
Like any other genre, it yielded records both magnificent and awful, but the blanket dismissal it received then - and still gets today - smacks of misogyny and homophobia. After all, what are phrases such as "soft-rock," "granola folk" and "mellow music" but euphemisms for "girly"? Why shouldn't home life where women ruled be as worthy a song subject as the street life where men ruled? Why shouldn't the pleasures of three-part vocal harmony count as much as the pleasures of the power chord? (And vice versa, of course.) But the strengths of the Laurel Canyon Sound could easily curdle into weaknesses. The brave examination of one's own doubts and desires could lapse into mere narcissism. The desire to beautify one's home, clothes and body with an artist's creativity could become bourgeois consumerism. The instinct to wrap every lyric in evocative vocals and folk instruments could devolve into all atmosphere and no substance.
No one understood this better than Mitchell, the genre's true genius. One of the women in the song "Ladies of the Canyon," was Trina (loosely based on cartoonist/artist Trina Robbins), who embroidered her second-hand coat with leaves and vines. Yes, it was beautiful, but is this "antique luxury" rebellion or middle-class privilege? Annie (loosely based on the Mamas and Papas' Cass Elliot) [ed note: not true] fed every stray who walked in - feral cat or male musician, it didn't matter. But was this maternal magnanimity or servile co-dependence? Estrella (loosely based on Mitchell herself) [ed note: also not true] hurled "songs like tiny hammers" at "beveled mirrors in empty halls." The domestic sphere of women deserves attention, she implied, but at what point does it become merely insular?
With such questions, Mitchell pushed the boundaries of the Laurel Canyon Sound as far as it could go in a string of six brilliant albums between 1968 and 1974 - the first half-dozen LPs of her career. She then broke out of the cul de sac by veering left into jazz-rock. Raitt and Harris could always fall back on sturdy older traditions - blues and country, respectively - when their music threatened to become too precious. King and Ronstadt weren't so lucky; they drifted into tired imitations of their terrific younger work. The early records of all seven women were so powerful that even today many singer-songwriters - mostly, but not only, women - keep returning to that well. Getting a lot of attention right now for her revival of the Laurel Canyon Sound is Natalie Mering, who records as Weyes Blood. Her new album Titanic Rising combines the introspective musing of Mitchell with the plush, folk-rock harmonies of the Mamas and the Papas. As it happens, she's a lot better at the latter than the former.
Mering co-produced the album with Foxygen's Jonathan Rado, and they layer soothing synths and breathy vocals into a thick coat of cotton and woolen sound. As the tempo crawls along, the effect can be hypnotic. But underneath the coat are lyrics and melodies so anorexic that they resurrect the Laurel Canyon Sound as its most vague and narcissistic.
On the opening track "A Lot's Gonna Change," Mering yearns to "go back to a time when I was just a girl, when I had the whole world gently wrapped around me and no good thing could be taken away." She conjures up that wrapping in cushiony piano, strings and multi-tracked vocals, but the lyrics' unfocused, childish wish to hide away sets the tone for an album that proves maddeningly amorphous and insular.
A far better revival of Mitchell's legacy is Molly Tuttle's When You're Ready. Like Mitchell, Tuttle emerged from the acoustic-folk world as an impressive guitarist (Tuttle was named Guitar Player of the Year in 2017 and 2018 by the International Bluegrass Music Association). On this new recording, however, Tuttle moves beyond her string-band roots to adopt the classical strings, rock guitar, pop keyboards and SoCal harmonies of the lusher Laurel Canyon Sound.
Her songs are good enough to thrive within these arrangements. With help from such co-writers as Jewel Kilcher, Steve Poltz, Sarah Siskind and producer Ryan Hewitt, Tuttle evokes romantic and existential crises with vivid detail and with melodies that linger long after the song is gone.
On the wonderful album opener, "Million Miles," Tuttle moves smoothly from the mundane aggravation of waiting for a cable-TV repairman to a lament for an absent lover to a fantasy of a flood washing her living-room couch out the door and out to sea. The "doo-doo-doo" refrain is irresistibly catchy, and the string and guitar parts elaborate the tune dizzyingly.
Most of the songs describe a relationship at a crisis point. Should the singer give her lover one more chance or is it better to end it now? And this question sparks others: How much weight should a woman in her 20s give to love and how much to her career? Should she stick to her own road or turn off to follow another?
The uncertainty is reflected not only in inventive language ("You can try to control the weather, but the rain inside you is still gonna fall" and "I couldn't hear my intuition blaring at me like a smoke alarm") but also in music that resists easy resolutions as uneasy chords jostle each other. Near the end of the album, she concludes, "The world moves by like a picture show...in the pitch black I'll watch it roll on this flickering screen." One gets the sense that as the film unspools, this young prodigy will be taking notes and will report back to us with even better songs in the future. As she moves into that future, she could find no better role model than Patty Griffin. Griffin comes closer to Mitchell's ability as a wordsmith than anyone else mentioned in this article. Several of Griffin's earlier albums have benefitted from the sumptuous side of the Laurel Canyon Sound, but her new release, Patty Griffin, is as stripped down at Mitchell's Blue.
Having survived a bout with breast cancer after a relationship with Robert Plant a few years earlier, Griffin needed to take stock of choices made and choices yet to come, much as Mitchell had in 1971. And as Mitchell did, Griffin groped for the nub of that turning point by paring down her sound to a minimum: just herself on guitar or piano on two songs, just her and guitarist David Pulkingham on two more, just her and Pulkingham with a few others on the nine other tracks. These spare arrangements work only because Griffin's short, terse lines - both verbal and musical - are strong enough to require no crutches.
Pulkingham's flamenco flourishes introduce the opening track, "Mama's Worried," and Griffin sings in a stoic soprano, "She tells everyone she's fine, but she's hurting bad and worried so; she don't want no one to know." The reticence of the character is mirrored by the reticence of the songwriting, and that makes both the hidden pain and the brave face that much more real, that much more moving. On the next track, producer Craig Ross adds a bass line and Lindsey Verrill a cello line to Pulkingham's guitar as Griffin sings the majestic melody to "River," a feminist anthem that makes its impact by the calm implacability of its claims. Back and forth the album goes, from descriptions of crisis to prescriptions for healing and back again. Shadowing everything is an older person's sense that time is running out. "The hourglass never really runs out of sand," the 55-year-old Griffin sings hopefully over a swinging New Orleans trombone. "You get to the end and you just turn it upside down again." But in the next song, she acknowledges that her dead mother is never coming back "with a suitcase of pretty dresses and shoes."
Two songs after that, she allows that she's "looking for a love that may not come again." Plant, her ex, sings harmony on that one and on "Coins," a song about the time "a chill came down on a beam of sun, natural as cancer." There are songs about the hardships of immigration and the violence of husbands and police. For all that, though, Griffin says there are still "Luminous Places," where love "falls out of the sky in millions of pieces" as gently as the arpeggios from Steven Barber's piano. There are still memories of a time when "it really was that tender, the day I gave my heart away," a moment as open-hearted as Griffin's own translucent vocal. Mering is based in New York, Tuttle in Nashville and Griffin in Austin, proving that the Laurel Canyon Sound is not geographically limited. But Jenny Lewis is a Hollywood kid born to the sound. As a child, she acted in TV shows and movies and was a semi-celebrity before she co-founded the indie-rock band Rilo Kiley, whose success allowed her to launch a solo career. The L.A. sound has always shimmered in her music but never has she embraced it as unreservedly as she does on her new record, On The Line.
If Griffin pursued the minimalist side of the Laurel Canyon Sound, Lewis is after the maximalist pole. She wrote all 11 songs herself, but she crafted them as vehicles for a big, lusty Linda Ronstadt-like soprano to tackle juicy, show-stopper choruses. And like Ronstadt, Lewis drafted celebrity power to put them across; eight tracks were produced by a pre-scandal Ryan Adams and three by Beck. Playing behind her are Concert for Bangladesh drummers Ringo Starr and Jim Keltner, Was (Not Was) bassist Don Was, John Doe guitarist Smokey Hormel and Heartbreakers' keyboardist Benmont Tench.
It's an old-fashioned album that revels in Hollywood glamor and decadence; it should be a fiasco, but it's a triumph. It works because Lewis acknowledges the emptiness behind both the opulence and the debauchery. "I'm wired on Red Bull and Hennessy," she sings in one song, and "I was a girl in a black Corvette getting head in the shadows;... I was a party clown" in another. This is presented neither as tabloid titillation nor as moralistic warning but rather as wry satire - and it's that sense of humor that makes Lewis's ambitions go down easy.
That, and her lifelong gift for melody. When she regrets her "Wasted Youth," she does so to a lilting, early-'60s girl-group chorus worthy of the Shirelles or Angels. When she confesses that she's been a "Party Clown," she declares it boldly with a girlish squeal and ringing bells. As she describes nodding off in a haze of Beaujolais and sun on a "Hollywood Lawn," the rising and falling melodies lure us into the same half-awake state.
That way of life can be blissfully pleasant but also numbing, and it's that dangerous mix that Lewis repeatedly describes and warns of. The reality that the pleasures and beauty of domestic life can be inspiring in certain measures and narcotic at larger doses was key to Mitchell's perception of the scene around her. So too was her insight that men and women needed a negotiated equality for relationships to thrive - and that they needed those relationships. These dilemmas will need new songs as long as they remain unsolved for a new generation of bohemian dreamers and hedonists - and Tuttle, Griffin and Lewis have provided a bountiful new crop.