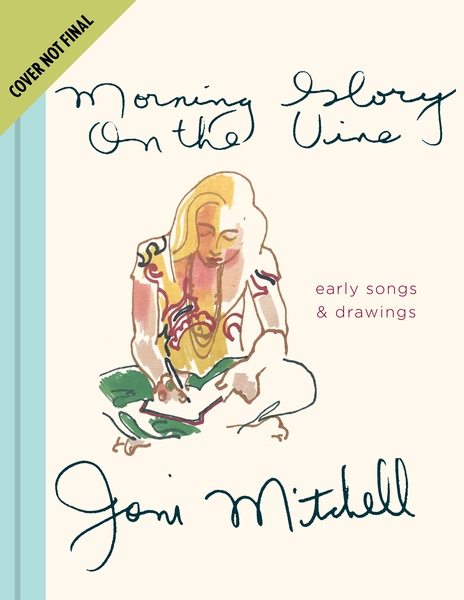 Music icon Joni Mitchell has been in the news a lot lately. In November, she organized and attended the Joni 75 birthday tribute concerts in her honor, which were turned into a film (with international screenings on March 21, PBS airings all this month, and a DVD release arriving March 29). There was also the 8-LP reissue of the Love Has Many Faces collection, Norman Seeff's photo book, the blue vinyl reissue of Blue, not to mention the release of Joni 75: A Birthday Celebration on CD this past Friday.
But Joni Mitchell fans may want to start clearing more space on their shelves! Today, book publishers Houghton Mifflin Harcourt officially announced the first-ever widespread release of an exceedingly rare Joni Mitchell book called Morning Glory On the Vine: Early Songs & Drawings, due out on October 22.
Morning Glory On the Vine was originally a privately pressed, handmade volume that Joni Mitchell created in 1971, just as her landmark album Blue was reaching listeners. The book - which she made in an edition of 100 copies and dispersed as gifts to a close circle of friends - was originally 58 pages long with 30 illustrations and watercolor paintings, plus handwritten lyrics to her songs.
Given its extremely limited nature, very few have ever seen the original book. But now, as Joni celebrates her 75th year, Morning Glory on the Vine: Early Songs and Drawings will be expanded and made widely available to the public for the first time ever. The new, 128-page edition will include all the original "lively, full-color watercolor paintings, depict[ing] a superb array of landscapes, still-lifes, portraits of friends, self portraits, innovative abstractions, and more." It will also incorporate "several additional works that Joni had intended to include for her friends in 1971," plus an original introduction written by Joni herself, as well as updated cover art.
Morning Glory On the Vine: Early Songs & Drawings is an intimate keepsake of an era - a gorgeous volume that celebrates the enduring poetry and visual art of Joni Mitchell circa 1971. It will be released by Houghton Mifflin Harcourt on October 22 and will be available wherever fine books are sold, including on Amazon U.S., Amazon U.K., and Amazon Canada.