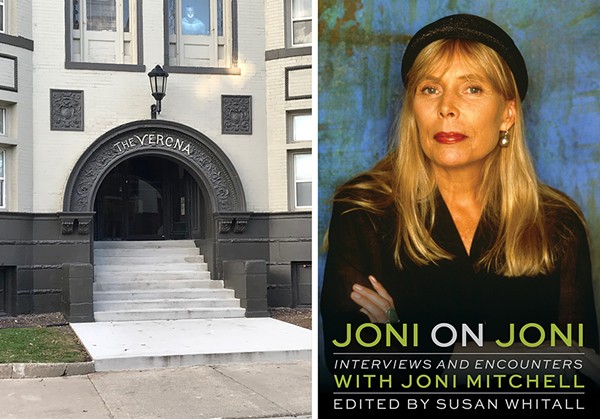 During a 1979 interview with Cameron Crowe for Rolling Stone, singer-songwriter Joni Mitchell confessed that she would rather be "crucified" for changing musical directions than staying the same for the sake of protecting the "formula" that led to her "initial success." Thirty years later, she would go on to call Bob Dylan a "plagiarist" when speaking with L.A. Times writer Matt Diehl in a 2010 interview. "His name and voice are fake," she said. "Everything about Bob is a deception." When asked about the quote years later she told the CBC that interviewer Diehl had misconstrued her words and was, in fact, an "asshole." She then reiterated that Dylan, though he had some songs she liked, was not musically gifted.
Mitchell, who made a rare appearance to celebrate her 75th birthday last month with a star-studded tribute concert in Los Angeles, does not mince her words in conversation or song. Nor has she ever, as evidenced by the recent and meticulously organized anthology of the folk icon's most revealing interviews.
For Susan Whitall - a Detroit music journalist; former editor of "America's Only Rock 'n' Roll Magazine," Creem; and author of Joni on Joni: Interviews and Encounters With Joni Mitchell (Chicago Review Press) - Mitchell remains a bit of an enigma, despite Whitall having spent six months immersing herself in Mitchell's every documented word.
Joni on Joni chronicles the woman who, for the better part of her speckled career, has been publicly perceived as being an elusive and sensitive bohemian poet. But among Whitall's many discoveries was the unflinching way in which Mitchell has consistently viewed and voiced her respective place in the world. Each insecurity, expressed candidly and without pause to whomever she was speaking to is anchored in self-assured declarations of certainty. "He couldn't follow or wouldn't follow my instruction, which has been a problem through my career, trying to get men to do my bidding," Mitchell told Tavis Smiley during a 2014 interview. "You know, I know what I'm doing."
"I think as a society we've been kind of belated in giving her her due," Whitall says of Mitchell. "Think of how many biographies there've been on Bob Dylan and equivalent male artists. She's really a musical genius who happens to be female and there needs to be several biographies. Apparently, there's going to be several more and that's good because there has been a lot of parts of her life that are unexplored," she continues. "I think what I brought to the table with this was a bit more knowledge of her Detroit years."
Perhaps one of the lesser known periods of the Canadian singer's life, aside from having polio as a child and the traumatic pregnancy that forced Mitchell to surrender her child due to financial hardship, is that of her time in Detroit - a city Mitchell later described as "decadent and internally decaying" to the London Evening Standard. She met her first husband folk singer Chuck Mitchell in Toronto and married soon after in Rochester Hills during the summer of 1965. They would move into Chuck's apartment within the Verona, a five-floor walk-up in Detroit's Cass Corridor. Though the marriage was short-lived, Detroit, as Whitall points out, was a critical turning point in Mitchell's career.
Whitall writes, "Such early songs as 'Both Sides, Now' and 'Circle Game' sound as if they were written under endless prairie skies, or in hippie California, but it was in a gritty Detroit that Joni scribed their lyrics in a coffee shop."
"That's what fascinated me," she says. "And I even found out the name of the coffee shop. It was a chain at the time called the Huddle House and that's where she would sit. It wasn't just that she was in an urban environment but in a gritty urban environment. I needed to write that line," Whitall explains. "She was writing her best early stuff right here in Detroit and had it put into musical form by a Motown guy, no less," she says.
According to Whitall, Mitchell's initial foray into the national mainstream came down to two key business decisions made during her time in Detroit, as it was her first husband who pushed the singer to set up her own publishing company and arranged for Motown saxophonist and flutist Thomas "Beans" Bowles to transcribe Mitchell's music sheets.
"I don't think there would be a Joni Mitchell if she hadn't met Chuck and moved down here," Whitall says. "It's hard to see a path without that."
"It was important for her to be able to be paid by people when they covered her songs on records and that's what launched her," she says. "The fact that she could go to a club gig in Philadelphia, she could go, 'I'm the artist. Remember Judy Collins? She did "Both Sides, Now?" That's my song.' That's a great thing to have other artists to do your songs, especially early on like that."
Joni on Joni spans the singer's career from 1966 through 2014. Whitall had just six months to complete the project in order to release the book on Mitchell's 75th birthday, which she did. Being a newspaper journalist, Whitall initially viewed the book's timeline as generous. "I figured, well, it's not that much writing for me, but that took a lot more research than I thought and I wanted to do it right," she says. "I wanted to comment on each interview and what the circumstance was and what the [interviewer] thought."
She adds, "It was a fun six months because I got to play her music every day and hear her voice in my head."
While Joni on Joni joins a growing collection of book-length musings on the singer's life, Whitall isn't convinced that Mitchell's story has reached younger generations, despite getting some prominent and recurring airtime on NBC's family drama This Is Us.
"I have to say as a writer I don't think it's my job to figure that out, but I certainly hope she isn't forgotten," Whitall says. "I think there are things that could help and one is that if she stopped objecting to Taylor Swift doing a biographical movie on her life."
News of the biopic first circulated in 2012. The film, based on Sheila Weller's 2009 book Girls Like Us, which details the lives of Mitchell, Carole King, and Carly Simon, was rumored to cast Taylor Swift as Mitchell. "All you've got is a girl with high cheekbones," Mitchell said of the casting during a 2014 interview with The Sunday Times, "I squelched that."
"I think it's fine because those kinds of movies are kind of kitschy and pop culturally questionable, but that's what gives you a broader audience with younger people," she says. "They will go back to the music and actually discover the real Joni Mitchell, you know? So, I don't expect movies like that to be perfect or really to give an accurate view so much as to bring in more people into the story. And she has some incredible stories."
Aside from learning about Mitchell's Detroit years, Whitall was most taken aback by not only Mitchell's many tales of perseverance but more so by her process, which, she says, was most illuminating to her own creativity. "I think her interviews are about how she creates and how people can create and how you can apply that to your own life and your own work," Whitall explains. "There was no template for what she did. She was the first to do it."
Whitall says she may have had a backstage run-in with Mitchell at some point, but as far as she can recall she has never spoken to her. Her most likely six-degrees-of-separation connection comes in friend, writer, and filmmaker Cameron Crowe, who was the first to escort Mitchell to an event earlier this year following her lengthy recovery from a 2015 aneurysm. Though Whitall admits that the idea of interviewing Mitchell is somewhat intimidating based on everything she has learned, she would gladly accept the singer's aforementioned bite as a journalistic rite of passage.
"I think people are used to the image of her, especially in the early years, where she looks so sweet, and yet she's always been tart. I wouldn't be disappointed if she got mad at me," Whitall laughs. "She does it with everybody."
Susan Whitall will appear at Pages Bookshop on Wednesday, Nov. 28 at 6 p.m.; 19560 Grand River Ave., Detroit; 313-473-7342; pagesbkshop.com; Event is free.