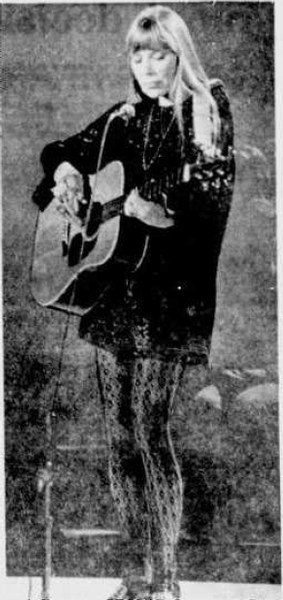 "An early morning, sunshine, rainbow type of song is how 25-year-old folk singer Joni Mitchell introduced one of her songs, Chelsea Morning, during a recent engagement at Toronto's Riverboat coffee house. The term describes both the singer and her music.
The tall, willowy blonde, born in Fort Macleod, Alta., raised in Saskatoon, now living in New York, exudes an innocent charm with her flawless, lilting soprano voice and delicate themes she teases from her guitar.
In less than three years of professional performing, her creative talent has produced more than 60 songs. Among them are The Circle Game, Urge for Going, and Come to the Sunshine. Some have been recorded by Tom Rush and Canadian folk stars Ian and Sylvia and Buffy Saint-Marie.
The poetic pastoral themes derive, in part, from her youth on the Canadian Prairies. But the major source of her inspiration is an acute awareness of the minutia of everyday life.
"I wrote one song from impressions I got looking through the windows of a taxi-cab riding through Manhattan," she said in an interview.
In Come to the Sunshine, she sings of "the morning wet with the kiss of evening."
Joni Mitchell does not sing protest songs, for they seem ironic. "Those who like your songs agree with you. Those who don't, won't listen.
"I've written only one protest song. That was Urge for Going, which was a protest against winter. And it certainly isn't going to stop winter."
She has found that after three years of performing and writing "music is accepting so much more. It has opened its doors to include not only trend followers but performers with something valid and original to say.
"I don't consider myself a trend follower."
The result is a study in evolution. Joni Mitchell is still the naive, straightforward performer of three years ago, but also is a continually growing, maturing artist.
She is using her voice with more flexibility. "I have been trying to sing like an instrument, bending my voice around the music, making it more a part of the music, a little like scat-singing."
She says 1967 was one of her most productive years. Her output of music has increased from 25 songs to more than 60. "I even have fragments and jottings for new ones jammed into my guitar case."
She has learned how to strike up a rapport with an audience. At this summer's Mariposa Folk Festival at Innes Lake, 35 miles northwest of Toronto, she thanked the audience for their applause. But when some catcalls were heard, she repeated her thanks "especially to the drunks out there in the back row."
Now she is a welcome performer at the coffee houses of Toronto's Yorkville Avenue. Burnie Fieldler, owner of the Riverboat who has booked her regularly for more than two years, says of Joni Mitchell:
"I think she's a great singer. By that I mean better than Joan Baez."
Her acceptance as an individual talent has resulted in a contract with Reprise records and a long play record to be released by spring.
She has written a theme song for the CBC-TV program, The Way It Is.
Aside from Ottawa and Toronto, she has been successful in the United States,playing regularly at the Cafe au Go Go in New York, Philadelphia, Detroit, Ann Arbor, Michigan, and, one of her favorite spots, Fort Lauderdale, Florida.
"But one of my big wishes is someday to play my hometown of Saskatoon. I'd like that."