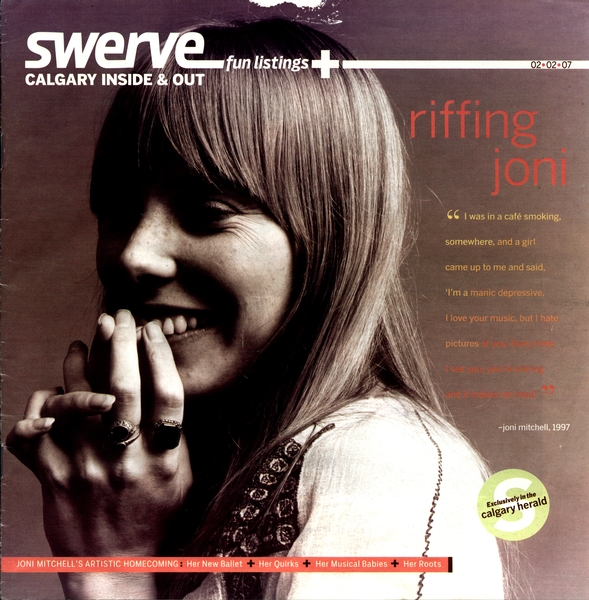 Songs To a Seagull 1968
"Never is my joy completely joyous there is always a thread of dissonance running through it. My joy always is against a backdrop of a world in trouble. The cords are more complex than simple emotions. Pop music likes its happiness major and its tragedy minor."
Clouds 1969
"Clouds was inspired by a moment in a book. This guy is up in a plane looking down at clouds and I was up in a plane looking down at clouds."
Ladies of the Canyon 1970
"Man is a cancer on this globe and he was supposed to be the custodian. I am mad at my species and always have been and it leaks into the pieces from Woodstock on."
Blue 1971
"If they are going to worship me they should know who they are worshipping. I didn't want a deception and I also didn't want the inequity of being placed on a pedestal. I wanted to create a persona that was actual so that if I had any insight to pass on, and I took the responsibility seriously, since I had a public voice I better be presenting something nourishing and useful."
Court and Spark 1974
"It's a man's business and rather than complain about it you have to develop some strength. You can't just go fluttering about like Madam Butterfly."
Hissing of Summer Lawns 1975
"A lot of it is image first. You envision the imagery and you transcribe it into words and you parquet it into the melody."
Hejira 1976
"HEJIRA was a cleansing process. I was very pensive driving across America solo. That's when most of that was written. It comes more to life if you take the same journey."
Wild Things Run Fast 1982
"I was at a café somewhere, smoking, and a girl came up to me and said, 'I'm a manic depressive. I love your music, but I hate pictures of you. Every time I see you, you're smiling and it makes me mad!' So there's a person who thinks, 'I'm suffering, she's suffering.' If they see evidence otherwise, they feel I'm inauthentic. Whereas I feel more ambidextrous: I suffer, I enjoy. I suffer, I enjoy."
Chalk Mark In A Rainstorm 1988
"The critics have not been kind to me for many years but I get my nurturing and my will to go on from the man or the woman in the street."
Night Ride Home 1991
"We thought of it (Come In From The Cold) like a teaser from a movie."
Travelogue 2002
"I would call myself a penitent of spirit, not a confessor. The point is not to confess. The things where I have revealed my own foibles or frailty are generally within the context of the work to create a very human character and therefore a rich character full of human experience."
—compiled by Jaelyn Molyneux from Tony King's three-part special on Joni Mitchell's music, which aired on CKUA in late January. www.ckua.com