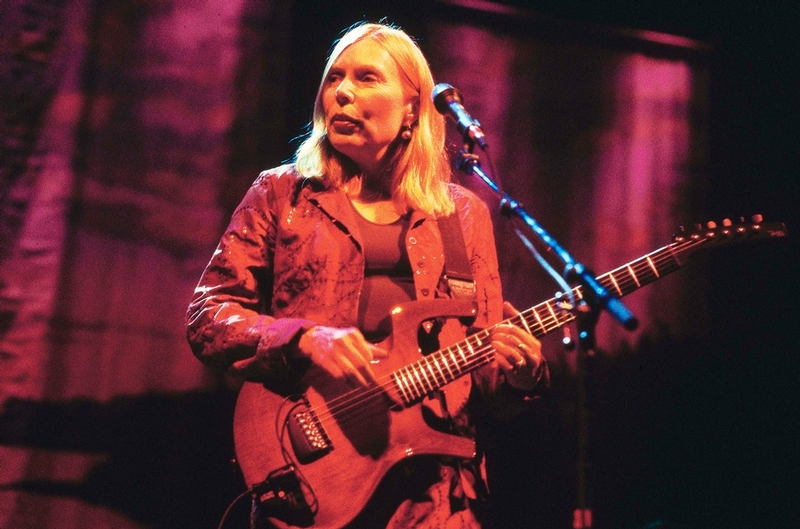 In 1996, Joni Mitchell had her biggest break in two decades -- and wrote one of her best albums as a reaction. Her album Turbulent Indigo had become an unexpected favorite, highly regarded as a return to form. Instead of basking in the adoration that had flooded back after an artistic and personal rough patch in the 1980s, Mitchell retreated for two years and made her most abstract, ambient album to date. Finding inspiration in grappling with sudden attention, she titled it Taming the Tiger -- and it was released on this day (Sept. 29) in 1998.
Unlike Indigo, which came from behind to win a Grammy for Pop Album of the Year in 1996 (it beat Mariah Carey, the Eagles and Madonna), Tiger contains no hits. Rather than relying on hooks or choruses, the music seems to hang weightlessly. It embraces digital, synthesized production that seems to take precedence over lyrics or melody. But by relaxing her peevish artistic voice a bit and writing from her mundane daily life, Tiger took her sound as far out into the ether as it could go -- and became her finest latter-day album.
The story of Taming the Tiger begins with a health necessity: Mitchell was a polio survivor at age nine, and has struggled with related back problems ever since -- as such, she needed a sound and approach that worked for her physical limitations. As Mitchell recalled in a 1998 conversation with musicologist and her site creator, Wally Breese, "There was a merchant in Los Angeles who knew of my difficulties and knew that this machine was coming along that would solve my tuning problems."
That machine was the Roland VG-8, a digital guitar processor that allowed her to program her increasingly labyrinthine guitar tunings on the fly. A luthier then made a "wafer-thin," "two-and-a-half-pound" Stratocaster to go along with the processor, "which not only kind of contours to my body, but also kind of cups up like a bra!" But as Joni Mitchell's biographer, David Yaffe, put it in Reckless Daughter: A Portrait of Joni Mitchell, the processor sounded "like a computerized approximation of a guitar with a head cold." No matter, Mitchell had landed on a dreamy new sound, one that updated her textural work on albums like 1976's Hejira for a digital age.
Mitchell wrote a set of songs that fit her ambient, drifting new sound. While Turbulent Indigo had a glaring edge to it, from its darkly Van Gogh-referencing cover to its socially critical lyrics, Tiger is down-to-earth and movingly personal. She was no longer lashing out; she was observing her own heartbreak and daily minutiae with candidness and heart.
Take "Man from Mars," the second track on Tiger, which was originally commissioned as a lost-lover song for the mostly forgotten 1996 music flick Grace of My Heart. It ended up being about Mitchell's cat, who the song was named after -- that's him on the cover. According to Mitchell's site, she threw the kitty out for having one too many accidents on the rug -- and Man from Mars did not return for some time. "The grief that I felt in his absence coincided with the grief of the character in the movie," she remembered.
Mitchell also gets lost in the past. "Harlem in Havana" is a dreamy remembrance of a circus that would come through her tiny Canadian hometown of Saskatoon. As Joni explains it, "The thickness of the arrangement, the density of it is an attempt to, in an orderly fashion, create the cacophony and the compressed density of the sound ... through the screams of people on the double Ferris wheel." "Face Lift" explores Mitchell's relationship with her mother in a series of small moments: pushing a bed up to a candlelit window, seeing the Christmas lights.
But the twin triumphs on Tiger are the quietest. "No Apologies" continues the heavier themes of Indigo: it's a ripped-from-the-headlines indictment of a rape incident involving servicemen in Okinawa, Japan. But the music isn't aggressive or didactic; it's pure melancholy, riding on long, gorgeous trails of lap steel. And the most glacial song of the whole set, "Stay in Touch," peels apart the meaning of its commonplace title until it's about any two souls meeting and parting: "In the middle of our time on Earth / We perceive each other."
This Sunday Is the Last Day For Grammy Eligibility: What It Means for Potential 2018 Nominees The album's unique atmosphere is just as indebted to its backing ensemble, made up of saxophonist Wayne Shorter, bassist and ex-husband Larry Klein, and legendary session drummer Brian Blade, who's just as powerful for not appearing on most tracks, letting the glacial, synthesizing sonics envelop.
Tiger, which would end up being Joni's final album of original songs for nine years, is an odd one to pin down in her latter-day discography. It's not as star-studded as 1988's Chalk Mark in a Rain Storm, as ambitious as 1991's Night Ride Home or as eclectic as 2007's Shine. But if you squint at it just right, Tiger combines her two most famous superpowers -- that of a heart-on-sleeve confessionalist and a cunning synthesist of styles.
Of course, it's not as well known as "Woodstock" or Blue or "Big Yellow Taxi." But for pin-sharp lyrical detail meeting a heavenly drone, you almost can't beat the weird, wonderful Taming the Tiger.