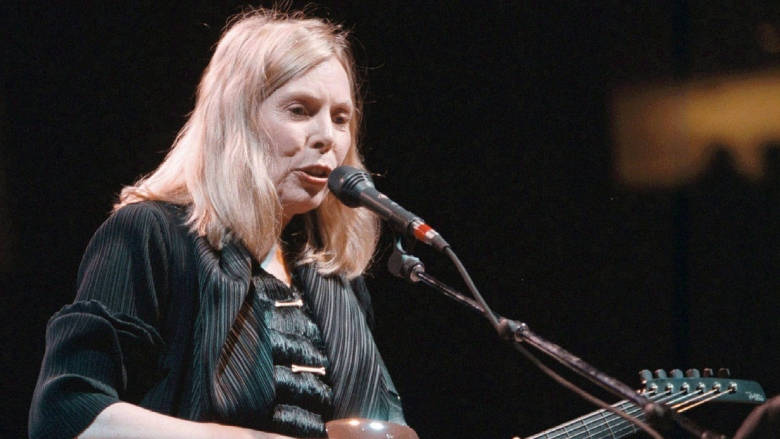 A call for artists to line the streets of Saskatoon to pay tribute to singer-songwriter Joni Mitchell is causing a sour note among local musicians.
In honour of the unveiling of Joni Mitchell Promenade next month, Tourism Saskatoon has asked members of Saskatoon's artistic community to line the streets between the Broadway Theatre and River Landing.
Artists are being asked to donate their time as people proceed down the street during an artistic ceremony "by singing songs, playing music, reading poetry, painting, dancing or expressing yourself through art."
"Tourism Saskatoon wants to honour a professional musician by having professional musicians put themselves out of work by playing for free," said Saskatoon Musicians' Association secretary-treasurer Warren Rutherford.
"It's fairly ironic for a place that likes to refer to itself as the Paris of the Prairies to not pony up the gold."
Calls for free musical performances have long been a pet peeve for the association.
In 2016, the Saskatoon Airport Authority came under fire after asking musicians to play to arriving and departing travellers in the newly renovated airport. While the event would have been unpaid, they would have been able to sell CDs and merchandise.
For its part, Tourism Saskatoon said it meant no offence and says its Random Acts of Culture event is a play-on-words on Random Acts of Kindness.
"We're looking for amateur and emerging artists," said media director Aviva Kohen. "I totally respect that people in the arts who make their living from that would not want to come down and not be paid."
At least one artist will be getting paid. The mayor's office has decided to pay musician Gillian Snider to play at the festivities.
"It's a positive step," said Rutherford.
The June 10 event will officially unveil Joni Mitchell Promenade, a walkway along Spadina Crescent leading to the Remai Modern Art Gallery. A sign will also be set up at the Broadway Theatre.
Mitchell was raised in Saskatoon before she became an internationally-renowned artist.
The event will start at the Broadway Theatre at 1:30 p.m. CST.