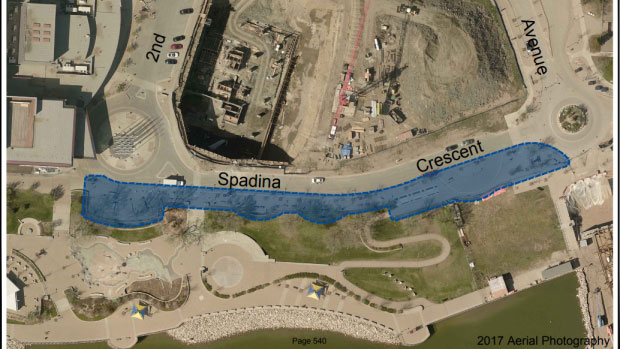 Canadian folk singer Joni Mitchell is aware of a proposal to honour her by naming a promenade after her and is on board with the idea, according to Mayor Charlie Clark.
Coun. Ann Iwanchuk is proposing to name the promenade at River Landing after the singer-songwriter.
If the motion is approved, the designation will apply to the stretch of Spadina Crescent from Second Avenue South to Third Avenue South. Signs and a plaque would be installed to identify the Joni Mitchell Promenade.
Clark said he hasn't spoken with Mitchell himself, but a local group that includes people she knew from her time growing up in Saskatoon, informed her about the proposal and she supports the idea.
"She is interested and remains interested in finding a good way to have that recognition of her hometown," Clark said.
The group said the site on River Landing is a good location because it's close to the river and connected to the arts with the Remai Modern and Persephone Theatre.
Clark pointed out Saskatoon's influence, including the river, in Mitchell's art and songs. The song Cherokee Louise, for example, is about a friend of Mitchell's who was living under the Broadway Bridge.
"I hope it's the right tribute it's one that there has been a high level agreement about from different folks that have been involved," Clark said.
There has been previous discussion about different ways to honour Mitchell but no plans have come to fruition.
A city committee rejected a request to put a sign reading "Home of Joni Mitchell" last year, saying the community is too large to recognize one person in that way.
In 2013 Mitchell asked for a collection of memorabilia to be returned to her while friends were storing the items for her in Saskatoon. At the time, a group was working on a way to honour Mitchell in Saskatoon but she said she didn't want any involvement with any attempts to honour her.
Iwanchuck will be seeking city council approval Monday. If approved, Clarke said the unveiling would be in June, but that Mitchell wouldn't be able to attend due to health issues.