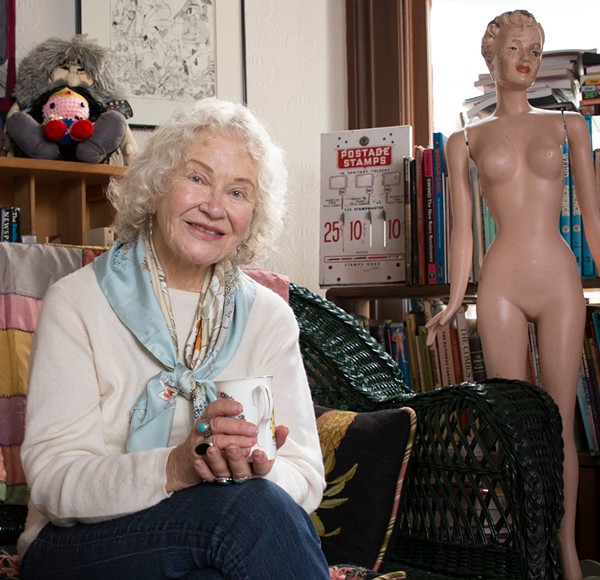 Trina Robbins has an easy laugh and a Blossom Dearie lilt to her voice, and she's been using that voice to call out the comic book industry on its patriarchal bullshit for decades. Robbins was the first woman to draw "Wonder Woman," she's made and designed clothes for the likes of Mama Cass and David Crosby, she co-founded the long-running Wimmin's Comix anthology and she is the "Trina" in Joni Mitchell's "Ladies of the Canyon": "Trina wears her wampum beads/She fills her drawing book with line/Sewing lace on widows' weeds/And filigree on leaf and vine."
When I spoke to Robbins in advance of her appearance at the Arkansas Literary Festival (4 p.m. Saturday, April 28, at the Butler Center for Arkansas Studies), she was just wrapping up a sidewalk sale with some friends. Within minutes, she'd switched breathlessly from packing up boxes outdoors to calling out the mid-'60s underground comics world for depicting the mutilation of women under the guise of satire.
Even women who are not all about comics or "Wonder Woman" minutia may know you as a feminist hero. What's the next frontier, in terms of gender equality?
It's really amazing. First of all, I really and truly never dreamed that there would be so many women creating comics. All I ever wanted was just some women and, voila! I think when it comes to graphic novels, there may be more women than men. And they're all so good! And of course, the #metoo movement is wonderful. I mean, in the late '60s and the early '70s, I was objecting to underground comics that showed murder and mutilation and humiliation of women as something funny, and I was saying, "This isn't funny!" And nobody else was saying that. So the guys could just say, "Well, you have no sense of humor." And you know, the universal excuse for horrible things - for sexism and racism and homophobia - is satire. Bullshit! It isn't satire. Now, we have this awareness. We have the #metoo movement. We have terms like rape culture, [terms] that did not exist. It's wonderful how far we have come. And of course there are those who want us to go back. There are those who do not want us to have control over our own bodies. But they are not gonna win. We're not goin' back, ya know?
It's easy for women in their 30s like me, or younger, swept up in this moment of the #metoo movement and in fights for equal pay, to feel like this is new: "This is it!' We've had enough!" We forget that some of this anger is ages old.
Yeah. But now, we haven't had enough. Obviously we haven't had enough as long as there are people who brag about grabbing women's genitals.
Presidents.
Exactly. Trump and his cohorts. We're always gonna have to fight. I marched on the Women's March in Washington in January 2017, and it was like, I can't believe I still have to protest this stuff. I've been protesting it since the '60s.
You took up sewing at an early age, and made clothes for your friends for a long, long time, yes?
Yes. Well, first I was making clothes for myself, but how many clothes can you have in your closet? So then I was making them and selling them at craft fairs. And because I was hanging out on the Sunset Strip, people noticed my clothes and wanted me to make clothes for them. Before I knew it, I was making clothes for rock stars. All my female friends had at least one outfit by me, it's just the way it turned out.
Can you talk about how that sensibility - about how clothes hang on a woman's body - translated into your comics?
I don't think it translated into my work in comics, I think it paralleled my work in comics. I still love comics and I still love clothes. I think clothes are so much fun.
I can certainly tell you the way in mainstream comics they've always drawn superheroines in costumes that absolutely would not work at all, that are ridiculous. It's gotten a little better these days, but if you look at some of them - especially if you go back to the '80s and '90s - they have women running around in spike-heeled shoes, 5-, 6-inch heeled boots and little teeny tiny butt-baring outfits. I don't really follow superheroes, but for the longest time, this character "Black Canary" wore fishnet tights. Running around and fighting criminals?! She'd go through a pair of fishnet tights every night! She'd go broke just keeping herself in fishnets.
So, in addition to "Last Girl Standing," you've got this project "A Minyan Yidn un Andere Zakhn: A Bunch of Jews and Other Stuff." Essentially, it's a bunch of stories translated to English from Yiddish, and which your father wrote in 1938.
Yes. That's what they are. In a weird way, it's kind of like his memoir. Like I've taken his memoir and turned it into a graphic novel. The stories, maybe 85 percent of them, are about the people from his little tiny hometown in what is now Belarus. The other maybe 15 percent are stories about people in the 20s and 30s in Brooklyn and the Lower East Side when he came here. By here, I mean New York.
I came across an interview in which you were talking about when you were young, and not thinking Yiddish was a particularly interesting or fashionable thing. Are you coming back around to it?
Oh, yes! I'm totally coming back around. I'm taking Yiddish classes. The trouble is, I grew up in an Italian-Irish Catholic neighborhood and we were the only Jews. I didn't want to be; I wanted to belong. I wanted to be like everybody else. Oh, I was so bitter when they would take their First Communion and dress up like little brides! I didn't get to do that. So I had to grow up and get out into the world and discover that not everyone was Irish-Italian Catholic. So yeah, I'm totally into Judaica and Yiddishkeit. Not the religion, of course! I mean, I cannot believe in some bearded guy in the sky.
Do you remember any early influences, or things that you loved artistically as a kid?
Not really, no. My mother was a second-grade schoolteacher. She taught me to read and write when I was 4. That influenced me enormously, because I totally got into books and reading, and into writing and making up stories.