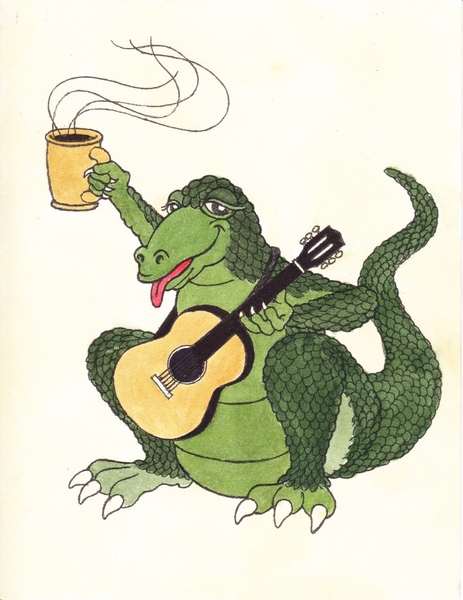 The "Sippin' Lizzard Coffee House" was located at the corner of Lewis St. and Bennett St. in Flint Michigan. It grew out of the gatherings that Don and Jackie Bowles hosted in the basement of their home where their son, Paul, and his friends gathered to play guitar and sing. When attendance became too large for the basement, Jackie, with Don's support, rented the old building on Lewis St. and established a coffeehouse in 1965.
The name for the coffeehouse came from an incident at Paul's high school. Paul and his friends were constantly being harassed by school officials for their hair and dress. One day Jackie was called to school and found Paul in the counselor's office. In the course of the discussion that followed the counselor referred to Paul and his friends as nothing but a bunch of "no good, long-haired, guitar-playing, coffee-sipping lizards." And the "Sippin' Lizzard" was born.
The building that housed the Sippin' Lizzard was rented by Don and Jackie Bowles in 1965 because it was the only one they could afford at the time. It proved to be an adequate location despite some business women who practiced their profession in the apartments upstairs and an unsecured basement door which allowed the cellar to serve as a restroom for "street people". The building was demolished a few years ago.
At this location, folk music fans heard Joni Mitchell as she began her career, as well as Cedric Smith, Phil Marcus Esser and others while sitting on the floor and drinking coffee. (see concert info below)
But this was the sixties and Flint was not ready for the Sippin' Lizzard with its variety of anti-establishment entertainment. Police routinely raided the Sippin' Lizzard looking for marijuana-using "hippies." After a year and a half, Jackie closed the Sippin' Lizzard due to the harassment and building code problems. Jackie was not abandoning folk music, however, as she already had visions of a new venue which might be less offensive to the city fathers. The new site would be called the "Concert Gallery."