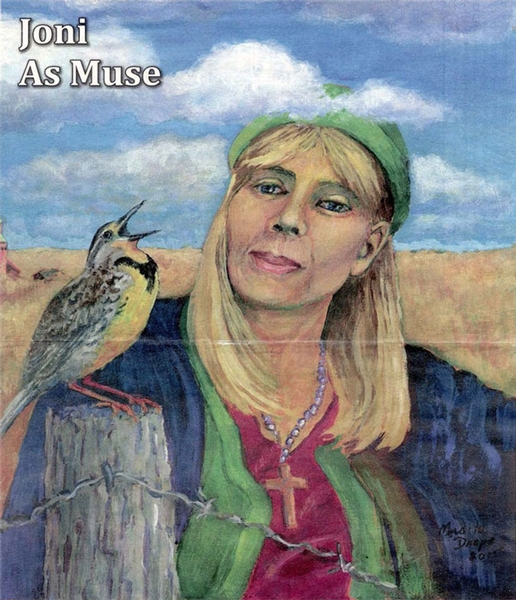 Iconic singer songwriter Joni Mitchell turned 72 this month, so it's fitting that the Gibsons Public Art Gallery is hosting a tribute show that opened Nov. 12. This exhibition, titled Both Sides Now, invited local artists to use Mitchell's lyrics as the starting point for creating art works of all kinds. There will be visual art, poetry and spoken word as well as music to celebrate one of Canada's most influential musicians.
Local artist and curator Nadina Tandy has the formidable task of curating the gallery show. Mitchell was part of the era when Tandy was growing up and her parents listened to Mitchell's music. "I appreciate her body of work and I enjoy her paintings," states Tandy. She took on the task of curating the show because, "I thought it would be a great experience and a good opportunity to let the fans of Joni Mitchell shine."
At press time, 78 submissions had been received. "And large scale works, too," Tandy says. "There are some very ambitious people out there." Artists were asked to make a written submission before handing in their artwork. "This show is dictating its own theme as people are tending to go for the same songs," she notes. "My job is to make the show make sense and make sure it works within the space." With so many submissions, Tandy certainly has her work cut out for her. "It's like putting together a puzzle and I really like that process," she says. "It will all make sense to me once I lay them all out and then I'll start to move things around and create a pattern with the work." Some notable submissions include a Big Yellow Taxi painting by Kim Lafave, an avant garde video submission by Janine Prevost, and a mosaic vessel by Mary Louise Guest displaying "powerful symbol and imagery." Tandy promises the show will be a mix of genres and include both emerging and established artists.
In addition to the art show will be performances by local musicians coordinated by Luci Herder and readings by local poets coordinated by Ross Harry. Performance dates are Nov. 20 and 27 at 7pm, featuring such names as Ross Powell, Lowry Olafson, Elizabeth Lyle, Graham Ord, Fran Litzen, David Kipling, Janice Williams, Pat Drope and the Still Smokin' Jonis to name just a few. Everything takes place at the Gibsons Public Art Gallery with the art show running Nov. 12-Dec. 6 and the opening reception on Nov. 14 from 4-7pm. Visit gpag.ca for more information.