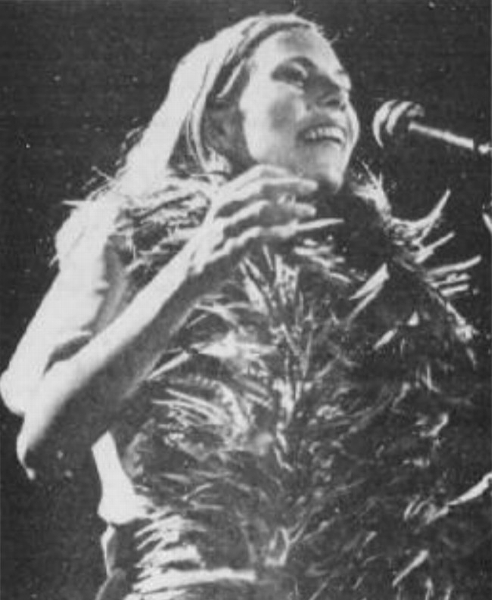 "You either travel the breadth of extremities, or stick to some straighter lines," Joni Mitchell sang to a nearly packed Coliseum Tuesday night.
Throughout Mitchell's concert, it was evident from her diverse array of styles and modes that she had chose the former. Switching gears easily from blues and ballads to spunky rockers and tough jazz, Mitchell held her audience captive for more than two hours.
Mitchell is one of a few composer-musicians who has constantly changed her styles and let popular trends follow in her shadows. In winning Tuesday night's audience, she was firm and uncompromising with spectators who called for several of her older songs.
Mitchell opened the concert with "Help Me, I Think I'm Falling in Love Again," the tune which brought her to mass popularity on the pop charts in 1974.
She swung from "Help Me" to "For Love or Money," one of two news songs on her "Miles of Aisles" anthology. Mitchell wore her lyrics well, clenching her fists tightly as she sang, "She demands," trying to communicate her introspective poetry to a mass audience.
An almost visible tremor slid across the crowd with the three upbeat chords to "Free Man in Paris," and when the LA Express left her temporarily alone on stage after the third number, she had the audience fixed in a semi-permanent adoration.
Mitchell's stage mood changed with "For the Roses," and it seemed that her performance became more introspective, as if she were singing to herself instead of thousands of devotees.
Moving from guitar to piano, Mitchell sand [sic] "Shades of Scarlett Conquering," the first of several songs from her new album, "The Hissing of Summer Lawns." She came back to center stage to premier two unrecorded songs, "Coyote," and "Don Juan's Reckless Daughter."
"Coyote" is Mitchell's most exuberant work since "Free Man in Paris." Alternating between singing and speaking, the lyrics were accompanied by Mitchell's ambitious guitar and a bongo rhythm, until the entire LA Express came gradually into the gackground [sic]. Both new songs built to enthusiastic climaxes, and gave an impression of a happiness unusual to Mitchell.
"Just Like This Train" was the only disappointing number in the show. The meter was noticeable [sic] slower than on the recorded version, and the LA Express was not as perfectly tight as they were otherwise, lacking verve.
Mitchell sang an interesting version of "Blindness and Light," a jazzy quitar [sic] arrangement which contrasted sharply from the nearly a cappella arrangement on her hew [sic] album. The striking variation between the two versions was a tribute to Mitchell's versatility as an arranger who can texture her melodic lines in a full circle of harmonic modes.
After several more new and old songs, Mitchell took off her chic black velvet and gold jacket and donned an ostrich feather boa to perform, "The Jungle Line," the most powerful cut off her new album. The number featured four members of the LA Express on various drums and bongos.
She closed in the same mood as she had opened, with a bouncing rock and roll version of her comic "Raised on Robbery."
The audience predictably gave the artist a standing ovation, and she returned to the stage to sing "Twisted," the only song in her whole performance which she did not author. Before she left the still expectant throng for the last time, she asked, "Are you crazy? You gotta be crazy if you're gonna make it."
But almost nobody answered, at least not very enthusiastically. They were still spellbound, still mesmerized, by Joni Mitchell.