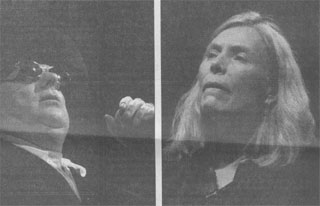 Three of the most potent musical forces from the 1960s and '70s proved to the delight of baby boomers that they haven't lost their touch.

When it was first announced that Bob Dylan, Joni Mitchell, and Van Morrison would be playing a series of dates together, the response was predictable. This was to be a baby boomer's wet dream, a trifecta in the nostalgia sweepstakes.

Just as predictably, it didn't turn out that way when the trio took the stage Thursday at GM Place to launch the tour. While Dylan, Mitchell and Morrison may be icons of the 1960s - or in Mitchell's case, the early 1970s - they have all continued to grow and change. They've also all made albums recently that stand up with the best of their back catalogue. On top of that, they're three of the most contrary-minded and unpredictable artists in popular music.

That contrariness was very apparent in Mitchell's set, which took the middle slot on Thursday's triple bill. Dressed in a blue jacket and yellow skirt and looking as willowy as a teenager, Mitchell opened her set with the cool flow of Night Ride Home, the title track from her 1991 album. From there on, however, Mitchell seemed to take her lead from the title of D.A. Pennebaker's famous film about Dylan, Don't Look Back.

Rather than revisit such hits as Carey, Help Me or Free Man In Paris, Mitchell went full-on fusion, plucking out silvery, liquid chords on an electric guitar as her drummer played jazzy fills and bass player (ex-husband Larry Klein) laid down elliptical lines. While she tossed in a couple of tracks from her last album, Turbulent Indigo, including Sex Kills and The Magdalene Laundries, and offered an intriguing adaptation of W.B. Yeats's The Second Coming, most of the songs seemed to be drawn from an as-yet-unreleased album.

There were a few standouts among the new tunes, including Happiness is the Best Facelift, a wry response to Mitchell's mother's objections to her shacking up with fellow Canadian songwriter Don Freed. For the most part, however, they seemed shapeless and vague. The sellout crowd remained polite, rising to their feet to applaud after every song, but one had the feeling that they did so not out of appreciation of the song that preceded, but in hopes that, if they clapped loud enough, the one that followed would be something they recognized. Mitchell finally delivered on her second encore, knocking off a solo version of Big Yellow Taxi, and she was rewarded with hoots and cheers.

The sheer perversity of Mitchell's set was almost worth the price of admission (well, maybe not - the top ticket price was nearly $90), but Dylan and Morrison showed that you can visit your back pages without shame, artistic compromise or accusations of pandering.

Dylan reprised some of the more popular selections from his Wednesday-night club date: rocking out with Silvio and a stomping version of Highway 61 Revisited, digging into the deep blues of Cold Steel Bound and Love Sick, and doing a delicate and intricate country dance with Tangled Up in Blue. But on Thursday, he delved even further into the past, offering up Mr. Tambourine Man, I Shall Be Released and a moving version of Forever Young before turning on the house lights and leading the crowd in a giddy version of Rainy Day Women #12 and 35.

Dylan's four-piece band, lead by guitarist Larry Campbell, may not be the most stellar outfit to work with him, but it does seem to bring out the best in him. Dressed in a black suit with white shoes - white shoes! - he struck knock-kneed rock 'n' roll poses as he traded off solos with Campbell.

Morrison, who opened the evening, kicked off his set with a track from last year's magnificent The Healing Game and followed up with the best performance of the evening. With a homburg perched on his head and his eyes hidden behind shades, he looked like an enforcer for the Irish mafia, but he sang like a force of nature as he rolled out the hits - Domino, Jackie Wilson Says, Tupelo Honey, Crazy Love - and invoked classic R&B songs - Flip, Flop and Fly, Shake, Rattle and Roll - as if they were the names of saints.

While the songs may have been from the past, Morrison's performance was always in the moment, always unpredictable. His nine-piece band, which included keyboardist Georgie Fame and backup singer Brian Kennedy, matched him at every step. He closed with a cover of James Brown's It's a Man's Man's Man's World, roaring through it once, then turning the song over to Kennedy, who threw a gender curve ball by singing it again in a sweet falsetto, before Morrison returned to close it out with the insistent refrain, "It's too late to stop now!"

That phrase may be a Morrison trademark, but on Thursday it felt like it applied to all three acts. They will, no doubt, be amply rewarded for this two-week jaunt down the coast, but unlike some acts of similar vintage, they sound like they play because they have to, because it is what they do.