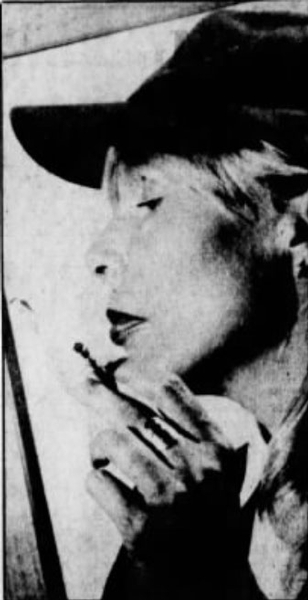 WILD THINGS RUN FAST *** Joni Mitchell "Chinese Cafe/Unchained Melody"; "Wild Things Run Fast"; "Ladies Man"; "Moon At The Window"; "Solid Love"; "Be Cool"; "(You're So Square) Baby, I Don't Care"; "You Dream Flat Tires"; "Man To Man"; "Underneath The Streetlight"; "Love." Geffen Records GHS 2019, $8.98.
How many years has it been since Joni Mitchell gave us a song with words we can dance to and a melody that rhymes? Five? Six? Seven? Make that eight and it's a deal.
How many albums has she delivered in that time? Court & Spark. Miles of Aisles. The Hissing Of Summer Lawns. Hejira. Don Juan's Reckless Daughter. Mingus. Shadows And Light. And now her latest, Wild Things Run Fast.
EIGHT ALBUMS in eight years. That's quite a body of work. With very little to show for it. Those eight albums have not exactly set the world on fire in terms of commercial appeal. Not one sold a billion copies or had a No. 1 song. Yet, even without the mass market's seal of approval, Joni Mitchell remains a force to be reckoned with.
For eight years now, the coming of a new Joni Mitchell has brought with it plenty of hope...hope that this time this album will be the one where she stops playing the esoteric Princess Bebop and goes back to singing songs simple people can grasp. The climate surrounding Wild Things Run Fast held the promise that this would be the one where she came in from the cold and went back on the charts with something a bit more accessible to the ears and tastes of Top 40 America. Wild Things Run Fast was recorded during a time of experimentation. Bruce Springsteen was doing it on Nebraska. Billy Joel was doing it on The Nylon Curtain. Because Joni Mitchell never goes with the flow, it would stand to reason that while everybody else is playing musical test tubes, she would turn in her lab coat and go conventional.
Well, that might figure. But it didn't happen. Wild Things Run Fast is just as quirky as its seven predecessors. Although Mitchell is singing about subjects closer to home than she has recently - "Chinese Cafe" deals with the end of youth and the onset of middle age, "Man to Man' admits to a life of too much loving and too little love - she is singing in the same jazz voice she has been using since 1974.
MITCHELL'S VOICE still flits around a melody like a soprano sax in search of the perfect ad-lib. She takes octave leaps in a gangly fashion. Her voice is all arms and legs as it jumps around the album's title song. Although her post-1974 albums have not put her on easy street in terms of sales, they have been profitable in terms of the development of Joni Mitchell the singer. In the past eight years, she has spent a lot of time with such jazzmen as Jaco Pastorius and Weather Report's Wayne Shorter. The latter musician's soprano sax spars with Mitchell's soprano voice at various points in Wild Things Run Fast.
The exposure to jazz has rubbed off on her vocals. At times, they sound instrumental. Her timbre is so close to that of a saxophone, it's almost as if her voice box functioned by pressing keys and blowing through a reed. Making sax-like sounds is just one habit she picked up from her jazzmen friends. Phrasing is another. Mitchell loves to make a simple line sound strange. The stranger the better is her motto. She'll stagger words or run them together elbow to eyeball no matter what it does to the flow of the rhythm.
MITCHELL PERFORMS these experiments in phrasing and tonality regardless of what she's singing about or who wrote it. When she blends "Unchained Melody" into "Chinese Cafe," the 1950s tune becomes Joni Mitchellized at no extra charge. When she does Leiber and Stoller's "(You're So Square) Baby, I Don't Care" as a companion piece to her "Be Cool," it's impossible to tell which song was written in 1957 and which in 1982. Even when she sings "Love," her musical adaptation of Corinthians II:31 - "Although I speak in tongues of men and angels..." - the words come out as the gospel according to Joni.
* * *
CUT-OUT OF THE WEEK: Mingus, Joni Mitchell, Asylum Records. The zenith of Mitchell's fling with jazz came when Charles Mingus asked her to put words to his music. The result was Mingus. Despite the mountain of hoopla that came with its release and having "Goodbye Pork Pie Hat" among its contents, the album was one of the bigger flops of 1979.