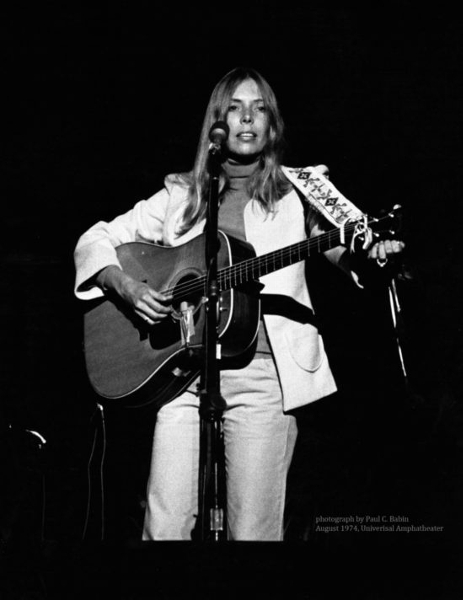 A new effort to honour famed singer-songwriter and former resident of Saskatoon Joni Mitchell has recently been brought to city council. In light of past endeavours, this attempt seems like a fool's errand.
Maybe you took a computer science class with that one guy in town who's in a band, or you've rubbed shoulders with a star, but you're not going to run around telling everyone they're your best friend.
Saskatoon resident Jan Coleman wrote to Saskatoon city council requesting a sign be placed at city limits naming the city "Home of Joni Mitchell."
Our city's last attempt at celebrating the star was the harrowing attempt to construct a museum to honor Mitchell. Mitchell herself was gracious and helpful in thisjoni-mitchell-paul-c-babin effort, which would have involved a public display of her old possessions. Then, we didn't do anything. For years. Roadblocks preventing the project from coming to fruition were frustrating and long drawn-out.
In 2013, Mitchell asked for her stuff back and - vis-à-vis - told us to screw off. The least we can do now is respect her autonomy.
So let's just get one thing clear: Joni Mitchell isn't and never will be ours to claim. Sure, she lived here during her teens and has spoken of the city as her hometown, but Joni Mitchell is not a rooted tree.
She was born in Fort Macleod, Alta. and moved from small prairie town to small prairie town as a child before stopping in the bridge city for a while. Since then, she's lived all over Canada and the United States. Who's to say these other residences aren't also the "Home of Joni Mitchell?"
Ultimately, it's up to Mitchell to decide where she's from, or if she's from any particular place at all.
Let me explain this with a pop-culture reference, in case our city's position with Mitchell hasn't quite sunken in yet. Do you remember the scene in Forrest Gump where Forrest explains how a young Elvis Presley lived with him when he was a boy and copied his braced-legs dance moves? Imagine that Saskatoon is Forrest Gump and Joni Mitchell is our Elvis.
It already seems like a tall tale that she's even from Saskatoon, and now we're trying to say that in some way - even a small way - our city was responsible for her amazing life's work? That's a pretty big claim that we have no place in making.
It doesn't matter if Elvis borrowed his dance moves from a little boy with metal all over his legs who would later grow up to be Tom Hanks. There are bigger things to worry about, and it doesn't matter if the world knows that Mitchell is from Saskatoon - we've got a lot of other great things going on that can be recognized.
While new plans for acknowledging the artist are much more scaled-back, it is inappropriate for any plans to move forward without the consent and support of Mitchell.
While being honoured by the city you spent your young life in sure sounds cool and special, if Mitchell doesn't want this association, we shouldn't force her hand. It seems pretty clear that she's tired of dealing with Saskatoon's misguided attempts at doing good.
Instead, let's celebrate the people of Saskatoon who are working hard in our communities, creating amazing things and helping others right here at home. Mitchell is great and all, but if she doesn't want the attention, we might as well direct it towards those outstanding individuals who are making a difference in our hometown.
Our now one-sided love affair with Mitchell is getting old, and it's high time we stopped trying to get attention for our long-gone icon. Our mayor is friends with Zach Galifianakis - isn't that enough?