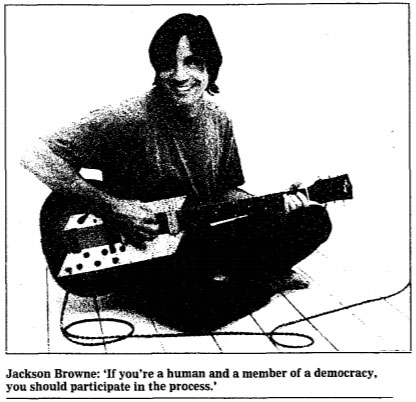 IN PERSON / Although it's been more than a decade since his last hit, Jackson Browne is still in demand as a performer at benefit concerts. But has his political activism damaged his commercial appeal?
It took the signing of a treaty banning the use of land mines to bring Jackson Browne to Ottawa for the first time.
The 49 year old singer-songwriter performed at a benefit concert last week for Mines Action Canada, and its U.S. Counterpart, Operation Landmine; and while the Ottawa Congress Centre venue was a new experience for him, doing a charity benefit was not.
Browne, best known for the hit album, Running on Empty, and as one of the pioneers of the laid-back folk-rock sound that came out of California in the seventies, has participated over the past decade in benefits for a seemingly endless list of charities. The night before his Ottaw debut at the international conference where more than 100 countries signed an anti-mine agreement, Browne was on stage in Washington raising money for an inner-city project working with teenagers stricken with AIDS.
He says he doesn't keep a count of the number of these fund raisers he does each year. "I'm more comfortable talking about the need for such things than i am talking about many of these things I do." he said.
If prompted Brown could probably go on railing against land mines - only the latest injustice to which he is called attention with his pop music profile.
Brown was one of the founding members of Musicians United For Safe Energy, which organized the legendary No Nukes concert at Madison Square Garden in 1979. The concert has recently been re-released as a two-CD set featuring such artists as Bruce Springsteen, Carly Simon, Bonnie Raitt and James Taylor.
Although he is not as commercially successful as he was nearly two decades ago when he released a series of critically praised albums, including The Pretender and the multimillion- selling Running on Empty. Browne is still in demand by grassroots organizations who need help raising money for native U.S. high school scholarships or preserving the forests.
However, there seem to be a few constants in Browne's life. While the black turtleneck, blue jeans and wire rimmed glasses give him a more nineties yuppie air, Browne is still boyishly handsome with his southern California looks and a compact five-foot-nine college wrestler's build.
2.
Indeed, conversation with him is like a wrestling match: Browne gets combative if he needs to make a point. For instance, he insists on calling his charity work "aiding the public initiatives to create social change." Don't call them causes. "That's a shorthand way of not discussing what those issues are." said Browne. "The word 'causes' is too generic a term. . . . For me, it all comes under the heading of human rights."
Whatever they're called, Browne's passion for them has at times come close to eclipsing his musical career. Indeed, his albums in the eighties such as Lawyers in Love and Lives in the Balance, added a more strident political edge to his songwriting, criticizing among other issues, U.S. interference in Central America. Each also showed a decline in sales, and a concert appearance in Toronto this summer at a large outdoor amphitheatre was attended by only 1,500.
Browne, however bristles at the suggestion his career has suffered because of his activism. [It] may be true in some general way." he conceded. "But one of the by-products may be that people feel guilty of not knowing the [U.S.] foreign policy on Central America, so I may be succeeding at some level if I'm making people aware of it for only a moment. ...If you're a human and a member of a democracy, you should participate in the process."
Browne credits his father Clyde Jack, a jazz pianist who taught high school English, and his mother, Bea (Dahl), who was also a high-school English teacher, with instilling in him principles and ideals.
Growing up in Los Angeles, he remembers both were involved in protests agains U.S. involvement in the Vietnam War.
Browne's mood lightens when the conversation turns to his music. In September, he released a greatest-hits album that features 15 tracks. He said that two of the songs, In The Shape Of A Heart, released a decade ago, and Fountain of Sorrow from 1974, are "more meaningful' to him today than when they were when he wrote them. "I think a whole lot of them are really good." Browne added. "My songs have a way of aging and becoming more developed, like wine. My way of singing and feeling those songs has also matured." While he has not seen Top 10 hits since the likes of Doctor My Eyes in 1972, and Somebody's Baby in 1982, he doesn't seem terribly bothered by it either. "I don't think an artist's work can really be gauged in terms of commercial success."
But the past has also come back to haunt Browne in a less pleasant way. Two decades ago, Browne had a relationship with Canadian song-writer, Joni Mitchell. In September, a reporter with the Dallas Morning News sought Browne's opinion on the lyrics of Mitchell's song, Not To Blame, from her 1994 Grammy-winning album, Turbulent Indigo.
3.
In the song, Mitchell sings, "They said you beat the girl/ You loved the most/ Your charitable acts/ Seemed out of place/ With the beauty/ With your fist marks on your face." Though she never acknowledged it, the U.S. tabloids guessed Mitchell was referring to Browne's ex-girl-friend, Daryl Hannah, who accused him of beating her in 1992.
Not To Blame ends with lyrics that could be taken as referring to Browne's wife Phyllis Major, who committed suicide in 1976. When asked about Mitchell and the song now, Browne appears visibly upset and looks away, as if to control his anger. "She didn't know my life; she doesn't know what she's talking about." he said. "She's a very unhappy person and the song is beneath her."
Then Browne says he's not interested in discussing Mitchell any more. He prefers to talk about his future plans (more song writing) and ponder his career, which dates from his teenaged years when he performed in an early version of the Nitty Gritty Dirt Band.
"I grew up in the era of the Vietnam War. . . Where you were in charge of your own consciousness. That's the crucible of my upbringing.
Right now I think we're in the same revolution. In the course of time, it's a heartbeat from the sixties. You find the same people working in the same kind of areas: those who opposed the Vietnam War oppose mining harbours and farms in Central America."