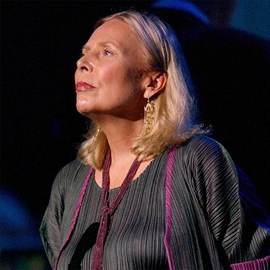 Joni Mitchell still faces a "hard uphill fight" back to full health.
The 72-year-old folk singer was hospitalised in March 2015 after suffering a brain aneurysm, and while it was previously reported she would make a full recovery, her friend and former boyfriend David Crosby says she is still "getting better".
He said: "She's getting better. It's a hard uphill fight, but she's a very tough girl."
The 75-year-old singer believes the 'Big Yellow Taxi' hitmaker is the "greatest living songwriter" and the best of their generation.
He told Event magazine: "I don't think there's any question that when they look back in 100 years, they'll say she was the best of us. It's her or Bob [Dylan], and Bob can't sing! I think she's our greatest living songwriter."
David's comments come a few weeks after Joni made her first public appearance since her hospitalization.
Photographs of her at a Chick Corea concert at the Catalina Bar and Grill in Los Angeles on August 20 were posted on her official website, along with the caption: "We are thrilled to see Joni out and about again!"
After suffering an aneurysm, Joni was unable to speak for some time, but by June of that year she was undertaking daily physical therapy and left hospital the following month.
Details of her subsequent recovery have been scarce since then, but in October, her friend and conservator Judy Collins [ed: Judy is not Joni's conservator] said Joni was making "good progress".
She wrote on Facebook: "I have just heard from a close mutual friend that Joni is walking, talking, painting some, doing much rehab every day, and making good progress. I have another friend who went through something similar - it does take a long time."