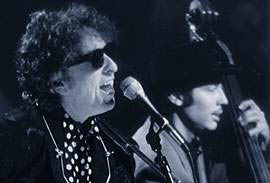 Fans who caught the opening night of the Van Morrison-Joni Mitchell-Bob Dylan tour in a 20,000 seat hockey arena Thursday got a taste of the good, the bad and the ugly.

And in keeping with rock 'n' roll tradition, the ugly saved the day.

That would be Dylan, the 57-year-old songwriter, whose career was jump started by his first successful album in more than a decade, and a Grammy Award for Album of the Year for last year's bluesy "Time Out of Mind."

He headlined a revival tour, bringing along two other artists with four decades of work behind them, each of whom at one point could have sold an arena this size on their own, but now were playing smaller places or not playing much at all.

The ugliness isn't a reference to Dylan's visage, which, in the Grammy show looked like a mortician may be doing his makeup, but rather, to his raucus return to harder rock.

His band played 80-minutes of reworked classics, stretching and molding them like they were written on Silly Putty and belting them out with the wild, haphazard energy of a drunk on rollerskates.

Dylan played a sharp guitar all night, meshing like a young (can I still use this word in the late '90s or is it as dated as Windows 87?)grunge band with pedal steel player Bucky Baxter, who has played with RE and Steve Earle and lead guitarist Larry Campbell, whose extensive session credits include Shawn Colvin and Leon Redbone.

The Jerry Garcia Band's Dave Kemper on drums and Asleep at the Wheel's Tony Garnier on standup and electric bass, played like they have been together for years.

Dylan, who has been teaching rockers lessons for three decades, borrowed a few from the stadium bands he has toured with recently, most notably the Grateful Dead, Tom Petty and the Rolling Stones. There were elements of each in his song choices and delivery.

The melodies were toyed with, sometimes so much so that you wouldn't know what song it was until the chorus. "Tangled Up in Blue," originally a desperate, restless tale of longing in 1975, was now an uptempo country rocker. The once mournful "You're a Big Girl Now" also off "Blood on the Tracks," was now faster and looser.

They did long jams on "Senor (Tales of Yankee Power," a 1978 B-side that Jerry Garcia used to cover, "Silvio" (cowritten with Grateful Dead lyricist Robert Hunter)that tore a page from the Dead's delivery.

He rocked on opener "Absolutely Sweet Marie" and final encore "Rainy Day Woman #12 & 35" from 1966's "Blonde on Blonde" and had the whole audience lit up and singing "everybody must get stoned."

Dylan was more animated and youthful than on many past tours.

Dressed in a black shirt buttoned up his neck, he sang and strutted so much on a countryish "Mr. Tambourine Man" it was like Dylan playing Sun Sessions' Elvis Presley covering Dylan.

"There's a long story behind that song, but I'm not going to tell it," he said, laughing a bit.

Anyone who saw some of his more dour performances in the past, where Dylan ignored the audience, couldn't miss the change. The man known for his own writing, threw in some covers too, touching on his blues troubador roots with the Rev. Gary Davis's "Cocaine."

His only new song was "Love Sick" with its Bart train synthesized rythmic beep, an electronica Dylan for the turn of the century.

But the genius of this set, laced as it was with 30-year-old classics, was that everything old sounded new again.

His counterparts, who played equally long sets, could have taken some lessons from Dylan.

While some of opener Morrison's recent performances have been shaky, this one was musically perfect. But can something be too perfect?

Morrison, 52, was in fine voice mixing newer numbers with popular chestnuts such as "Tupelo Honey,"(into "Crazy Love"), "Domino," and "Jackie Wilson Said (I'm in Heaven When You Smile)."

A Van fan couldn't ask for much more. His eight-person backup band was smooth and Van, dressed in a black, bluesman's suit, came off like Ireland's answer to Bobby Blue Bland.

It was a good set, but not great. There was something missing, most likely the edge that Dylan brought to the stage.

Morrison was just a bit too smooth, which is better than some of the off-key rougher nights of the past. But it was lacking some of the magic, often sounding like musical wallpaper, heading toward smooth jazz territory.

You can't say he didn't try: he played some blues harp that cut through the gloss and he even brought up the spirit of James Brown, with "It's a Man's Man's Man's World," but on this night at least, the windows were too clean, the polish too bright, the soul washed out of the mix. Which doesn't mean he won't be stellar in San Jose.

Mitchell had a worse problem. Her set was competent but tuneless.

This is a woman who takes chances and doesn't compromise her art. Her last greatest hits package included an album of misses. And often as not, I'll take the ambitious misses over the repackaged hits any day.

But even the most artistically inclined audience needs a few hummable tunes during an hour and 20 minute stadium set. Mitchell gave them only two, 1974's "Just Like this Train" played solo on guitar and "Big Yellow Taxi," served up as an encore, long after the miles of aisles were filled with people hitting the snack bars.

Since her late 1970s collaboration with Charles Mingus, Mitchell's music has been more like an unmelodic backround for her poetry. It's no wonder that she hasn't toured in 16 years. While her voice was in fine shape and her elecric guitar soared and echoed like a dulcimer, this music is a hard sell to a mass audience craving a little they could sing along with.

Mitchell, 54, stood in front, radiant and very blonde, in a long brown skirt and tan blouse, playing confidently, backed by jazz bassist and former husband Larry Klein, guitarist Greg Leisz and Brian Blade on drums.

She played mostly later work, including two unreleased new songs. covered "Sex Kills," from 1994's "Tubulent Indigo," "Amelia" from 1976's "Hejira" and 1991's ` "Night Ride Home" and `Slouching Toward Bethlehem" from "Night Ride Home."

That song, which was little more than a recitation of Irish poet William Butler Yeats's, apocalyptic incantation "The Second Coming," pointed out the problem.

"He'd always wanted his poems to be sung," said Mitchell, of Yeats. "So I don't think he's rolling over in his grave."

But even Yeats, a man of passionate intensity, would probably have wanted a bit more melody, something he could rock out to, or even remember.