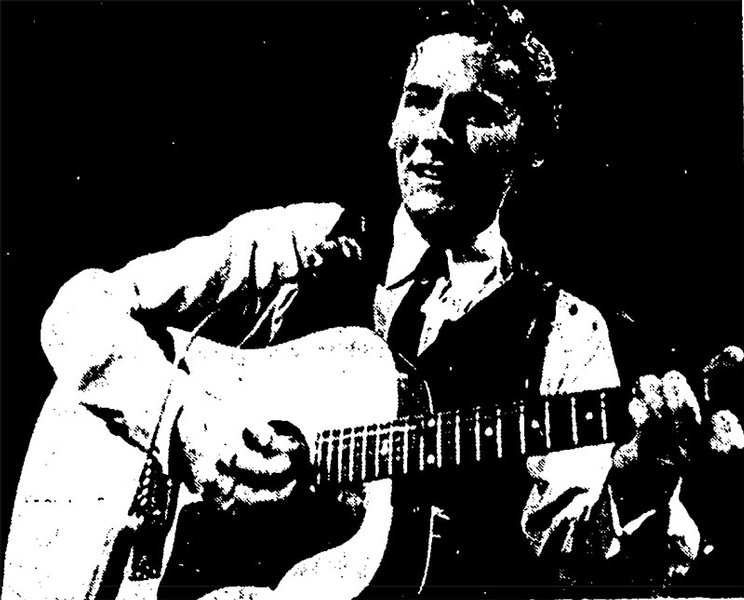 INNIS LAKE - "I'd like to see more festivals like this," Pete Seeger said during an intermission at the Mariposa Folk Festival held on the weekend here. "It's much more informal than most other festivals, which is all to the good. It's lovely here in the middle of a cow pasture, little groups singing and playing everywhere."
That is quite how the weekend went, except that the little groups who lazed and played around the lake during the day swelled into crowds of thousands for yesterday afternoon's and Friday and Saturday nights' concerts. About 13,000 paid admissions made it the most successful festival in the six years of its existence.
It offered something for everyone. It was a festival dominated by personalities; and, very importantly, it was a festival which showed that Canadian performers can hold their own with the best of the U.S. singers.
Very few important branches of folk music were omitted in the programming - the chief omission being the lack of old-time blues performers. And if some persons were overheard complaining that the festival was out of step with the present by not moving the audience physically as well as emotionally, this was not because of a lack of dynamic performers. Whether by the jangling rhythms of electronic folk rock or by spirited gospel singing, people were moved physically.
Though the most popular entertainment presented was undeniably contemporary in thought and attitude - the songs of Tom Paxton, Gordon Lightfoot and Carolyn Hester - the more traditional forms were not neglected.
Mountain songs, done blue-grass style, were presented by the New Lost City Ramblers. Old-style ballads and good old-fashioned guitar and banjo picking were performed by Doc Watson; and urban blues, given full Chicago-style rhythmic treatment, were delivered by Sunnyland Slim, Big Walter Horton and Johnny Young.
The Beers Family brought their sweet traditional songs, the kind passed down from generation to generation within the family. Gospel songs, electrifying and vibrant, were sung by the Staples Singers, and balladeers like Tom Kines and Tom Brandon, singing either with or without accompaniment, showed the riches of yet another folk tradition.
The variety was best brought out in the workshops held through Saturday and on Sunday morning. These sessions, as informative as entertaining, gathered together the singers and instrumentalists of the various folk forms, and through demonstration and discussion explained methods, styles, and song forms so that audiences were better able to understand and enjoy what they were hearing.
Personalities dominated the festival. Peter Seeger was one. At 1:30 a.m on Saturday, when the temperature dipped so low you could see your breath, he was whipping up a cold and tired crowd until they were swaying and singing Seek and Ye Shall FInd as he was, with the perspiration dripping from his forehead.
Then there was Gordon Lightfoot, on Saturday night, assured and composed, backed by his fine accompanists, stirring the crowds with his own compositions; or at Sunday's ballads' workshop when he winningly hummed a few bars of his Yarmouth Castle when he forgot the words.
The Staples Singers were another group who electrified the audience. Capping the Saturday night show with their swinging gospel tunes, they sang, swayed, clapped and rocked with a dignified abandon that kept the audience asking for more. Mavis Staples swinging through Behold My Child while the rest of the family clapped ecstatically and shouted out the choruses, was a moving experience.
Sunday was not without excitement, as Tom Paxton, in Canada for the first time, mixed his satiric songs of protest with the tender lyrics of another of his compositions, Rambling Boy. Detroit Auto Safety Massacre Blues, inspired by the Ralph Nader-General Motors confrontation, especially demonstrated his talent for social criticism with humor.
Along with Lightfoot there was a strong contingent of established international stars who happened to be Canadians. Ian Tyson, without wife and partner, Sylvia, put in a strong set. Balladeers Tom Kines and Tom Brandon were two others who appeared to have achieved wide recognition for carrying on that particular folk form.
Younger Canadian talent was very much in evidence. Blues singer David Wiffen, accompanied by Trevor Veitch and Brent Titcomb of 3's a Crowd, stirred up a lot of excitement with The Other Side of This Life. Joni Mitchell, a young Albertan whose compositions are beginning to drop into the repertoires of other folksingers, showed a fine lyric touch in her tender songs of the prairies and in a philosophical song The Circle Game.
And among fine instrumentalists like Doc Watson, Mike Seeger and Bob Beers, there was one who stood out: David Rea, a Canadian guitarist by way of Ohio. Rea, who is 20, has already recorded with Ian Tyson and Gordon Lightfoot, and served as accompanist several times during the festival, backing first Ian Tyson, then Carolyn Hester and Joni Mitchell.
There were others: Owen McBride, The Stormy Clovers, The Gangreen Boys, The Knack, Alan Macrae and Neil Whiteford.