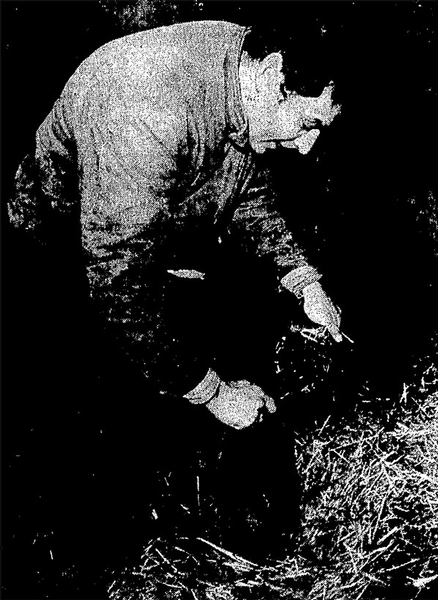 There was a line in a satirical revue John Uren once produced which went something like, "what's a nice girl like you doing in a place like this?"
The other morning as the rain and cold air made work on the backstretch less pleasant, it seemed appropriate to remind Uren of the not so original line. He was amused by the question, which was asked as he knelt in the semi-darkness of a stall, picking out the manure and straw that clung to the hoof of a spooky two-year-old race horse.
Uren wore baggy pants, a loose fitting jacket and unfashionable rubber boots. It was 7:30 a.m and he had been working for more than two hours. Three or four years ago at this time he might be just getting home after working and partying with Maurice Chevalier or Marlene Dietrich. Or maybe Jack Benny, Duke Ellington, Soupy Sales or Joni Mitchell.
Those were the days when Uren was advertising and promotion manager of paid entertainment at Expo '67 in Montreal. And he was once assistant publicity director for the Stratford Festival and promotion manager at O'Keefe Centre.
Before that were his college days at University of Toronto and McMaster University in Hamilton. At Trinity College he majored in economics and sociology. At McMaster he played end and caught quarterback Russ Jackson's passes for the Marauders.
There were his days as a cab driver, parking lot operator, owner of Calgary's first coffee house, magazine editor and advertising manager. Then came good and bad times as an art gallery operator and producer of concerts and shows in places like Edmonton, Medicine Hat, Stratford and Toronto.
Twice he blew his complete savings, the last time coming after Spring Thaw Is a New Bag bombed in 1970. "I was really devastated. It broke my heart as well as costing me my life savings."
Uran put the pick he had used to manicure the filly's hooves in his pocket and stood up.
John Uren, ex-entrepreneur, ex-producer, ex-promoter and ex-public relations man who had earned as much as $1,000 in a night and $20,000 a year, smiled and spoke with a great amount of sincerity for his new career.
He is 35, a groom for Mort Hardy, rubbing four horses seven days a week, earning $100 ($81 take home pay), living in a tack room 6 feet by 10 feet and weighing 22 pounds less than he did four months ago. His ambition is to get his trainer's licence later this year.
"What am I doing here? To begin with, this is a pretty good business to be in. You can't say I haven't tried doing other things. Frankly though, I think this game has been in my blood all my life. I've always loved horses."
Uren recalled his first job at the track. "It was '59. I'd just got out of school and went to work for Carl Chapman, walking hots for $50 a week. I remember him taking me to Chicago to work for him. But it cost him more than what he was paying me. He was fined for employing a non-licenced hot-walker and sent me home by plane."
After his brief career as a hot-walker Uren said "I got a little ambitious and wrote a letter to E.P. Taylor saying there was a need for a horse racing magazine."
A few months later he and Don Balliere, who now works for the Ontario Jockey Club, founded the Canadian Horse.
Two years later Uren "was looking for new fields to conquer and I became managing editor of a harness racing magazine. But I didn't like the jugheads and the magazine folded."
Then came a job of driving a car to Vancouver. Uren, however, bailed out in Calgary. It was Stampede time and he manoeuvred a deal with a car rental firm to rent its lot for $5 a day.
"It was a good deal. I picked up $50 a day parking cars."
His coffee house, which drew block-long crowds, was another success as he booked acts like Dave Broadfoot and Joni Mitchell. He then began booking shows into arenas and auditoriums on the prairies until he blew his bankroll in Medicine Hat.
"I learned more about show business in one night than I have since or before. I had my men on the doors and when I counted the house I figured we had made money but what I didn't realize was that there was a guy on the back door letting in people for a buck."
Expo-Stratford, O'Keefe Centre and public relations jobs followed before he and partner Howard Bateman lost their shirts with Spring Thaw Is a New Bag.
Yearning to get into the horse racing game, Uren took off for Europe last year and visited tracks in France, England and Ireland. "That's when I really became hooked. Over there it is more a sport than a business.
"Truly, though, I love this game. I get up every morning at 4:45 and by 9 o'clock or 9:30 at night I'm ready for the sack. You don't get a chance to watch those 10 o'clock TV shows because they go to 11 o'clock.
"Falling to sleep and eating is easy and there's none of the mental anguish most men go through at night with their jobs. You know what you have to do the next day and you know you can do it. It's simple. The only thing that gets you at times is that it is seven days a week. The horses have to be fed, their stalls cleaned.
"You know, show business and horse racing are similar. They're both high risk businesses. Besides, swans swim in the centrefield at Woodbine and in the Avon River in Stratford."