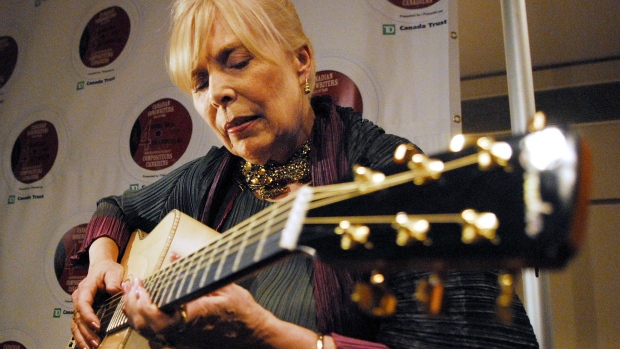 Acoustic guitar owners could have their instruments featured in a new musical about one of Canada's most celebrated singer songwriters.
Joni Mitchell: River will be staged at the Grand Theatre in London this October. Director Allan MacInnis needs nearly two dozen guitars for the production in order to capture the range of sounds the diverse musician created.
Mitchell's unique tunings for her many hits will require guitars that can hold the tuning night after night, during the two-week performance run.
"Rather than having a guitarist retune their guitar for every new song, we need to have guitars already tuned to those unique tunings," MacInnis said. "Then we can move from song to song without any interruption."
Guitar auditions
Musical director Greg Lowe will audition the guitars. He'll be looking, primarily, for instruments that can hold a tune, MacInnis told CBC's Afternoon Drive host Bob Steele.
They will accept any acoustic guitar, no matter the shape or size, but very few small-bodied instruments will be needed.
"There aren't many songs that they would be appropriate for, but we're willing to interview just about any kind of guitar," MacInnis said.
There's still a place for guitars that, esthetically, have seen better days.
"The look of the guitar is not that important," MacInnis said. "It might have a beat up body, but if it's got a pleasant sound, then we're interested."
Guitar profiles
Guitars selected for the show will be profiled and posted in the lobby alongside profiles of the performers.
"People might have some interesting stories behind where they purchased it, why they purchased it, who else has played it," MacInnis said. "It would be kinda fun to fill the lobby with guitar bios."
Owners of the guitars will also receive two complimentary VIP tickets to a performance.
Guitars can be dropped off June 1-2. For more details on how to audition, visit grandtheatre.com.
There will also be an opportunity to learn more about Mitchell's unique tunings during a jam session scheduled for June 5 at the theatre.