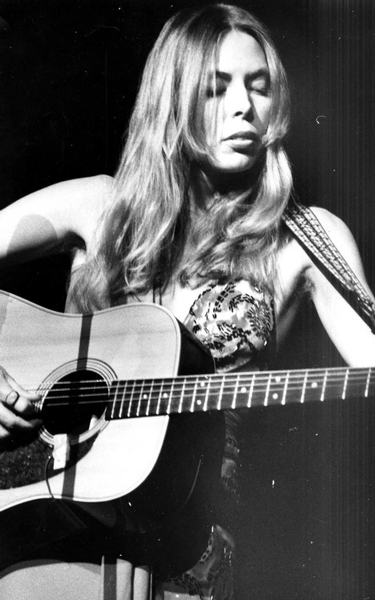 1: JONI MITCHELL Canadian Roberta Joan Anderson (aka Joni Mitchell) began her career busking in Toronto but went on to become one of the leading figures in folk music in the Sixties and Seventies. For her pure vocals and thoughtful lyrics, which range from socially conscious to deeply confessional, Mitchell is seen as one of the voices of her generation. Her 1971 album Blue often ranks well on lists of the greatest albums of all time.
2: KATE BUSH English singer-songwriter Kate Bush was just 19 when her debut single, Wuthering Heights, topped the British charts for four weeks in 1978. Since then she has released 10 albums and had 25 top-40 singles with her arty pop. In 1987, Bush won a Brit award for best British female, and in 2002 she was recognised with an Ivor Novello Award for outstanding contribution to British music. Fellow singers such as PJ Harvey, Florence and the Machine and Bat for Lashes's Natasha Khan have all identified her as a major influence on their work.
3: PATTI SMITH A key figure of the New York punk scene in the Seventies, Chicago-born Patti Smith had toyed with careers in art, acting and journalism before focussing on music. Her 1975 debut album Horses mixed rock and poetry, would go on to influence bands from REM and The Smiths to Garbage and KT Tunstall.
4: DOLLY PARTON Over a 57-year career in which the prolific singer-songwriter has written more than 3,000 songs and sold over 100 million copies of her 90 odd albums, Dolly Parton has rightly become known as the Queen of Country Music. The Tennessee-born 66-year-old started out singing on local radio stations in the Fifties, and was a country star by the late-Sixties. Her songs Jolene and 9 to 5 are country-pop staples, while in 1973 Parton wrote I Will Always Love You, later memorably covered by Whitney Houston.
5: CAROLE KING Starting in the late-1950s, Carole King - born Carol Klein in New York in 1942 - initially collaborated with her former husband, lyricist Gerry Goffin, on songs that became big hits for other artists, including Will You Still Love Me Tomorrow and Take Good Care of My Baby. In 1962 she had a hit of her own, with It Might As Well Rain Until September, but would not focus on a solo career until 1970. Her second album, Tapestry (1971), which featured You've Got a Friend, went on to sell 25 million copies.
6: KIRSTY MACCOLL The English singer-songwriter is best remembered for her bitter yet passionate duet with Shane MacGowan on the Pogues's recurring Christmas hit Fairytale of New York. She released several acclaimed albums in the Eighties, and was the writer behind Tracey Ullman's They Don't Know, a top 10 hit in the UK and US. MacColl was still releasing music when she was killed in a boating accident while on holiday in Mexico in 2000. In 2001, a bench in Soho Square was engraved with her lyrics "One day I'll be waiting there / No empty bench in Soho Square".
7: CHRISSIE HYNDE Ohio-born Christine "Chrissie" Hynde had been an NME writer, a shop assistant in Malcolm McLaren and Vivienne Westwood's King's Road clothes shop SEX, and a member of several punk bands before she formed The Pretenders in 1978. The band, driven by Hydne's punchy rock and new wave songs, including Brass in Pocket and Don't Get Me Wrong, made them successful on both sides of the Atlantic over the next two decades.
8: NINA SIMONE Born to a preacher's family in North Carolina, Nina Simone - the stage name of Eunice Kathleen Waymon - was originally known in the late-Fifties and early-Sixties for her jazzy mix of gospel, pop and blues. From 1964, however, Simone, with songs such as Mississippi Goddam and To Be Young, Gifted and Black, became key to the Civil Rights movement in the USA. She had released over 40 albums before her death in France in 2003.
9: ADELE Tottenham-born singer Adele Adkins got her big break after a friend posted her demo on social networking site MySpace in 2006. Her debut album, 19, was certified four times platinum in the UK, but it was the follow up, 21, which established the 24-year-old as a global star, selling over 25 million copies to date. After giving the James Bond franchise its first Oscar with her Bond theme, Skyfall, in 2013 she took a brief break from the music industry - only to return with her third album, 25, in November 2015.
10: AMY WINEHOUSE London-born singer Amy Winehouse's second album, 2006's Back to Black, which mixed R&B, jazz, soul and pop, has sold over 20 million copies worldwide, and helped her win a Brit Award and five Grammys. Her sultry vocals, personal lyrics and distinctive beehive hairdo made the 27-year-old former theatre school student one of the world's most popular, and recognisable, singer-songwriters before her death from alcohol poisoning in 2011.
11: BJORK Icelander Bjork is known for her eclectic music, which has included forays into rock, folk and dance, as well as her distinctive singing voice and fashion style. Her first album was released in Iceland in 1979 when she was 12, but she became famous in the UK for the albums Debut (1993) and Post (1995) - the latter of which spawned the single It's Oh So Quiet (a remake of a 1951 song by Betty Hutton). She is also a four-time Brit award winner.
12: JANIS JOPLIN One of the defining figures of the Sixties, Janis Joplin gained world-wide recognition thanks to her performances at the Monterey Pop Festival and Woodstock, as the lead singer of Big Brother and the Holding Company. The Texan singer died of a heroin overdose in 1970, aged just 27. Joplin's raw, bluesy vocals and quietly inventive writing have had a profound influence on several generations of musicians.
13: MADONNA The woman born Madonna Louise Ciccone is the biggest selling female artist ever, with 300 million records sold worldwide. From her beginnings as a rock drummer in The Breakfast Club in the late Seventies, through chart stardom with songs such as Into the Groove and Like a Prayer in the Eighties, up to her experimentation with dance and hip hop since the millennium, Madonna has tried most contemporary pop styles, mastering many. A current sold out world tour shows the ground-breaking 57-year-old is as popular as ever.
14: PEGGY LEE Arguably America's first female singer-songwriter, Peggy Lee entered the public consciousness at a time when it was highly unusual for commercial singers to write their own material. Born into a poor North Dakota family in 1920, Lee began her career at a local radio station, where she sang in exchange for food. She would collaborate on original songs with Duke Ellington and Quincy Jones, but is best known for her equally inventive cover-versions. Lee heavily rewrote Little Willie John's hit song, Fever; her lyrics are now more famous than those of the original. Lee later wrote the co-songs for Disney's The Lady and the Tramp. With her blonde hair and outspoken manner, "Miss Peggy" was reportedly the inspiration for The Muppet Show's Miss Piggy.
15: STEVIE NICKS Stevie Nicks rose to prominence in the Seventies as a member of British-American rock band Fleetwood Mac. She wrote some of the band's most popular songs, including Dreams and Rhiannon. In the Eighties, she launched a successful solo career, despite her well-documented addiction to cocaine and tranquilizer Klonopin, which culminated in her undergoing rehab in 1986 and 1994. The Arizona-born 67-year-old was inducted into the Grammy Hall of Fame along with her Fleetwood Mac bandmates in 2003.
16: TAYLOR SWIFT Swift's songwriting prowess has been widely recognised: the country star-turned-pop supremo was inducted into the Songwriters Hall of Fame at just 22, after winning the Nashville Songwriters Association International Award for Songwriter/Artist of the Year six times (she's since gone on to take the prize again). However, the gongs were only confirming what her fans - or Swifties - have long known: that the Pennsylvania-via-Nashville singer conveys the matters of the heart more deftly than countless others, and will frequently make you dance, as well. The sales records speak for themselves: after Swift took a stand against making her music available on free streaming service Spotify in 2015, her fifth album, 1989 - named after her birth year - went on to generate the highest record sales figures in 12 years.
17: SANDY DENNY London-born Sandy Denny became one of the pre-eminent British folk singers of the late Sixties when her distinctive vocals led the first four albums by folk-rock band Fairport Convention. She later had a successful solo career, and was voted Best British Female Singer in 1970 and 1971 by readers of now-defunct music magazine Melody Maker. Denny, who had had a history of cocaine abuse, died in 1978 from a brain haemorrhage, several weeks after falling down a flight of stairs while on holiday in Cornwall.
18: LADY GAGA New Yorker Stefani Joanne Angelina Germanotta - aka Lady Gaga - was originally hired in 2007 by Sony as a songwriter for other pop stars such as Britney Spears and the Pussycat Dolls. In 2008, she released her debut album, The Fame, which featured the UK number one singles Just Dance and Poker Face and has gone on to sell 15 million copies worldwide. The 29-year-old has been likened to Madonna thanks to her dance-oriented pop music, and her penchant for outrageous outfits, including the infamous "meat dress" she wore to the 2010 MTV Video Music Awards.
19: BARBRA STREISAND Barbra Streisand is one of the most successful entertainers of all time. The Brooklyn-born pop and jazz singer, actress and film director has sold 140 million albums worldwide and won eight Grammys - in addition to picking up two Academy Awards and a Tony Award. She is one of five people - alongside Frank Sinatra, Cher, Adele and Shirley Jones - to have won an Oscar and had a number one single in the US.
20: PJ HARVEY One of Britain's most prolific, accomplished, and enduring female singer-songwriters, Polly Jean 'PJ' Harvey, MBE, has flourished even as her work has diversified. The Dorset-born 46-year-old started in 1988 as a vocalist and saxophone player in local band Automatic Dlamini, but became a popular solo alternative rock singer in the Nineties, before branching out into folk more recently. She remains the only artist to have been awarded the Mercury Music Prize twice - in 2001 and 2011, for albums Stories from the City, Stories from the Sea and Let England Shake.
21: EDITH PIAF France's most successful musical export is often praised for her singing, but rarely given due credit for her songwriting. Piaf wrote the lyrics for a number of her best-known songs, including La Vie en Rose and Hymne à L'amour. Born in Paris as Édith Giovanna Gassion in 1915, she was reportedly blind from keratitis between the ages of three and seven, but allegedly recovered her sight after her grandmother, a brothel mistress, paid for Piaf to go on a religious pilgrimage. Adopting the stage-name "the little sparrow", Piaf found success from the late Thirties, until her death from liver cancer in 1963, aged 47.
22: JOAN ARMATRADING Born in Saint Kitts in the Caribbean, 64-year-old guitarist and singer Joan Armatrading moved to Birmingham with her family when she was three. She left school at 15 and was sacked from her first job at a tool manufacture for playing her guitar during tea breaks. Armatrading released her first album in 1972, and went on to have hits in the Seventies by blending jazz and folk, and in the Eighties with a more commercial pop sound. She won an Ivor Novello Award for her songwriting in 1996.
23: JOAN BAEZ American singer Joan Baez first performed in coffeehouses in Massachusetts. Her distinctive vibrato vocal style, popular folk sound, outspoken political views - which included opposition to the Vietnam war - and relationship with Bob Dylan helped make her a key player in the roots revival of the Sixties, culminating in her performance at Woodstock in 1969. The 75-year-old has released over 30 albums, and continues to perform today.
24: BILLIE HOLIDAY Jazz singer Billie Holiday possessed one of the most remarkable and influential voices in the history of popular music, and one that influenced scores of top musicians. But the singer, whose tragic life was documented in the film Lady Sings the Blues starring Diana Ross, was also a emotive songwriter, penning songs such as Billie's Blues, God Bless the Child and Long Gone Blues.
25: RICKIE LEE JONES American rock, jazz and R&B singer-songwriter Rickie Lee Jones began playing in clubs in California in the late Seventies. Her eponymous debut album, which featured contributions from Randy Newman, was a hit on both sides of the Atlantic. Then in her mid-20s, Lee Jones gained attention thanks to her idiosyncratic singing style and the reportedly bohemian nature of her relationship with fellow singer Tom Waits. To date, she has released 12 studio albums, including this year's The Other Side of Desire.
26: LORETTA LYNN Kentucky-born country singer-songwriter Loretta Lynn has been recording and performing for over 60 years, and has released 69 albums and 88 singles since 1960. Many of her best-loved songs, including Don't Come Home A' Drinkin' (With Lovin' on Your Mind), are autobiographical, and deal with issues such as relationships and women's rights. Known as the First Lady of Country Music, the 83-year-old's autobiography was made into an Academy Award-winning film, Coal Miner's Daughter, in 1980. Since the millennium, Lynn has had something of a comeback; her 2004 album Van Lear Rose (a collaboration with Jack White) was met with wild enthusiasm by the critics. Lynn's 70th album, Full Circle, is set for release in March 2016.
27: DEBBIE HARRY Born in Miami in 1945, Deborah "Debbie" Harry spent time as a go-go dancer and a Playboy Bunny before starting her music career in the Sixties with folk-rock group The Wind in the Willows. She is best known as the frontwoman of Blondie, a key part of the punk and new wave scene in New York in the late Seventies and Eighties, with whom she wrote singles such as Heart of Glass and Atomic. Her trademark bleach blonde hair was the inspiration for the band's name.
28: SINEAD O'CONNOR The shaven-headed singer and guitarist is one of Ireland's most influential musicians. Despite writing the majority of the songs on her most famous album, I Do Not Want What I Haven't Got (1990), Connor is best remembered for her cover of Prince's Nothing Compares 2 U, taken from the same album. The song was a number one hit in the UK, US and across most of Europe, and had a striking video which featured a close-up of O'Connor crying as she mouthed the lyrics.
29: KATE AND ANNA MCGARRIGLE These Canadian sisters began performing as a duo while at university in the Sixties, and were part of folk band Mountain City Four. In 1975, the sisters released their first album as a duo. Many of the songs from their self-titled debut album, including Heart Like a Wheel and Go Leave, have been covered by other artists such as Elvis Costello, Billy Bragg and The Corrs. The duo continued to perform together until shortly before Kate McGarrigle - Rufus and Martha Wainwright's mother - died in early 2010.
30: CYNDI LAUPER Born in Queens, New York, in 1953, Cyndi Lauper is a passionate LGBT rights campaigner. Her self-written hits include Time After Time and All Through the Night, but Lauper's breakthrough single was a wittily reworded cover of Robert Hazard's Girls Just Want to Have Fun, turning the politically questionable original into an upbeat feminist anthem. She is a keen wrestling fan, and appeared in the first ever WWE Wrestlemania as the manager of fighter Wendi Richter. In 2013, Lauper won a Tony Award with her score for the musical Kinky Boots.
31: CARLY SIMON American singer-songwriter Carly Simon began her career in 1964 as part of The Simon Sisters with her sister Lucy. She went solo in the Seventies, and the 70-year-old has had a string of hit pop-rock singles since, including You're So Vain and You Belong To Me. Simon won a Grammy, Academy Award and Golden Globe for Let the River Run, written for the soundtrack to the 1988 film Working Girl.
32: LAURYN HILL As one third of The Fugees, Hill lent her dazzling vocals to the band's chart-topping cover of Killing Me Softly. Hill went on to release a solo album, The Miseducation of Lauryn Hill, in 1998. Dubbed a neo soul masterpiece by critics, it won five Grammys and shifted eight million copies in the US. But Hill was uncomfortable with fame, retreating from the public eye. In 2000, she fired her management team, and began attending Bible classes five days a week. Her 2001 live acoustic album was praised as "genius" by NME, but dismissed as "a public breakdown" by Rolling Stone. Her appearances became erratic, with Hill arriving up to two hours late for concerts, and cancelling most of her 2009 European tour for unspecified reasons. In 2013, she was sentenced to three months in jail for tax evasion. More recently, Hill contributed to the soundtrack of the 2015 Nina Simone biopic, Whatever Happened, Miss Simone?
33: ARETHA FRANKLIN Soul legend Aretha Franklin began her musical career as a gospel singer in church, and was later taken on tour by her preacher father. The Tennessee native became a star in the Sixties singing jazz and Motown standards. Her 1967 re-working of Otis Redding's Respect - which was adopted as an anthem for change by the civil rights movement - gave her a number one in the US in 1967, and she followed this with further hit singles Chain of Fools and Say A Little Prayer. In the Seventies, Franklin began to write more of her own songs, including Call Me and Rock Steady. The 70-year-old became the first woman to be inducted into the Rock and Roll Hall of Fame in 1987.
34: PATTY GRIFFIN American guitarist, pianist and singer Patty Griffin's stripped back songs have won her many fans among folk and Americana lovers - including Led Zeppelin frontman Robert Plant, who invited her to appear on his solo album Band of Joy in 2010. The 51-year-old's sixth album, Downtown Church, picked up a Grammy award for best traditional gospel album in 2011.
35: LUCINDA WILLIAMS Lucinda Williams works across rock, folk, blues and country music as a singer and songwriter. She won a Grammy Award for Best Country Song in 1994, for Passionate Kisses. Her depth of writing was perhaps best shown on Car Wheels on a Gravel Road, which prompted Time Magazine in 2002 to call her "America's best songwriter".
36: TORI AMOS Classically trained American pianist Tori Amos started singing in bars at the age of 13, chaperoned by her father. After a brief stint in synth-pop band Y Kant Tori Read, Amos began a solo career in 1990. To date she has sold over 12 million albums and released 14 albums of piano-led rock and pop - the most successful of which, 1996's Boys for Pele, spawned her biggest hit, Professional Widow, which topped the UK chart after being remixed by dance producer Armand van Helden.
37: SIOUXSIE SIOUX Susan Janet Ballion (aka Siouxsie Sioux) is best known as the lead singer of post-punk band Siouxsie and the Banshees, with whom she wrote the hits Hong Kong Garden and Peek-a-Boo. With her choppy black hair and thick eyeliner, Sioux became a style idol for the Goth movement of the Eighties, while her songs have been sampled by Massive Attack and covered by Jeff Buckley and the Red Hot Chili Peppers.
38: TRACY CHAPMAN Guitarist and singer Tracy Chapman is best known for Fast Car, a song from her self-titled debut album which explores themes of poverty and alcoholism. Over the course of her eight-album career, the Cleveland, Ohio-born 51-year-old has often used her music to support social causes, and has performed at events such as the Nelson Mandela 70th Birthday Tribute and Make Poverty History.
39: REGINA SPEKTOR Russian-American singer-songwriter Regina Spektor emerged as part of the "anti-folk" scene in New York City's East Village in the early Noughties, alongside bands like the Moldy Peaches. The 35-year-old has been praised for her lyrics, which often include literary references, as well as an unorthodox singing style, which can be heard on her best-known song, Fidelity, taken from her Shortlist Music Prize-nominated 2006 album Begin to Hope.
40: ERYKAH BADU The Queen of Neo-Soul doesn't just have a voice many have compared to that of Billie Holiday. Badu, born Erica Abi Wright in 1971, achieved triple platinum sales with her debut album Baduizm after its release in 1997. She went on to win 16 awards and 57 nominations, for hits such as Love of My Life and album Worldwide Underground. While her output has been marked by episodes of writer's block, she has consistently released innovative and commercially successful material, and work with artists such as Flying Lotus and Drake. Nearly 20 years after her debut release, Badu caused a frenzy among online listeners in 2015 after releasing a mixtape of her favourite music.
41: BONNIE RAITT Blues singer-songwriter Bonnie Raitt has released 17 albums and won 10 Grammys over a career that has spanned more than 40 years. Though she had long been a darling of the critics for her soulful vocals and skilled slide guitar playing, the 66-year-old American did not achieve much popular acclaim until the late Eighties and Nineties, when her rock-leaning 1989 album Nick of Time hit the top of the US charts.
42: KD LANG Katheryn Dawn "KD" Lang is a Canadian country and pop singer-songwriter who became popular in the late Eighties after collaborating with Roy Orbison on the song Crying, taken from the film Hiding Out. In the Nineties, Lang had two top-10 albums in the UK, and The Rolling Stones were forced to give her a co-credit for their song Anybody Seen My Baby? due to the track's striking similarity to Lang's Grammy Award-winning 1992 hit Constant Craving. Lang, who came out in 1992, is an outspoken advocate of gay rights and vegan causes.
43: GILLIAN WELCH In 2015, Gillian Welch was awarded a lifetime achievement award at the Americana Awards in Nashville, recognising her remarkable contribution to country music singing and songwriting. The former Berklee School of Music student, who performs alongside guitarist Dave Rawlings, writes powerful and descriptive songs such as Barroom Girls, Wrecking Ball and Orphan Girl, and her music has been used by filmmakers The Coen Brothers.
44: EMMYLOU HARRIS Alabaman Emmylou Harris has won 13 Grammys and sold millions of albums over the course of her 40-odd years in folk and country music. The 68-year-old was a member of Gram Parsons's band in the Seventies, and began releasing solo albums after his death in 1973. After a string of hits in the Seventies and early Eighties covering country and pop standards, Harris was less successful with her own compositions. However, she remains a sought-after vocalist and has collaborated with Neil Young, Mark Knopfler and Roy Orbison. She was inducted into the Country Music Hall of Fame in 2008.
45: SADE British-Nigerian singer Helen Folasade Adu is better known as Sade, the lead singer of the Grammy and Brit Award-winning soul, jazz and R&B band of the same name. As the group's chief songwriter, Adu was the driving force behind hit singles Your Love is King and Smooth Operator. The band have sold over 110 million albums worldwide, making Adu one of the most successful British female musicians ever. In 2002, she received an OBE for services to music and dedicated it to "all black women in England".
46: ROBERTA FLACK When North Carolinan soul, folk and jazz singer Roberta Flack was discovered in the late Sixties, she was a Washington schoolteacher, performing in nightclubs in her spare time. In 1972, Clint Eastwood chose her song The First Time Ever I Saw Your Face for the soundtrack of his film Play Misty For Me, and the song became the biggest selling hit of the year. Though best known for singing songs written by other people, including Killing Me Softly With His Song and Where Is the Love, Flack began writing more in the Eighties.
47: GRETCHEN PETERS Gretchen Peters was inducted into The Nashville Songwriters Hall of Fame in 2014, as a tribute to the New York-born singer's powerful body of work. Her own albums show a keen eye for human frailty and Peters has composed hits for a string of singers, including Etta James and Neil Diamond. In 2003, Peters was nominated for a Golden Globe award for her work on the DreamWorks animated film Spirit: Stallion of the Cimarron.
48: ALICIA KEYS New York-born singer-songwriter Alicia Augello Cook - better known as Alicia Keys - became one of the best-selling pop artists of 2001 with her soulful debut album Songs in A Minor, released when she was just 20. The album also won her the first five of her 14 Grammys to date. Keys, who has also written songs for Christina Aguilera and the late Whitney Houston, has sold around 30 million albums.
49: AIMEE MANN Aimee Mann dropped out of Berklee College of Music in Boston to form a punk band, the Young Snakes, who were dissolved in 1990 when Mann left to start her solo career. Her song Save Me from the 1999 film Magnolia was nominated for a Grammy Award. She has pursued a successful rock and folk music career that has spanned three decades and is known for her seductive guitar playing and passionate, dark lyrics.
50: DAR WILLIAMS Described by The New Yorker as "one of America's very best singer-songwriters", Dar Williams writes about small town American lives with penetrating insight. She is currently writing a book about her life of musical touring called What I Found in a Thousand Towns. Her ninth album, Emerald, was released in 2015.
51: LAURA MARLING Folk singer Laura Marling was just 17 when she recorded her debut album, the Mercury Prize-nominated Alas, I Cannot Swim. Her follow-up, I Speak Because I can, was also nominated for the Mercury Prize, and helped win her a Brit Award for best British female in 2010. Marling's confessional, literate lyrics, rich voice and mature sound have seen her compared to Joni Mitchell, and placed her at the forefront of the so-called "nu-folk" scene in Britain alongside acts like Mumford and Sons and Noah and the Whale.
52: SHANIA TWAIN Country-pop singer Shania Twain's 1997 album Come on Over has sold over 40 million copies, making it the best-selling studio album of all time by a solo female musician. Although she was talent-spotted in the Eighties while still in her teens, the Canadian was 27 before she released her first album. Since then she has had hits with Man! I Feel Like a Woman! and I'm Gonna Getcha Good!
53: ANI DIFRANCO Singer and guitarist Angela "Ani" DiFranco was born in Buffalo, New York and started busking with her guitar teacher at the age of nine. She has been releasing politically-minded, sophisticated folk-rock albums on her own Righteous Records - later Righteous Babe - label since 1990 to wide acclaim. She won a Grammy award in 2004 for her 12th studio album, Evolve.
54: ODETTA Described by Martin Luther King as "the queen of American folk music," Odetta was a key figure in both the Civil Rights movement and the Sixties folk revival. Many Americans still remember her rendition of O Freedom, sung during the 1963 march on Washington. Born in Birmingham, Alabama, in 1930, the deep-voiced singer recorded few of her own songs, but devoted much of her early career to arranging and preserving traditional folk songs and spirituals. She would later cover work by contemporary artists including Bob Dylan and Randy Newman.
55: CAT POWER Atlanta, Georgia native Charlyn Marshall - aka Cat Power - was discovered by Steve Shelley of US rock band Sonic Youth while performing as the opening act for fellow singer-songwriter Liz Phair in 1994. Since then, she has released nine critically acclaimed albums mixing folk, punk, blues, soul and indie-rock. She became the first female artist to win the Shortlist Music Prize - awarded to an album that has sold less than 500,000 copies in the US - in 2006 for her album The Greatest. 56: NORAH JONES American musician Norah Jones - born Geethali Norah Jones Shankar, the daughter of renowned sitar player Ravi Shankar - has sold over 50 million albums and won nine Grammy Awards. The 36-year-old's fusion of jazz, pop and soul was best realised on her debut album, 2002's Come Away With Me.
57: JUDEE SILL Judee Sill was an unfairly overlooked US folk singer-songwriter who made two albums in the Seventies before, disillusioned with the music industry and her own lack of success, she sank into the drug addiction that eventually killed her at the age of 35. Despite appearing on BBC music series Old Grey Whistle Test twice around the release of second album, her work - which is peppered with subtle classical influences - was not fully appreciated until long after her death in 1979.
58: BETH ORTON Brit Award-winning British singer-songwriter Beth Orton is known for her pioneering mix of traditional acoustic folk with electronic music - a genre dubbed "folktronica". In the mid-Nineties she provided vocals for songs by the Chemical Brothers and producer William Orbit before releasing her second album Central Reservation - which featured collaborations with late folk musician Terry Callier - to wide critical acclaim in 1999. In 2007, she collaborated with Annie Lennox and 22 other female artists (including Céline Dion and Shakira) on the single Sing, released to raise awareness of Aids in Africa.
59: KT TUNSTALL KT Tunstall shot to fame with her performance of the infectious, bluesy Black Horse and the Cherry Tree on Later... with Jools Holland in 2004. Her debut album Eye to the Telescope was released in 2004 and nominated for the Mercury Music Prize in 2005, and her albums since have been generally well received. She won an Ivor Novello award in 2006 for the track Suddenly I See.
60: SARAH MCLACHLAN Canadian Sarah McLachlan is best known for her emotive, glacial ballads, but she complements her songwriting with an impressive sideline in charity work. The 47-year-old was signed to Vancouver-based label Nettwerk while still at college, before she had even written a single song. Her career peaked with Grammy-winning 1997 album Surfacing. Since then she has continued to write and has raised a staggering sum, in excess of £20m, for various charities.