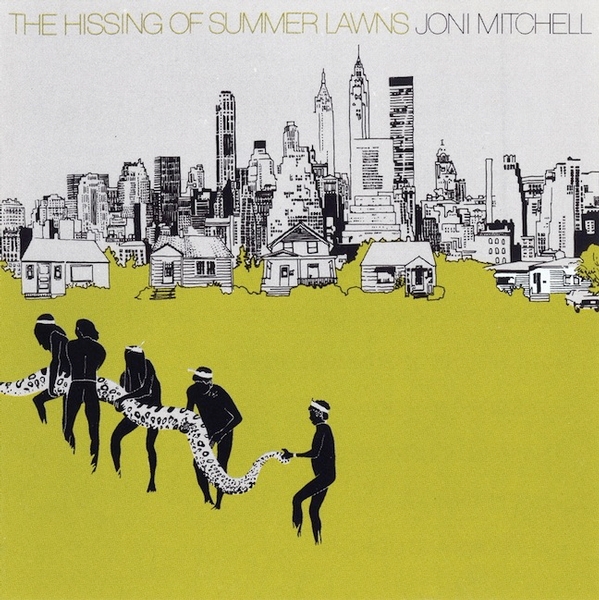 The Hissing of Summer Lawns will never be an initial gateway to Joni Mitchell. Released 40 years ago this month, it marked a turning point in her career. But its somber, romance-jazz-inflected sound can be better appreciated, the story goes, once one is well-acquainted with her more crystalline statements: 1971's Blue - the gold standard in pop music of that decade - and '74's Court and Spark. A year later, The Hissing of Summer Lawns was purportedly a transitional experiment, neither self-sufficient nor cleanly rendered.
The album was jarring to many fans. Mitchell had already gone "electric" on Court and Spark, but despite its more rarified storylines, it functioned essentially like a break-up album. Hissing, rather, was a break from "personal" songwriting. When it came along without so much as an "I" in the lyrics sheet, a skeptical Rolling Stone review by Stephen Holden boiled the record down to Mitchell leaving "personal confession" for "the realm of social philosophy". (Mitchell herself has reserved a special rebuttal for the "confessional" characterization of her early work: "What did I confess to?" she asked in an interview last year.) By Holden's logic, Hissing was the first time Joni wasn't admitting to some secret, or airing some wrongdoing. And for that, she was accused of pretension. As the Detroit Times put it: "Mitchell takes a tone that is smug, sometimes so smug that it is downright irritating".
It wasn't just that Mitchell eschewed the first-person in these slick new songs. It was that her characters weren't experiencing heartbreak - or even clear emotions - in expected ways. The characters that inhabit Hissing, mostly women, are strangers to their innermost feelings, or struggling to become so in order to escape or cope.
Hissing spins the dizzying déjà vu moment of Court and Spark's "Same Situation" out into an entire album. In the song's narrative, a jaded lothario fixes his "gaze" on a new woman, "Weighing the beauty and the imperfection/ To see if [she's] worthy/ Like the church/ Like a cop/ Like a mother." Mitchell's protagonist receives the stare, but it feels too familiar. Each of Hissing's ensemble cast of women are hit with that same hollow but commanding look. On "Harry House/Centerpiece", Harry looks at his wife and mentally recreates a young, bikini-clad version of her. In "The Boho Dance", a priest longs for the pin-up girl on his hidden "pornographic watch." And a mafioso's eyes "hold Edith" in "Edith and the Kingpin". Hissing catapults us into the aftermath of these destabilized relationships - scenes of shared domestic psychosis that read like Clarice Lispector set in the Hollywood Hills. Every song illustrates the feeling of being trapped, unworthy, and marching to the obscure beat of someone else's drum.
In 1996, during an interview with Morrissey, Mitchell clarified the commonalities between these omniscient narrations and her early work - again protesting the use of the "c" word. "The things where I have revealed my own foibles or frailty were", she said, "to create... a rich character full of human experience". The Hissing of Summer Lawns is as full of human experience as anything on Blue. The tone is simply more stern, the perspective less ambiguous. Mitchell's narrator sees everything, giving herself agency, offering selective glimpses of her scenes. Elvis Costello once praised the record's center, "Shades of "Scarlett Conquering": "This is as good as any writing," Costello said. "That's a whole book's worth of writing and yet it doesn't rely on anybody assuming that's you".
Critics said melody was thrown out with the "I" on Hissing. In a hum-it-back-to-me-now sense, they were not wrong. Mitchell's indelible melodic sense was instead subsumed into long verse structures, and fit to the rhythm of speech. It was a direction she had always tended towards, but against the genre-blurring, ever-complicating backdrop of Hissing, there was no denying the peculiarity any longer. An apt review from Stereo Review claimed, "She has done little work on her melodies... she is up to something too subtle for me to detect".
Mitchell structured her Hissing ensemble like Miles Davis on In a Silent Way: Freeform electric piano and guitar crochets created a soupy, gently chaotic center for the band. "I let my players go a little freer than on Court and Spark... cut them some slack", Mitchell said in 1989. She took a page from the book of her hero, Duke Ellington, another bandleader famous for letting his expert soloists' identities shape and lend drift to his well-charted compositions. Mitchell's less dictatorial approach put things in a greyer stylistic zone, setting Hissing apart but also sealing its fate. "A jazz musician, cut loose, will play jazz harmony against my music," Mitchell said. "That intimidates some people".
Hissing is still one of the hardest Mitchell albums to pin down stylistically. Unlike its follow-up Hejira, or any of her previous work, the sound changes dramatically between songs. Winds, strings, and horns are added and subtracted track-to-track. "The Jungle Line", driven by a newly-purchased synthesizer and tribal drumming, is typically singled out as the record's most glaring anomaly, but thematically it's possibly Hissing's most perfect microcosm. The song directly evokes Mitchell's cover painting: grey and sickly green in the stark, primitivist style of French painter Henri Rousseau, whom Joni reanimates as a predatory force in her song. Another Moog-powered outlier is the mostly-vocal piece "Shadows and Light", which functions like a closing hymn, or the final chorus in a Greek tragedy.
In 1979, Mitchell complained to then-Rolling Stone'r Cameron Crowe about the reception of Hissing, questioning why it was so lukewarm in contrast to that of fellow Hollywood cynics Steely Dan. With the release of Steely Dan's biggest smash and critical darling Aja in 1977, the band had essentially become Donald Fagen and Walter Becker's front for trafficking in famous jazz musicians. Their new music arrived at genre-defying conclusions that were similar to Joni's, even featuring some of the same players. "[Aja] was applauded as a great, if somewhat eccentric, work", Mitchell commented. "I fail to see the eccentricity of it, myself".
But there was no "Peg" on Hissing. Mitchell's carefree ode to the touring life, "In France They Kiss on Main Street" - which actually features a turn from erstwhile Steely Dan guitarist and Doobie Brother Jeff "Skunk" Baxter - managed to peak at #66 on the Hot 100, but it was a smokescreen for the comparatively dour atmosphere of the rest of the album. Hissing debuted at #4, making it Mitchell's third highest charting, but it fell off dramatically with each successive week. The album became something of a footnote to music Mitchell made in its wake; in furtherance of its esoteric aims, the consensus tended toward the hostile.
It took two decades for a generation of artists to really claim Joni Mitchell as their spiritual forebear. First, there was the Lilith Fair generation. In a brief interview on "The Rosie O'Donnell Show" in '96, Mitchell offered a bemused smile when forerunners of the movement - Melissa Etheridge, Shawn Colvin - were cited as two of her biggest celebrity fans. In those artists' stripped-down folk-pop, Mitchell's early acoustic work was fetishized. The all-star jam at the first Lilith Fair in 1997 was a cover of "Big Yellow Taxi".
Joni didn't care for the comparisons. Speaking with Morrissey, she recalled a radio show in '96 in which a boisterous male host compared her work with a slew of younger songwriters, in whose work she heard only "Joan Baez and Bonnie Raitt." "To me it bore no resemblance to Court and Spark... because harmonically it was very standard tuning," she complained. "It was the very thing that I left... no matter what colors you put together, you'd heard it."
The cult for the harmonically rich, electroacoustic universe that Joni opened up on The Hissing of Summer Lawns was more disparate. Its ethos influenced singular voices like Prince, Kate Bush, and Björk, who were very interested in unheard "colors." Bush once called Mitchell the only female songwriter with whom she felt an affinity. When the British singer broke with her roots as a piano-based performer, embraced the Fairlight synthesizer, and cultivated a huskier vocal tone for 1985's Hounds of Love, she likened the shift to Joni's ever-changing sensibilities - particularly, the use of her voice. Last year, talking to Pitchfork, Björk chalked her deep-seated love for Joni's late-70s work up to Iceland's curious import patterns: "I think it was that accidental thing in Iceland, where the wrong albums arrive to shore, because I was obsessed with [1977's] Don Juan's Reckless Daughter and Hejira as a teenager. I hear much more of her in those albums. She almost made her own type of music style with those, it's more a woman's world." Björk also praised "The Jungle Line" - "it sounds like something we would make now, it's crazy!" - and in 2006, covered "The Boho Dance" on a tribute album.
Both of these artists, like Mitchell, moved beyond traditional rock arrangements to play with unorthodox textures and corrall unique performers to suit their subject matter. These concoctions - existing in an unsettled space between "pop" and "serious" music - were their very own. As Mitchell put it in 1989, while comparing her transformation over the course of the '70s to Marvin Gaye's, she got interested in "moving away from the hit department, to the art department."
Today, the influence of those artists infringes heavily on younger indie and pop musicians. So, too, has a more expansive view of Mitchell's legacy. Now more than ever before, Mitchell's music is relevant to things happening outside of neo-folkie circles. Joanna Newsom's 2010 Have One on Me bears the distinct stamp of Court and Spark's mix of pop and effusive narrative. At the time, Newsom welcomed the comparison, claiming to be "collect[ing]" Joni's albums for the first time.
But nowhere is Hissing's influence felt more strongly than in the music of L.A.-based singer-songwriter Julia Holter. Her 2013 album Loud City Song features, by her account, a direct tribute to "The Jungle Line" in the form of album highlight "In the Green Wild". Both that album - in its own way, a shadowy Los Angeles phantasmagoria - and Holter's newest LP, Have You in My Wilderness, feel in line with the ethos of Hissing's timbre. Holter layers lazy washes of strings, horns, and echoing backing vocals (à la "The Hissing of Summer Lawns" or "Edith and the Kingpin") on top of a muted, sophisticated rhythm section. "[Joni] writes about the city a lot in her later stuff," Holter told Dummy in 2013, "and the way it's orchestrated is really cool. There's a lot of attention paid to the production that I really enjoy."
The Hissing of Summer Lawns was one of the earliest and most high-profile albums by a major pop artist - certainly by a female one - to theorize what a distinctly avant-garde-informed pop music might sound like. Its musical vocabulary - as well as its lyrical one - fell magnificently between acoustic realism and symbolic fantasy. The album's final track provides an apt conclusion in every sense. It's a bare summation of the threads of struggle, compromise, and perseverance that run through the record, but also eerily evocative of its fate in the world. Even before the morning papers came in, Joni seemed to understand what she would be up against: "Critics of all expression/ Judges in Black and White/ Saying it's wrong/ Saying it's right/ Compelled by prescribed standards/ Of some ideals we fight."