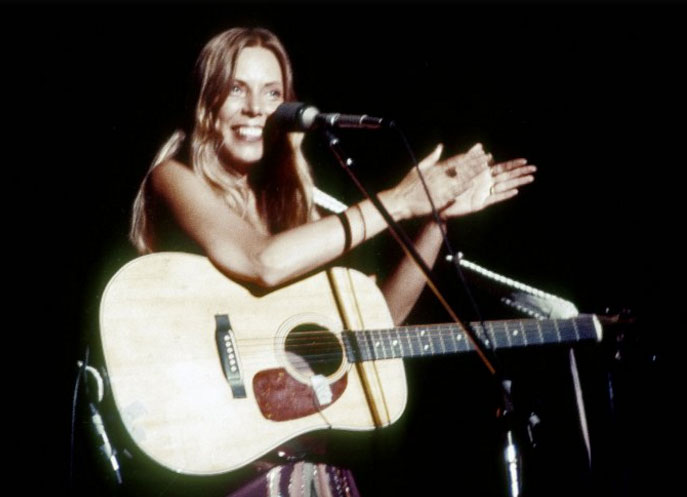 Estrella in West Hollywood may be inspired by Joni Mitchell and the Laurel Canyon hippy set of the 1960s, but its feel and food has a more contemporary hint of luxe about it.
"You're in Laurel Canyon right now," restaurateur and club owner Alan Nathan chanted, like a Sixties shaman peeking from a kaleidoscope sky.
And yes, here in Estrella, smack dab in West Hollywood and actually nooked underneath the IAC building (the company which owns the Daily Beast), you could well be in the famed sixties center of LA's hippie movement, and its fairy godmother Joni Mitchell.
Almost named Lookout Inn and Chelsea House, the owners settled on Estrella, the name deftly lifted from a Joni Mitchell song "Ladies Of The Canyon," about Estrella, a 'circus girl.'
They intended this bit of Bohemia as a pure homage to the folk icon. "We're taking the cabin style and Joni Mitchell with love," Nathan noted.
Mitchell, 72, is still recovering from an aneurysm and a stroke, and is, according to her friend Judy Collins, "making good progress", "walking, talking, painting some [and] doing much rehab every day."
From the instant you set foot into the eatery that Nathan and his partner - and fellow USC Trojan alum - Brett Nestadt opened in October you're lulled, with a definite LSD vibe, into a power-lunch place with its own lush landscape. Tapestries shrine the walls. In its outdoor section at least one butterfly is encased behind glass.
The restaurant's mascot, the peacock, pops up all over the place from the letter-pressed coaster to the minimalist sculpture above the fireplace, which itself isn't a prop. It works. So does the saloon piano to its left. Once it's tuned Nathan said he expects it to inspire ad hoc recitals. "I wouldn't mind someone jumping on it," he jested.
You settle into your seat, your feet on handset bricks, and relax, with the soothing sound of waterfall droplets against a broken tiled mosaic wall, and the ferns and thick greenery that wall away Sunset Boulevard gridlock.
Yes, you could easily be up in Laurel Canyon lounging in the living room during an impromptu salon at a storied bungalow where luminaries like Joni Mitchell and Cass Elliot and David Crosby penned legendary lyrics while still lacking drivers' licenses.
And what if Mitchell or Mama Cass hitched a ride to dine at Estrella today? Nathan is confident they'd feel at home. "I would like to think she'd say 'This is one of the of the places I lived back in the day,'" he said. "And she has to drink the Joni Mitchell!"
The "Joni Mitchell" as in the drink. Originally named "Joni Mitchell Wrote That," the cocktail is meant to be sipped to "achieve greatness."
Made of bourbon, grapefuit juice, simple syrup, pomegranate molasses, and lime juice, it's a tart concoction. Other time-travel libations include the "Laurel Canyon" with its housemade tonic and coconut ice cubes and the "Sex, Drugs, and Rock n' Roll" with its hand grated nutmeg and rosemary stick spoon.
"I would like to think she'd say 'This is one of the of the places I lived back in the day.'"
The joint is 9,000 square foot, so never feels crowded - and the Sixties vibe is a throwback to an era that Nathan says has come back full circle, replete with the popularity today of bandanas and tie dye.
"We felt the inspiration of folk rock in the 60s and 70s," Nathan said. "It's part of our design, our food and the artistry - everything that we're doing, the idea of 60s and 70s to now - is we have to be relevant now."
Nathan, who became a maven around the town's nightclub scene and lives in the Hollywood Hills, said that Estrella the restaurant's music was inspired by Crosby, Stills, Nash & Young, Mama Cass Elliot, and The Doors ("but we're for the younger generation"). Nestadt likes everything from "new electronic to the past."
Estrella will also host art shows and theater productions inside a private screening room, itself next to a shy celebrity-friendly private eating space. So private is this spot that a VIP, say, could essentially exit from the valet inside the garage and easily slip in and out without being snapped by any paparazzi.
Rock-themed cocktails aside, it's the food Nathan, 46, and Nestadt, 27 (he was named as one of Zagat's 30-under-30) both say is what will make Estrella shine for a long time to come. And its star is Chef Dakota Weiss.
"Definitely a hippie kid," she says, between laughs. A flower child through and through, with a sister named Ocean, the SoCal kid seasoned her style by watching her mom cook using homegrown ingredients.
"I grew up where everything came out of my mom's garden. She made everything from scratch," she said. Weiss "knocked it out of the park" when she whipped up some dishes years back from Nathan's black box test - a fridge filled with mystery ingredients.
If you visit Estrella, do sample her gourmet popcorn (so good, dangerously addictive), and a salad with little gems, radish, tarragon citrus and white truffle with a drizzled mus
tard vinaigrette. Estrella's customers certainly seem to enjoy its vibe. Actor Carter Roy rhapsodized over the flavors of Weiss's food, while taking in the wood paneled ceilings, and the "old school formal dress of the bartenders" that he said made you feel as you were initiated into some sort of bygone gentry. "You feel well-heeled yourself...enough to be fondled over," he quipped.
On Wednesday night Estrella was hopping. Its communal table was peopled by glitzy dressed Hollywood set.
At the bar a New York City transplant named Harrison sat next to a buxom brunette from San Diego. Her very V-neck top may have been the one thing to distract him from food, if only he wasn't legally blind.
Harrison indulged in some conversation with the stunner and then wolfed down an heirloom tomato salad with Pistachio oil, red shiso and Crème fraîche, before devouring the Angus burger with its smoked tomato and fried egg.
"I've never had a burger like it," a woman who works in the area named Jennifer, said.
While the offerings here (all made from scratch - even the yogurt and brine) Weiss's take on the burger also sends Harrison to the moon. "This is one of the best burgers in town."
Harrison has been an Estrella convert after another unnamed place he frequented three times a week nearby forgot who he was. "They didn't even know I was cheating on them," he said of his culinary deceit.
That won't happen at Estrella, Nathan said. "I want to be a restaurant that someone comes twice a week to, not once a month to," he vouched.
Harrison can't stop dreaming about brunch. "They have a thing called the rolling stone: it's a poached egg inside of a whole avocado wrapped in bacon. How good does that sound?"
Weiss said the idea came to her, as many do all the time as she's hearing a jingle or smelling something pungent. "It's become pretty popular on Instagram," she said. "It's egg yolk porn."
One hopes Mitchell herself will pop in to sample it, and many other Estrella pleasures, when she is well enough to do so.