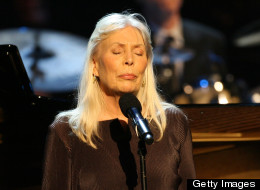 Though I remember being assigned to sing "I've looked at life from both sides now" in the third grade choir, it wasn't until purchasing 1991's Night Ride Home (on cassette!) when I fully jumped aboard the Joni Mitchell train. I'm proud to say I own every album she's ever released -- and I cherish them all. In fact, exploring her vast, varied, back catalogue -- especially her 1970s output -- is something I recommend to every music fan. Always uncompromising, Mitchell danced to her own drum from the beginning. Her first decade of releases seamlessly journeys from deeply personal folk into pop, jazz, blues, rock, funk, world music, and the avant garde -- a musical evolution that must be heard to be believed. Fortunately, for both longtime fans and the uninitiated, Rhino has released Studio Albums 1968 - 1979, an affordable 10-disc set perfectly timed to coincide with Mitchell's 70th birthday.
Mitchell's extraordinary first decade of releases features some of the best recorded music of the 20th century. Each album needs to be listened to as a whole. Special thanks to L.A. based Canadian recording artist and friend of Joni's, John Cody, for help in piecing this article together.
Song To A Seagull, 1968
Joni's debut was produced by David Crosby, who decided to let her record in any way she saw fit knowing that the record company would not go up against him creatively, thus allowing her to distill her own vision for how her music would be heard. Minimalist in approach, and equal parts naive and wise, Song To A Seagull cements her distinct and inimitable style.
Clouds, 1969
Sonically superior with a lyrical prowess more muscular than its predecessor, Joni's presence as a guitarist and vocalist is more refined, and though you can hear the influence of CSNY vocally, her spirit is more singular. The iconic "Both Sides Now" was written as a meditation on duality, and although there exists innocence in its references to fairy tales, by its end one is laid waste by its profundity. Clouds earned Mitchell her first Grammy (Best Folk Recording) and celebrates its 44th anniversary this month.
Ladies Of The Canyon, 1970
By now fully immersed in the California music scene, the emergence of her piano styling and the influence of jazz begin here. Best remembered for "Big Yellow Taxi", "Woodstock," and the title track, the stacked overdubbed vocals and her alternate guitar tunings of Ladies were to become recognizable signatures.
Blue, 1971
One of the most important records in rock history for all confessional singer/songwriters to follow can be traced back to this classic. A staggeringly personal overview of matters of her heart unparalleled by any artist before or since, Blue features James Taylor on acoustic guitar, and is the only record to showcase Joni on dulcimer. Featuring some of her best-loved and most covered songs including A Case Of You, River, California, and Carey.
For The Roses, 1972
Gone is the innocent California girl image, and the folk influence has all but vanished. Joni begins to sour on the state of the music industry for the first time in song as heard on the title track in blistering, brutally honest terms. Her most experimentally ornate and harmonically complex effort, from here there was no turning back.
Court And Spark, 1974
Joni's biggest seller spawned her only U.S. Top 10 hit ("Help Me"), and was one of the first recordings to marry jazz and rock that alienated no one, and her first to feature a band -- the renowned L.A. Express. Lushly arranged, Joni further brings us into her ideas about success and isolation in the entertainment industry and society exemplified by the melodically inventive, Free Man In Paris.
The Hissing Of Summer Lawns, 1975
A complex musical tapestry, Hissing is an underrated masterpiece. From "Edith & The Kingpin" to "The Jungle Line" to "Harry's House/Centerpiece," the diverse soundscapes are a rich fusion of jazz, rock, blues, acoustic, world, and electronic. Joni had evolved into an artist almost uncategorizable. Superior in lyrical content to anything she had released as in the title track's haunting tale of a suburban wife and the husband who keeps her like property ("he put up a barbed wire fence to keep out the unknown/and on every metal thorn -- just a little blood of his own"). Some of her first overtly social commentary is here for our purview. You'll never see summer lawns in quite the same way again.
Hejira, 1976
A return to a more minimalist production value, Hejira's songs were largely written on a trip across country in a car she drove without a license and reflect the wanderlust of the artist. Lyrically we find her expanding visually and viscerally to a point unseen. Solitary, mysterious, and meditative, Hejira (meaning 'journey' in Arabic) is one of Joni's most critically acclaimed records -- a towering achievement using the loneliest of color palettes. It also marks the introduction of her collaborations with jazz greats Jaco Pastorius and Wayne Shorter.
Don Juan's Reckless Daughter, 1977
With this double album, there's an almost flagrant resolve to experiment while shifting away from the mainstream. Tunings are lower, the strings get slacker, and the ensemble sounds more like a jazz combo. Among the tracks, a modern classical piece lasting over 16 minutes (the mesmerizing "Paprika Plains") with the London Philharmonic, and a percussion and vocal only calypso-inspired tone poem ("Dreamland") featuring the funky wails of Chaka Khan.
Mingus, 1979
The most obscure and ambitious offering of her career, and also the most prestigious, Mingus would be jazz legend Charles Mingus' final musical project. He had conscripted Joni to write lyrics to some of his best-known songs while he was slipping away from A.L.S. Mingus featured Joni's first collaboration with Herbie Hancock. She attacks this music with an unprecedented authenticity unmatched by any other artist of her generation while maintaining an artistic integrity.
Hard to believe the same artist who created Mingus created Song To A Seagull, and astonishingly this is only a fraction of her full musical evolution. Perhaps English actress Emma Thompson's said it best when describing Joni Mitchell, "I love her. And true love lasts a lifetime". Indeed.