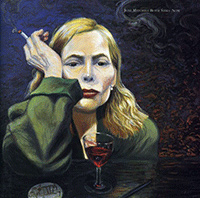 Last Friday night, OT was part of the Joni-worshipping crowd at SFJazz Center attending the SFJazz Gala 2015, honoring singer-songwriter Joni Mitchell with a Lifetime Achievement Award. The artist, ailing in Los Angeles, was surely there in spirit if not in bodily form.

Jazz master and longtime Joni collaborator Wayne Shorter accepted the award on her behalf. Artists paying tribute in concert included Kris Kristofferson , Joe Jackson, Patti Austin, Kurt Elling, Laurie Antonioli , Judith Hill, and the SFJazz Collective. Highlights included Jackson offering a New Orleans-style stride-piano "Big Yellow Taxi," Austin creating a soulful "Don't Interrupt the Sorrow" and "Two Grey Rooms," and Antonioli soaring with a spirited "This Flight Tonight." The Joni Mitchell Tribute Band, led by musical directors Brian Blade and Jon Cowherd , gave expert accompaniment. Movingly, the whole she-bang was brought to a classy close when an old Victrola was wheeled onstage to play Billie Holiday singing, "I'll Be Seeing You." But not before the entire cast let loose: "I was a free man in Paris,/ I felt unfettered and alive./ There was nobody calling me up for favors/ And no one's future to decide./ You know I'd go back there tomorrow/ But for the work I've taken on/ Stoking the star-maker machinery/ Behind the popular song." And oh, as for OT, we were a Friedman in Paris.

It was great to see so many Joni-heads in attendance, including our guest and dear friend, AIDS Legal Referral Panel executive director Bill Hirsh , and the ever-arts-appreciating State Senator Mark Leno. All proceeds will go to benefit SFJazz artistic and education programs. The concert was recorded and sent to Joni, and we think she damn well will be touched. Get well soon, you crazy genius.