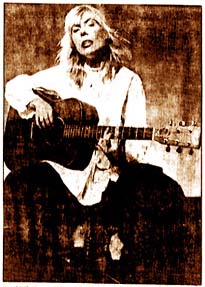 "Wild Things Run Fast" (Geffen GHS 2019), Joni Mitchell's first studio album in three years, is an artistically fruitful return to the jazz inflected rock of her biggest hit record, "Court and Spark," from 1974.

It is also the most exhilaratingly high spirited album Miss Mitchell has ever made. For in addition to the edgy, syncopated folk-jazz singing that became her vocal trademark in the mid-70's, the album features several vibrant rock-and-roll performances that communicate a rare joy in being alive.

Miss Mitchell's last studio album, "Mingus," in which she set lyrics to several melodies by the late jazz giant Charles Mingus, suggested that she had but abandoned pop to pursue a time career in jazz. The album, which did not fare well commercially, climaxed a deepening involvement in jazz that led Miss Mitchell to work first with Tom Scott's L.A. Express, and subsequently with Weather Report and the Pat Metheny Group. Why, then, has Miss Mitchell retreated from pure jazz back into a more rock-oriented style?

"The Mingus project was the end of an experimental cycle that started when I became disenchanted with the backbeat and locked-in quality of pop," Miss Mitchell explained recently. "I needed more than a dance beat to sustain my interest, and eventually I tried to eliminate the bottom end of the music. This culminated on the Mingus album in which rhythm was indicated more than stated.

"Since the Mingus project, I've come to feel that most of the best traditional jazz music has already been made," Miss Mitchell continued. "And I don't think there's much good fusion music. Steely Dan, who came from rock, I think, have united sophisticated chord changes and rock rhythms better than anyone in the jazz area."

Another "signpost" that pointed Miss Mitchell back toward rock was her admiration for the English rock group, the Police. "When I was vacationing on St. Martin, I used to go to a little disco several times a week to dance, and I fell in love with a song by the Police, 'De Do Do Do, De Da Da Da,' "Miss Mitchell said. "I loved the freshness of their rhythm, which was a hybrid -reggaeish but not reggae - and the way the record brought the snare drum way up into the foreground.

Miss Mitchell eventually approached the Police to work with her on her album, but scheduling problems precluded a collaboration. "Wild Things Run Fast" was recorded, off and on, over a two year period. According to Miss Mitchell, one of the biggest challenges of the project was finding a rhythm section that could play rock without oversimplifying the internal rhythms of her songs. She finally found it in two relatively unknown musicians - the bassist, Larry Klein and the drummer Vinnie Colaiuta, who had worked, respectively, with Freddie Hubbard and Frank Zappa.

Stylistically, what Miss Mitchell has achieved on "Wild Things Run Fast" is a deceptively simple pop-jazz hybrid that incorporates elements from many of her previous experiments. On the 1976 album, "Hejira," Miss Mitchell refined Bob Dylan's elongated narrative line into a folk pop poetry of unprecedented density and sophistication. On the new album, the breath rhythms are much shorter and the song structures more conventional, but the same sense of narrative flexibility remains. The impressionistic, angular melodic style of jazz-oriented albums like "The Hissing of Summer Lawns" and "Mingus" also remains. But applied to shorter forms, this syncopated, conversational style has become considerably more tuneful.

The feeling of playfulness that runs through the album also makes "Wild Things Run Fast" different in spirit from all of Miss Mitchell's previous records. It is as though, at 39, the preeminent confessional songwriter of her generation had finally faced down the romantic demons that haunted her earlier albums. On "Wild Things Run Fast," Miss Mitchell doesn't analyze the erotic life with the same anguished self-doubt. Though love is the theme of the album, the more reflective songs look back on old romantic obsessions with a wry humor tinged with sadness.

In "Chinese Cafe," which opens the album, Miss Mitchell flatly talks about her generation: "We're middle class, we're middle aged, we were wild in the old days." The lyric drifts into a reverie of adolescence touched off by the memory of playing the jukebox, and then the song becomes "Unchained Melody," the 1955 hit whose dreamy evaluation of romantic love and spiritual salvation was typical of that era's pop ballads. "Love," the album's final and most farsighted cut, is Mitchell's free adaptation of Chapter 13 from I Corinthians into a flowing pop-jazz ballad.

"I retranslated the poor thing from a Gideon Bible in a hotel room," Miss Mitchell recalled. "I eliminated some of the archaic verses and images of the body being burned, of resurrection and the return of Christ, and did some shuffling to get rhymes and half-rhymes. And I changed the 'charity, in 'faith, hope and charity,, to 'love," because nowadays charity has come to mean tax shelters."

The songs in between these two bookends look at the romantic life with a detached perceptiveness. Two songs -Miss Mitchell's "Be Cool," segued with Leiber & Stoller's "You're So Square Baby, I Don't Care" - gently mock the contemporary romantic ideals of hip and cool, and several other songs find clever metaphors for the anxious rituals of modern courtship. In one song, a couple's fear of romantic failure is expressed in recurrent dreams of flat tires. The title song likens a momentary romantic conquest to coaxing a wild deer to eat from one's hand. The playboy of "Ladies' Man" isn't interested in romance without "cocaine head games." And the female Don Juan of "Man to Man" drifts "with an empty gladness." In these songs, the conventions of modern romance are portrayed as defensive, posturing maneuvers that create artificial relationships. Miss Mitchell's sultry jazz, pop ballad, "Moon At the Window," pithily sums up this vision: "People don't know how to love/ They taste it and toss it/ Turn it off and on/ Like a bathtub faucet."

Two rock love songs, "Solid Love" and "Underneath the Streetlights" break the mood of amused reflection with an immediacy and verve that are unprecedented for Miss Mitchell. "Streetlight,"' in particular, has an energy that she aptly described as "running down the street with your arms open, ready to embrace everything."

"Happiness for me has always been an uneasy thing to express," Miss Mitchell said. "When I used to write about being happy, it would always make me nervous, and I'd end up qualifying it with an element of foreboding. I always felt I was better as a romantic analyst."

Miss Mitchell laughed. "When I was in my 20's, 1 was so very old, But now, when I don't feel exactly grown-up, things are easier."

There is a sense in "Wild Things Run Fast" of Joni Mitchell summing up her life and her music in one exuberant, brilliant final gesture. In recent years, painting has become at least as important to her as music, and since she completed the album, she has been turning out several large canvases a week In different styles, all more or less realistic.

"It isn't in my blood to do music forever," she said. "I'd be just as happy to hole up and paint. In rock and roll, you're built up to be torn down. Like architecture in America, you build it and let it stand for 10 years, then call it shabby and rip it down to put up something else. I don't flirt with the idea of permanence."