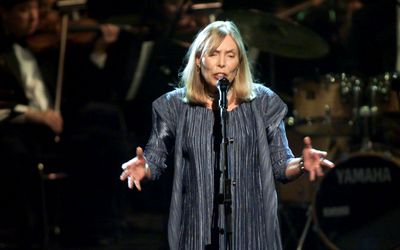 THERE had been good records from her previously and there would be good records from her again, even if you had to work harder at the latter as the line between experimental and self-indulgent became less well-defined. But between mid-1971 and the first day of 1974, Joni Mitchell unveiled three albums that were, in their own way, probably as brilliant, both in conception and execution, as any three successive releases by anybody, before or since.

These were the ones that first set her apart from a Laurel Canyon crowd with which she nevertheless remained closely identified and among whom she continued to find a convenient home. They were the ones that got her mentioned in the same songwriting company as Bob Dylan and Leonard Cohen.

Blue, which the critics seem to like best, was the game changer, the very archetype of a songwriting style that would become known, sometimes pejoratively, as confessional. For the Roses, which I have often liked best, broadened the musical palette and linked the three; and Court and Spark, which everyone else liked best if its unlikely US Top Ten single (Help Me) and number two album chart placing mean anything at all, completed the process. The trick, which most of her peers found beyond them to any sustained degree, was to be self-aware without becoming self-involved, personal without necessarily being autobiographical. Mitchell perfected this across the emotional and intellectual arcs of these records.

Having listened to them again in sequence - twice over - that development is plain to hear, as is both musical and emotional progress, and so Court and Spark, coming at the end of this particular progression and at quite different directions to come, is probably, at some objective level if such a thing is even possible, the best of the three.

Mitchell has called Court and Spark a "discourse on romantic love against the backdrop of the times" and the title track opens the album with love coming to her door "with a sleeping roll and a madman's soul". Where she would previously probably have followed where it led, though, this time she finds she can't let go of LA. And Court & Spark seems to be as much about Los Angeles - and the pull, on herself and others, of a music industry dealing in "dreamers and telephone screamers" as it stokes "the star maker machinery behind the popular song" - as it is about love.

Having once recognised and come to terms with what she perceived to be her own flaws - as the Blonde in the Bleachers on For the Roses she had "taped her regrets to the microphone stand" - she seems to have grown more tolerant of them in others, even when observing them from an apparently cynical distance. This is audible in People's Parties, which packs an astonishing amount of wisdom and detail into just over two minutes, without even being one of her major songs.

Down To You, on the other hand, clearly is a major song, both lyrically and musically.

Her realisation is that love is gone and, ultimately, that it is down to you (accompanied by what sounds like a celestial choir singing hosannas of relief just before the strings come in).

The album closes in ever more assuredly on the jazz voicings that would one day consume her writing, with what have been termed Joni's weird chords taking her further and further away from her folk music origins. The tightly harmonised flutes of the wonderfully fluently written Free Man in Paris, which is about David Geffen, mirrored the complex vocal harmonies that would become a Mitchell trademark, while she still remained, for the moment, within the parameters of pop.

Raised on Robbery, for example, is classic '70s LA rock 'n roll, which means it doesn't rock nearly as much as it thinks it does, even with Robbie Robertson on guitar, but still choogles along nicely enough.

The vocal presence on the closing Twisted of countercultural comedians Cheech & Chong suggests that it was not meant to be taken seriously, but its pure jazz technique would prove down the line to have been a harbinger of a new direction that by no means everyone who bought Court and Spark bought into - Mitchell's music appeared eventually to have become too deliberately complicated, rather than being allowed, as Court and Spark was, to develop naturally.