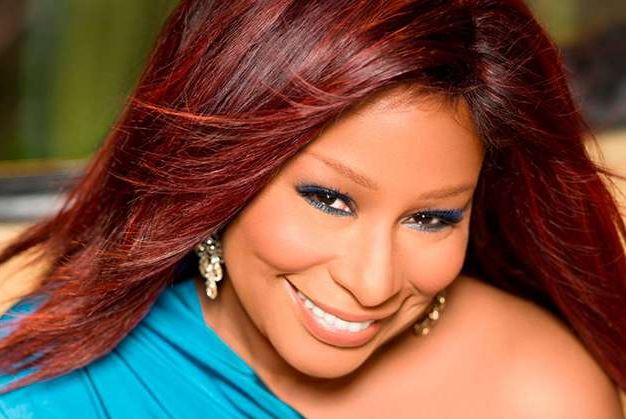 Asked about juggling touring and recording with raising her grandchildren, Chaka Khan responds with characteristic bluntness.

"It's a juggle," she says with a laugh. "It's juggling on a high wire while doing backflips. It ain't easy, babe. But nobody promised me it was gonna be easy. You dig? So I just roll with the fuckin' punches and do the best I can."

After 41 years in the music industry, the 61-year-old is a bona fide icon thanks to her work with the 70s funk group Rufus and her solo pop hits such as I'm Every Woman and Ain't Nobody. Her life and career was recently the focus of a Centric TV doc and last year Erykah Badu and Ledisi were among the artists that paid her tribute at the 2013 BET Honors.

But Khan, 61, is not content to settle into legend status. She is currently recording two albums and runs a charitable foundation that funds educational initiatives for women and children. On Thursday (June 19), she will headline Toronto Jazz Festival, fresh off appearances at Bonnaroo's Superjam and Pittsburgh Pride.

While many of her peers are shrouded by untouchable diva-dom, Khan comes off as candid and self-effacing. She even calls directly for our interview.

"I've always been honest. I don't know any other way to be. So... there," she explains, adding that she hopes her attitude is reflected in the "brutally honest" music she makes. "I want to change somebody," she insists. "I want to move somebody. Profoundly. And I want to educate."

Offstage, Khan is assembling players for a forthcoming album for jazz label Blue Note, which will feature a mix of covers and original material. In 1982, she recorded the jazz album ECHOES OF AN ERA and returns to the genre whenever she needs a challenge.

"Everybody can't sing jazz. Everybody can't do jazz. Everybody can't do it," she says, riffing off the sentence for emphasis. "You have to have a sense of intonation. You have to get your tones right. I can't really articulate to you what the challenges are with jazz. I just know them and feel them and it challenges me. It challenges me and God knows I love a challenge."

Songwriting is another process she describes as instinctual.

"I have no process, man," she explains. "I play bass and I play drums. Those are two hard instruments to write songs to. So I get a guitar player that I love or a keyboard player that I really resonate with and the words are already there in the music. I have the gift — if you want to call it — of being able to hear those words; to decipher those words. It's that simple and it's not simple at all. And it's hard for me to write at times. At other times it's very easy for me to write. It depends on so many variables and I don't even know what they are."

Khan recorded her last studio album, 2007's FUNK THIS with pioneering synth funk producers Jimmy Jam and Terry Lewis following the 2006 death of her long-time collaborator Arif Mardin. Recording was a way to reconnect with and explore her pre-fame identity as well as her fiery musical persona. She says that process is ongoing, as is finding a producer she can really vibe with since Mardin's death.

"He's probably my best producer," says Khan. "He challenged me. He challenged me. He would give me a track like Be Bop Medley and say, 'OK my dear we have to write words to this.' I HAVE TO WRITE WORDS TO THIS? What are you talking about? He told me 'you can do this' and I didn't think I could. He believed in me in a really big way. It's hard to articulate what he did for me but he is so missed."

Has anyone else reminded her of that experience? "No. Sorry. No. I wish someone would. It might just be me?" she says.



Khan is also working on a tribute album to Joni Mitchell, one of her musical heroes. She sang background vocals on Mitchell's 1977 album DON JUAN'S RECKLESS DAUGHTER, has performed her songs many times over the years and covered Mitchell's Ladies Man on FUNK THIS. She was scheduled to perform at last year's Luminato Festival tribute concert for Mitchell in Toronto, but dropped off the bill due to vocal problems.

"She is one of the greatest philosophers on the planet — musical philosophers," says Khan. "She's the cat's pyjamas as far as I'm concerned. I want to grow up to be like her. And I just want to pay tribute to this woman. More people need to hear her words."

Like what?

"OK, I'll give you one of my favorite phrases: 'We're each so deep and superficial/Between the forceps and the stone.' How THE HELL do you put that friggin' lyric in a song? You know!? She's a wordsmith. I love words. I love spoken word. I'm an avid reader. I love conversation. I love communication and when you find a singer who communicates so conversationally that's like hitting the mother lode."



These days, her four grandchildren are the driving force in her life, and she's happy they are uninterested in her musical career.

"They have their interests. They often resent that I am who I am because it affects their friendships," she says, adding that they have a strong sense of who they are. "I'm glad they got themselves and I'm not a real big part of that except for being their big nana. A mom."

She talks about her recent songwriting in similarly motherly terms. "So very few things are sacred and I really want to empower younger people — and older people, too — to trust what they're feeling."

When did she get to that point in life?

"I've always trusted the inner voice but I haven't always acted on it," she adds, laughing. "The longer I'm on this planet the better I get at it. I see that it really does work. If it quacks like a duck, it's usually a duck and that's just it."

That extends to the major label world, which she says is irrelevant except when approaching other artists she wants to work with.

"All the middle people that try to take a piece of your stuff — that's all that is," says Khan. "I have to put up with a little bit of crap. They want to pigeonhole you into what's comfortable for them so you have to put up a bit of a fight but I don't give a damn. That's something worth fighting for. This is the part of me that they have not sold. They can't have that part of me. I'm going to do what I want to do and that's it. I pray that someone will love it too. That's the best I can do."