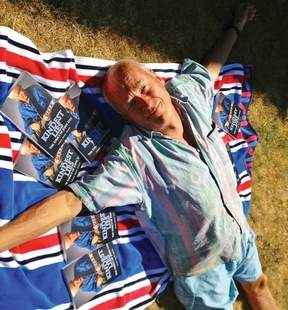 You may not have heard of him recently, but Sechelt's John Lyle has written hundreds of songs and recorded 10 CDs over the years, including his first two recordings on vinyl. He hasn't performed live since the 1980s, but he continues to write and record.

"I can't stop doing it," he said. "It's a release of some kind."

At first he made what he describes as a half-assed living at music, but he observed that the musician's lifestyle at that time - the dope, the drinking and being away from his family - was not for him. Instead he decided to join "the real word of being a postman," he told Coast Reporter. "It helped me grow up."

He continued to write songs and sell them.

A postie gets to meet many people on his rounds and one of them was musician Paul Rodgers. (Remember Bad Company in the early 1980s? Rodgers is still recording.) Lyle pitched his songwriting abilities by leaving a CD in the singer's mailbox. The connection gave Rodgers a Lyle track, I Need Another Kiss.

Lyle also met Bob Dylan and Joni Mitchell one year.

"I thought I wanted fame and fortune at the time," Lyle recalls with humour. But when he met the great Dylan in person at the Mariposa Folk Festival, he could only stand and stare.

Joni Mitchell was even more of a bust.

"She sat beside me on the ferry," he said, "but she was having a fight with Jackson Browne at the time."

It was another silent interaction for Lyle. These anecdotes find their way into his lyrics that reflect an acutely observant look at life.

His latest CD, Wild Awake, gives the best sense of who Lyle is now.

"As I've become older there's more of a focus, more of a knowledge of the beauty that lies in life," he said.

One of his signature songs on the CD is I Know Who I Am. "You can take my heart but the loving part/Will not disappear."

In 2013 he published a book of lyrics, The Kindest Lies (Leaky Boot Press). At first Lyle didn't want to separate his lyrics from his music.

"They were meant as songs," he said. "But they [the publishers] were persuasive." The resulting book has turned into a curiously interesting hybrid, a book of lyrics and comments that can be read like poetry. Lyle's dry humour and cynicism abound. There are songs about bullying (Too Much Compassion), a serious account of women who defy the rules (They Stoned Her) and one he said is "a mating call" (Turn Your Lamp Down, Momma).

Many of the songs are just for fun (Do Whales Have Scales) and many others are inventive and insightful about the human condition.

Lyle suffers the inevitable comparison with Leonard Cohen who turned his poetry into lyrics with astounding ability.

"Cohen has a gift of melody," Lyle said. "He's able to weave words and music together. That's a remarkable challenge."

In 2006 Lyle retired from the post office and he and his wife moved from Surrey to Sechelt three years ago. Penny Lyle sings background vocals on one song that is meaningful for her. I Thought I Saw You describes how she felt the touch of a loved one on her brow one day, as if the departed daughter were in the room.

Most of Lyle's songs are available from iTunes. You can also find them on http://johnlyle.bandcamp.com.

His book, The Kindest Lies, is available locally at Talewind Books in Sechelt and on Amazon.