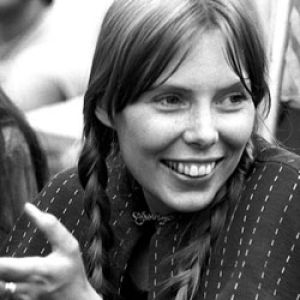 The Fifth Annual Joni Mitchell Tribute Night will return to the Community School of Music and Arts Saturday, and as always it promises to respectfully pay tribute to one of North America's most renowned singers and songwriters. Organized by CSMA board member Joseph Gaylord, the concert benefits the community arts school's scholarship program. There will be a $10 suggested donation at the door.

I asked Gaylord, Why Joni Mitchell? He responded without missing a beat: "For me the best part, is that Joni Mitchell is the multi-artist. She's a painter and a photographer and a dancer and a singer/songwriter and a poet. That's the big part, because that's all that CSMA offers: dance and music and art and poetry. I thought that was a good fit."

All artists evoke some emotional reaction, but Joni's fans feel especially fervent. Tierney McNamara, another organizer of the concert, has transcribed the tunings to countless songs and maintained a database on jonimitchell.com, and recalled by phone the first Joni Mitchell Open Mic in 2004: "It was so successful," he said, "we had to turn people away." No one knows exactly how many there have been since. McNamara suggests eight; Gaylord has organized four, but there is no question they are popular with other artists and fans.

Artists to appear include Jeannie Burns, Terry Burns and Ron Kristy, Joe Gaylord, Shauna Guidici, Molly MacMillan, Sue Tierney McNamara, Nate and Kate, Sally Ramirez, Alice Saltonstall and Dana Paul, Elisa Sciscioli, Richie Stearns, and Maggie Whitehead.

"We've had a whole spectrum of her music. She's had, like, 35 albums, and they run the gamut form folk to jazz, so we've covered a lot of ground," McNamara said.

The fan site McNamara participated in is so popular that Mitchell's record label used it as an official site for a spell. "She approves of the site for what she sees," McNamara told me, before making clear that there is no connection between Mitchell and the site.

"One of the reasons that I am into her is because of the alternate tunings she's created over the years. There are about 50 different tunings. When I started jonimitchell.com, I wanted to keep the songs the way that she plays them. So we have a database on jonimitchell.com where you can download the songs as she plays them."

Asked why Gaylord organizes the concert, he attributed it to "what she has done for music." He continued: "It is not only her songwriting. It is how she plays the instrument. She had hands that didn't work like regular hands when she was learning to play the guitar. She had to invent tunings so that she would play more easily. But as she got stronger, and the years went by, and she got better, the tunings got more complex. That's a big part of the fun and the challenge of playing Joni Mitchell music."

Both Gaylord and McNamara point to "Joni" moments during past concerts - points "where everything juxtaposes and you can actually close your eyes and see and feel Joni Mitchell singing the piece."