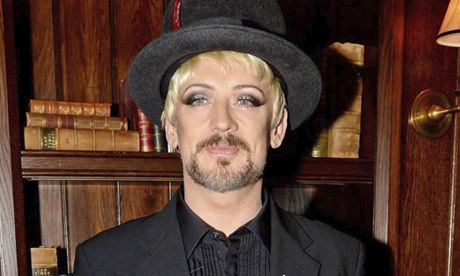 The singer, DJ and former Culture Club frontman on using Joni Mitchell as a marker of excellence, listening to Nico during his first sexual experience - and why David Bowie was a 'life-saver'

Born George O'Dowd in 1961, Boy George rose to fame as the lead singer of 80s pop band Culture Club, whose hit singles included Do You Really Want to Hurt Me, Time (Clock of the Heart), and Karma Chameleon, which reached No 1 in 30 countries and was the bestselling single in the UK in 1983. With his colourful attire, braids and androgynous looks, Boy George became an integral figure of the new romantics movement in Britain, going solo in 1987 and recording music every decade since. His new single, My God, released on 26 January, is taken from his 2013 album, This is What I Do.

THE ALBUM FOR WHEN I'M FEELING SENTIMENTAL

T-Rex, Electric Warrior (1971)

The lyrics of Cosmic Dancer are so beautiful. Hearing his songs now, you remember how special Marc Bolan was in terms of what he wrote about - such bonkers lyrics. Although Bowie was out there as well as a lyricist, no one was quite like Marc Bolan, the things he wrote. He was so optimistic in a funny sort of way. It reminds me of being a kid in the 70s, that was when I first discovered music and particularly glam rock. The 70s was the biggest influence on me, and probably all the people that made music in the 80s who were growing up in the 70s. Electric Warrior was quite an interesting bridge from T-Rex's poppy stuff (later on Bolan got really poppy with Metal Guru) - but Electric Warrior was still a bit prog in a way, a bit dark, quite rock'n'roll. It's a little bit more downbeat as a production, I think. I still listen to the album - certain songs like Life is a Gas, Cosmic Dancer, I'll play them a lot. They're the sort of songs that I always remember to play if I'm having a sentimental moment. It's difficult to put into words, but the album is just so sassy: "Bleached on the beach, I want to tickle your peach, it's a rip-off" goes the song Rip-Off, another song on the album I love.

THE ARTIST WHO MAKES ME TRY HARDER

Joni Mitchell, Blue (1971)

I think Blue has a similar quality to another of her albums, Court and Spark, but it's a little bit more - dare I say it - maudlin, with songs like A Case of You and This Flight Tonight; with all of her songs I can always relate to doing the thing she's singing about. She sings on This Flight Tonight, "I shouldn't have got on this flight tonight" - I have done that! I had an affair with a boy in Chicago, and I flew to see him near Christmas and he didn't turn up. That was years ago, but when I hear that song now, I remember it. She gets into love very well, looking at it from a cynical angle and in a very honest way, and whenever I listen to anything she writes I think: Oh, why do I bother? I use her as one of my markers of lyrical excellence, she makes me think: I must try harder! I've met Joni loads of times. She talks like she writes; she talks in prose. She's not Aretha [Franklin] but she's able to tell a story - some of my favourite singers are people who have unusual voices, not traditional singers, but they are really good at telling a story. There's been so many times in my life when I've put Joni on: there's always a song of hers for when something goes wrong in your life. Hijira even, I know it's not on this album but I've sat and cried to that quite a lot in my life.

THE ALBUM I LISTEN TO BEFORE GOING OUT

Spacehog, Resident Alien (1995)

I discovered Spacehog quite by accident, I heard that song In the Meantime - it's got this great bass - in America in the 90s, I probably saw it on MTV. I was going back and forward to the States a lot during the 90s. I just loved the song and ended up buying the album and it is brilliant - it was big in America but it wasn't big anywhere else. It's one of my favourite records and I play it a lot, it's totally rock. There's a lovely song on it called Starside which is so Bowie-esque. Around the time it came out, there was a spate of great records: Belly's Feed the Tree, Blur were going quite fiercely at the time, there were a lot of American bands, like Concrete Blonde. I'd recommend the album; it's a really good record to put on if you're going out somewhere and want to get yourself in the mood - I think it's uplifting.

THE ALBUM THAT SAVED ME FROM SUBURBIA

David Bowie, Hunky Dory (1971)

I probably could have chosen eight Bowie albums but I've gone for Hunky Dory because I remember the first time I saw the cover and heard the record; it was 1972-73, and it was just so different to everything else. And it's lyrically brilliant: songs like Eight Line Poem and Quicksand - "I'm sinking in the quicksand of my youth..." I even discovered Dylan through this album, because there's his Song for Bob Dylan: "Now hear this Robert Zimmerman, though I don't suppose we'll meet..." I ended up becoming obsessed with Bob Dylan and Lou Reed because of Bowie; it was quite an educational record. There are a lot of songs on there that, as a kid, you felt like he was talking to you. I was discovering myself, living in suburbia, feeling out of place - he was a life-saver, really. Such an artist. When I went to see Bowie in 1973, I must have been 12 or 13,, at Lewisham Odeon, it was a transforming experience, seeing other, older kids as immaculately dressed as Bowie. Many years later that happened to me - I'd do gigs and there'd be people in the audience who looked better than I did! Listening to this record I just wanted to know who Bowie was... I had dinner with him in New York once, and people always say you should never meet your heroes, but he was really charming. These days, when I'm asked to do certain publicity, or anything on TV, I always think: What would Bowie do? If I can't imagine Bowie on the show, then it's a no.

THE ALBUM THAT GAVE ME HOPE

Lou Reed, Transformer (1972)

The Who did a massive concert at Charlton football ground with 73,000 people in 1974, and Lou Reed was on the bill. I was 12 and was told emphatically [by my parents]: "You must not go." I went, obviously, and arrived as Lou Reed was about to come on stage. I was just amazed. After hearing Transformer, I went back to listen to the Velvet Underground and became a fan of everything Lou Reed had done. But Transformer was a great record. If you think about the music of the time, it was completely out of sync with everything else. It was vaudevillian, with songs like New York Telephone Conversation and Make Up - very much later on I discovered Tom Waits and all of that sound - but it was a sort of weird, druggy, theatrical, marching-bands-on-valium sound. I've also chosen it because of the lyrics - particularly Walk on the Wild Side, it has such a great narrative. When you're a kid and you know you're gay, and you hear Bowie singing "a cop knelt and kissed the feet of a priest, and a queer threw up at the sight of that", and then you hear Walk on the Wild Side, you know there's hope - you know you're not the only one that has these weird thoughts.

THE SOUNDTRACK TO MY FIRST SEXUAL EXPERIENCE

Nico, Chelsea Girl (1967)

This was when I had my first boyfriend. I met this guy who was the editor of a pop magazine called My Guy at a lesbian club in Swiss Cottage. I went out with him for a while - he was older than me and had Nico's album Chelsea Girl. I never knew about Nico until him. I spent the one night at his house and he had that album on constantly, all night, so it was kind of like the soundtrack to my first real sexual experience, and I just fell in love with the record. Nico has an amazing voice (a bit like Marlene Dietrich, who I also love), and I thought she was beautiful as well. I particularly love that song Somewhere There's a Feather on the album - it's a Jackson Browne song. When you're a kid you devour all the information about the music you love.

THE TRACK I PLAYED OVER AND OVER

Sly and the Family Stone, If You Want Me to Stay (1973)

I went to live in Birmingham for a year when I was about 17, in 1978-79. I'd met this guy called Martin Degville who was in the band Sigue Sigue Sputnik - he was quite mad, used to wear fishnet tights on his face - at a punk weekender in Bournemouth. Punks at that point were the enemy of the state, no one would let us in anywhere because of the way we looked. We were gathering on a street corner that weekend, and there was this thing on the other side of the road, a vision: oh my God, this guy in high stiletto heels with a white face and a massive white quiff and shoulder pads - he was just outrageous, another level from what we were doing. And me and my girlfriends were in awe, looking at him. I befriended him and I started to go up to Birmingham for the weekend and hang out at the clubs up there for the punk scene. I had this relationship with my best friend, a boy, and when that went pear-shaped, I decided to leave home and move in with Martin. We lived with two girls called Janet Doublenose and Rhonda Beyonda. Rhonda was a big Sly and the Family Stone fan, and I remember one day sitting in her room while she played their album Fresh, and the song If You Want Me to Stay came on - it's just a great song, fantastic falsetto vocals. It's probably one of my favourites of all time. It's got the best bass line ever, and it's Sly Stone at his peak; it's just a great, emotional piece of music. I'd play it over and over, as you do, when you're that age. Sly Stone is one of the greatest singers, you can hear it - the emotion. I'd love to work with him, even if he just did a little warble on one of my tracks I'd be really happy.

THE ALBUM THAT I STILL LISTEN TO

Tubeway Army, Replicas (1979)

I was always dismissive of anyone who sounded like Bowie. But I forgave Gary Numan. I bought this album when I was living in Birmingham. Me and Jeremy Healy, my mate who went on to be a successful DJ [and a member of Haysi Fantayzee], sat and listened to Replicas and loved it, even though we thought he [Numan] was a bit of a Bowie clone. But it was a brilliant record, and he looked brilliant as well, which was very important then. It wasn't enough to be a good musician, you had to have a good look too! It was around that point that I was discovering early Human League, bands like Cabaret Voltaire, I was already a massive fan of Fad Gadget, who, for me, was the king of electro - the unsung hero. Even now, when you hear Are Friends Electric, it still sounds good. You're very lucky if you make a record that doesn't age - his album has aged brilliantly because it's so different, it's so electro. I always think you have to invest something of yourself in everything you do to be good, which is why I love Replicas. I can still put it on and get that feeling that I had when I first heard it.