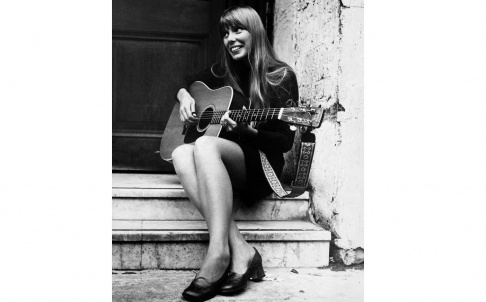 Joni Mitchell, who turned 70 on November 7 amid much media fanfare, has been cantankerously out of tune with the rock scene to which she was once such an influential contributor.

However, since the early 1970s she has got on well with jazz musicians, and vice versa: a large number of them have covered her songs. Mitchell says she started exploring jazz in her late teens by studying the 1960 Lambert, Hendricks and Ross album, The Hottest New Group in Jazz.

That album included Annie Ross' vocal interpretation of saxophonist Wardell Gray's Twisted, which Mitchell covered on Court and Spark, the 1974 album on which she first began to collaborate seriously with jazz musicians.

Wilton Felder on bass (best known as the Crusaders' saxophonist) and Tom Scott on woodwinds and reeds are both on 1972's For the Roses, but for Court and Spark she also engaged other members of Scott's LA Express, plus Larry Carlton and Joe Sample.

Subsequent albums saw her dive deeper into jazz, eventually losing a lot of the audience who followed her from her early acoustic albums up to 1975's The Hissing of Summer Lawns. From 1976's Hejira to 1979's Mingus, the latter featuring Herbie Hancock, Wayne Shorter and Jaco Pastorius, her music became steadily more complex.

Then she wrapped it all up with a tour, documented on a 1980 live album and later DVD titled Shadows and Light. After that she tried to rejoin the intelligent end of the pop mainstream, although jazz musicians kept turning up on her album credits.

Those had their moments, but it's fair to say, I think, that it was not until Both Sides Now in 2000 on which Joni Mitchell the jazz singer re-emerged in the context of Vince Mendoza's orchestral arrangements, that she began to hit her stride again as a recording artist.

It was not to last. Her health is not all it might be, and her voice, she says, is an instrument that is "impaired" - although she did sing at a tribute concert dedicated to her in Canada earlier this year. Whether she records again or not, others will certainly continue to perform her songs - many of them jazz musicians whose respect she has earned over the years.

Hancock's 2007 double Grammy-winning River: The Joni Letters is the best-known jazz tribute to Mitchell, but Keith Jarrett, Diana Krall, and Cassandra Wilson among others, have recorded her songs.

Now singer Tierney Sutton joins their number with an album-length tribute called After Blue. Sutton is seldom heard outside the context of the Tierney Sutton Band, although she has occasionally worked with flautist Hubert Laws, who is one of her collaborators here.

Others include former Weather Report drummer Peter Erskine who has worked on several Mitchell projects, Larry Goldings on keyboards, and Al Jarreau, who duets with Sutton on Be Cool.

Sutton's interest in Mitchell started not with her singer/songwriter albums but with Both Sides Now. "It is the vocal album that I have listened to more than any other in the years since its release. I consider it to be on par with Sinatra's In the Wee Small Hours and Billie Holiday's Lady in Satin," she says. The album is also an interesting opportunity to hear the oft-Grammy-nominated singer in a context other than her regular band.

Meanwhile, three gigs worth catching this week are the Anders Bergcrantz Quartet at Lupa on Tuesday at 8pm, Kotaro Oshio at Sheung Wan Civic Centre on Thursday at 8.15pm, and Ned Kelly's Big Band tonight at Ned Kelly's Last Stand from 6.30pm to 9.30pm.

Bergcrantz is one of Sweden's best-known jazz trumpeters and a prolific sideman, on this occasion leading his own quartet featuring former Hong Kong resident Rickard Malmsten on bass.

Oshio is a jazz-influenced acoustic guitarist and plays a lot of familiar pop tunes alongside his own original compositions.

Take Three

Three albums charting Mitchell's journey into jazz.

Hejira
(1976, Asylum): arguably Mitchell's best-balanced combination of folk/pop song structures with jazz instrumentation and improvisation. Jaco Pastorius, Larry Carlton, Victor Feldman and members of Tom Scott's LA Express are among those helping out.

Mingus
(1979, Asylum): a collaboration with Charles Mingus just before his death, featuring his music and Mitchell's, and her lyrics. It stands the test of time well. The band comprise Mitchell on guitar and vocals with Pastorius, Shorter, Hancock, Don Alias, Erskine and percussionist Emil Richards.

Shadows and Light
(1980, Asylum): get the DVD for the full impact (and Pastorius's bravura bass solo which is not included on the CD). Mitchell performs the best of her jazz-period songs, plus a handful of earlier tunes with about as good a jazz band as could possibly have been assembled that year.