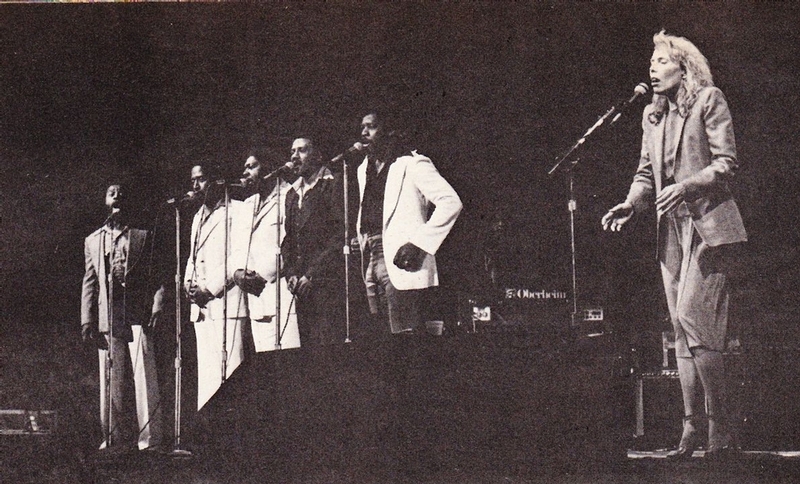 CAUGHT!
---
Personnel:
Joni Mitchell, vocal, guitar; Mike Brecker, soprano, tenor saxophone; Pat Metheny, guitar; Lyle Mays, keyboards; Jaco Pastorius, bass; Don Alias, drums and percussion.
The Persuasions—Jerry Lawson, Jimmy Hayes, Joe Russell, Jayotis Washington, Taubo Rhoads, vocals.
---
On a cold night Joni Mitchell drew a hillside full of listeners to the open air Pine Knob Music Theatre, in the woods north of Detroit, for her first area concert in a number of years.
Mitchell's music has increasingly exhibited the intuitive subtleties and concern with sound textures characteristic of jazz. Her collaboration with bassist Charles Mingus gave this concert tour a special "jazz flavor" that set it apart from her earlier work.
The unlikely combination produced a superb album,
MINGUS
. In liner notes Joni described herself "...standing by a river...feeling it out—and Charlie came by and pushed me in—'sink or swim'—him laughing at me dog-paddling around in the currents of black classical music." It's not surprising that Joni emerged from her baptism a more strongly individual artist, able to draw heavily on other idioms without losing her own identity.
Opening the show, the Persuasions, an a capella male vocal quintet, displayed a high refinement of the r&b gospel tradition. They offered a short, high-energy set, but the appreciative crowd was unable to provide the audience participation needed to ignite this call-and-response music.
Joni's support came from a group of jazz musicians whose grubby attire contrasted with her sophisticated skirted suit and heels. With Brecker still in the wings, the group opened as rockers with
Big Yellow Taxi
("they paved paradise, put up a parking lot").
Coyote
, from the
HEJIRA
LP, used Pastorius' acoustic-sounding electric bass for obbligato counter-melodies.
Goodbye Pork Pie Hat
, probably Minugs' best-known composition, was the first
MINGUS
item programmed. Ms. Mitchell's lyrics have always been rich, benefiting from personal imagery well matched with the intricacy of her melodies and harmonies. Her words to Mingus' classic add rather than detract, broadening its mood, expanding its references. The rhythm here was loose. Brecker's tenor solo was angular and probing; Joni's crystalline voice danced with a true jazz vocalist's fluidity.
Pastorius' unaccompanied bass solo, which followed, left me less than impressed. His accompaniments had been effective, but his solo seemed mostly a pastiche of technique and efforts, and the finale—placing the bass on the stage and slapping it with the neckstrap—was particularly showy. Technique seemed to dominate content here.
The Dry Cleaner From Des Moines
returned to
MINGUS
territory, and after Joni's vocal came a high point of the concert: Brecker, Pastorius, and Alias spun out a long string of blues choruses, Brecker mixing up his unique blend of late Coltrane and funk, Jaco providing a strong counter-voice. After
Amelia
(Joni self-accompanied),
Hejira
(more bass-in-front), a restrained Alias conga solo,
Furry Sings The Blues
, we reached
God Must Be A Boogie Man
, a delightful setting of phrases from the opening chapter of Mingus' autobiography,
Beneath The Underdog
.
To close, the Persuasions joined Mitchell and, backed only by Mays' organ-voiced Arp, recreated her
Shadow And Light
as an eerie, enigmatic hymn, with considerable emotional impact. The crowded hillside demanded more, so Joni, the Persuasions, Brecker and Alias returned with an unrehearsed
Why Do Fools Fall In Love?
—doo-wop rock, complete with Joni's glottal, two syllable "love" and a booting Brecker solo. The audience coaxed Joni out once more, and she performed
Woodstock
solo.
Whatever the dialect, Joni Mitchell speaks with her own voice. This long, satisfying concert demonstrated the range and ability of that voice.