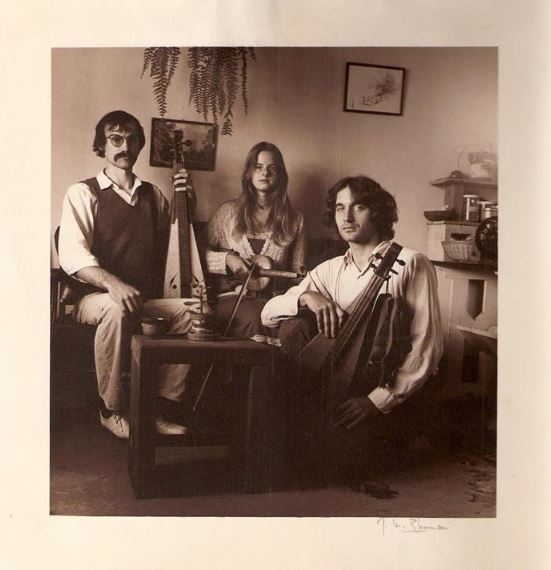 JR Stone, master dulcimer builder, is not doing well. Some of you may remember him from the early 70s when he lived in Vancouver. He built a dulcimer for Rick Scott and performed with him and Shari Ulrich in a group called Shari, Scott and Stone. He had a pivotal influence on my life. When JR moved back to North Carolina, I took his place and the group became the Pied Pumkin. JR also built a dulcimer for Joni Mitchell. Who knows how many a tune may have come from instruments of his making? I and many have much to be grateful for and send our thanks and care to him who rests in a hospital awaiting his time of passage.

Here is a road tale by Rick Scott from that encounter.
MEETING JONI MITCHELL — by Rick Scott

"In 1971, I was hitchhiking with my wife Sue, my friend JR Stone and my dog Mousse up the Sechelt (Sunshine) Coast of British Columbia. It was tough for three hippies with a dog to catch a ride, but after about half an hour a woman driving a beat up Ford Pinto pulled over. Big and shaggy, Mousse immediately climbed into the front seat and laid his head down in the driver's lap. JR slid in next to him, Sue and I got in the back and we headed off down the road.

The woman was patting Mousse's head and complimenting us on what a nice dog he was. She asked us how far we were going... about 30 kilometers to Pender Harbour. Between her question and our ability to answer, there was a group realization that the driver was Joni Mitchell. Each of us took turns trying to articulate the name of our destination, but all that came out was stammering. When we finally managed to tell her, she said she could take us almost all the way but she had to stop off at Lord Jim's Lodge to pick up a friend. She said they might go to the pub and if we were still hitchhiking when they came out they would give us a ride the rest of the way. I think we just sat there staring at Joni Mitchell stroking Mousse's head. I was fantasizing that in the next life I might be lucky enough to come back as a dog.

When we got to the turnoff she pulled over and as we were getting out she noticed my instrument case and asked what it was. When I told her it was a dulcimer she said, "Way out, can I see it?" The next thing I knew she was examining my dulcimer with great interest. JR Stone is a soft spoken North Carolina mountain man of few words, so I volunteered the information that he had built my instrument. She beamed at him and examined the dulcimer even more closely. After a few minutes she asked if he would build her one. With a great deal of difficulty he finally managed to answer. "Sure."

As Joni left us, she renewed her offer to take us further later and asked JR where she could find him. We told her where we would be for the weekend. We couldn't believe what had happened and didn't think we'd ever see her again. Nonetheless, we stopped hitchhiking and just stood by the road. An hour later she came back down the road with her friend in the passenger seat and stopped to pick us up. Paying no mind to the passenger, Mousse jumped onto his lap and settled back down with his head on Joni. We all squeezed in the back and she introduced us to Graham (Nash). She drove us to Pender Harbour and the next day came to visit to discuss dulcimer specifications with JR. I was amazed when she took up my dulcimer, tuned all the strings to the same note and proceeded to play, A Case Of You from her BLUE album. It seems 'less is more' is a very dulcimer thing.

Over the next three weeks JR built her an exquisite mountain dulcimer. But it took him another week to deliver it because he was so shy. She was so delighted she paid him a hundred dollars more than his original quote, which I think was $300. Over 20 years later, in 1996, I was reading a Rolling Stone article about Joni and in the accompanying photograph there she was with JR's dulcimer hanging on the wall behind her. I must admit I felt a twinge of jealousy that JR got in Rolling Stone before I did. JR Stone still lives and builds amazing instruments in Boone, North Carolina. He has built me several four string dulcimers and a 6 string and bass dulcimer as well.
_____________
Singer-songwriter Rick Scott is one of Canada's best known dulcimer players. He's developed his own unique style of playing dulcimer and has released 10 albums. Rick performs concerts for all ages around the world.