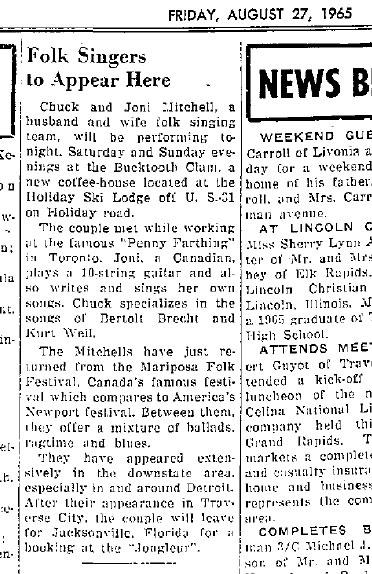 Chuck and Joni Mitchell, a husband and wife folk singing team, will be performing tonight, Saturday and Sunday evenings at the Bucktooth Clam, a new coffee-house located at the Holiday Ski Lodge off U.S. 31 on Holiday road.

The couple met while working at the famous Penny Farthing in Toronto. Joni, a Canadian, plays a 10-string guitar and also writes and sings her own songs. Chuck specializes in the songs of Bertolt Brecht and Kurt Weill.

The Mitchells have just returned from the Mariposa Folk Festival, Canada's famous festival which compares to America's Newport festival. Between them, they offer a mixture of ballads, ragtime and blues.

They have appeared extensively in the downstate area, especially in and around Detroit. After their appearance in Traverse City, the couple will leave for Jacksonville, Florida for a booking at the Jongleur.