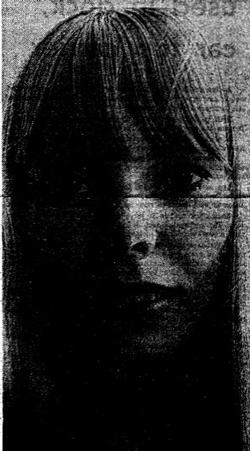 COURT AND SPARK, Joni Mitchell. Asylum Records, 7E-1001.

Love came to my door — love frequents the door of Joni Mitchell, love mixed with loneliness, freedom, dreams and realities.

Everything about Joni Mitchell is plural, especially her love and COURT AND SPARK, the title of her new album speaks of love, all happy and sad expressed in beautiful and often painful phrases.

The album contains 11 compositions, 10 of which are her own, each one telling a little more of Joni, yet creating more secrets with their depth and honesty.

Phrases of beauty, she creates poetry with her voice and words. Her words speak of love and life and the mysteries of her yesterdays and tomorrow, which continue to fascinate her followers. She speaks of herself, but still leaves something for every man to relate to.

Court And Spark, the first song on side one is perhaps the finest song on the album. Man looks for woman to court and spark, the result always remaining a love left unfinished, incomplete. This song is the perfect introduction to an album of reflection, yet terribly penetrating.

Help Me holds the underlying theme. "We love our lovin' but not like we love our freedom." And so COURT AND SPARK takes the floating voice of Joni Mitchell to a visit with a Free Man In Paris, spying at People's Parties, and again more words of love with the soft and gentle The Same Situation.

Side two has a little more bounce with her current single hit Raised On Robbery. A touch of humor, almost cynical, is added with a strange song Twisted, revealing a conversation with her analyst ending with: "And you know two heads are better than one."

Car On A Hill, Down To You and Just Like This Train slip back into lovers and friends, while Trouble Child speaks of loneliness.

Every song portrays Joni's incredible ability to be bitingly honest, often forcing the listener to hear her words more than her music.

An earthiness, constantly evident in her work, is backed by rather dreamy music.

Her own flighty piano backing, along with the chimes, percussion, drums, woodwinds and reeds of back-up musicians provide the album with an easy listening quality.