TORONTO -- Her lower lip dropping at times, her eyes fixed on the stage, Canadian songstress Joni Mitchell smiled, giggled and swayed to the music Sunday as she was serenaded and praised by famous friends including James Taylor, Herbie Hancock, Chaka Khan and Margaret Atwood.

The legendary musician accepted a trophy from the Canadian Songwriters' Hall of Fame with humour and warmth at a glitzy gala, laughing and wondering aloud what she should say as she took the stage in front of a standing ovation.

Her first song was written at about age 21, Mitchell recalled, "and as you know, I wrote a lot of them," she said to laughter.

"A lot of them are quite orthodox," continued Mitchell, draped in a flowing olive and mauve outfit.

"You know, I'm told that I'm really born with a scientific bent more than a creative (bent), I need to explore and discover and so that has given me, really, to some what seems like courage but really it's just in my stars, there's nothing I can do about it."

Earlier, Hancock described Mitchell's music as vital, and her songwriting "a map to the human heart."

"Joni had vision so far out on music's horizon that she would never stay in one place with one sound," said Hancock, a jazz innovator who collaborated with Mitchell on the 1979 album "Mingus."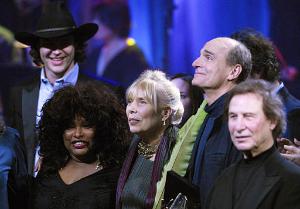 Joni Mitchell (centre) stands with James Taylor (second right) and Chaka Khan (lower left) after being inducted to the Canadian Songwriters Hall of Fame Gala in Toronto. (CP / Aaron Harris)
"The word that comes to me when I think of Joni is: unbridled. And her career is a story of freedom of expression."
Earlier, Hancock and Khan wowed the audience with a jazzy version of Mitchell's hit "Help Me," while Taylor performed her song "Woodstock."
"Joni, you've been a dear friend and a great wellspring of inspiration musically to me throughout these years," Taylor said before his acoustic performance. "I love you."
The star-filled event also featured jazz crooner Michael Buble, country singer Corb Lund, singer-songwriter Jim Cuddy and soprano Measha Brueggergosman as among those gathered to celebrate the careers of Canada's finest songwriters.
Classic songs inducted at the ceremony include David Clayton-Thomas' "Spinning Wheel," Ralph Freed and Burton Lane's "How About You" and Sylvia Tyson's "You Were On My Mind," recorded with her then-husband Ian Tyson.
Before the gala, Mitchell offered up an impromptu performance backstage when she was presented with an acoustic guitar custom-made just for her. The music legend cradled the spruce instrument in her hands and caressed the strings.
"The intonation is fantastic," Mitchell said grinning, a chunky gold necklace around her neck gleaming. "This is a pretty slack tuning - it's pretty good, thank you."
Looking relaxed and at ease as a clutch of photographers swarmed her, the notoriously reclusive artist chatted casually about the gift presented to her by Quebec cousins and luthiers Robin and Claude Boucher, of Berthier-Sur-Mer, Que.
Country pioneer Wilf Carter, Broadway lyricist Raymond B. Egan and Montreal chanteur Jean-Pierre Ferland were also inducted into the hall of fame.
Ferland, who was also presented with a custom-made guitar by Boucher Guitar, was recognized in performances by francophone stars Isabelle Boulay, Laurence Jalbert and Mario Pelchat. French star Patrick Bruel sent in a videotaped address from Paris.
Ferland said he was happy to accept the honour.
"Music has no law, music has no religion, music has no politics," Ferland said in a bilingual address that was met by a standing ovation. "And no solitude. Music is just a noise, a wonderful noise, and I'm proud to be a part of it."
Mitchell, an accomplished singer, painter, poet and photographer, has won over audiences with versatile forays into folk, pop, rock and jazz circles.
Her songs, known for its musical complexity and astute lyrics, have been covered by thousands of artists, including Judy Collins, Fairport Convention, Crosby, Stills, Nash and Young, Aimee Mann and Sarah McLachlan.
"She has opened so many hearts, not just the hearts of the public, the hearts of the artists," said Hancock, noting Mitchell is also an accomplished painter and poet.
"She's like the best of what a human being has to offer . . . She's a hero of mine. A real hero."
The concert will be broadcast on CBC radio on Monday and on CBC-TV in March.