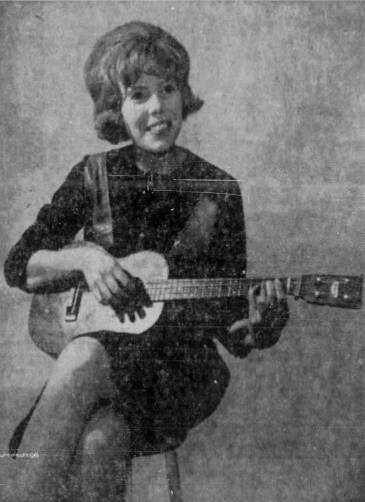 Joni Anderson has an enviable problem -- she has two fine talents and only enough time to devote to one.
As a first-year student at the Southern Alberta Institute of Technology she possesses a natural affinity for the field of visual art.
As a folk singer she has become an overnight favorite with audiences from a radio-sponsored hootenanny to the Depression coffee house.
But Joni knows that the part-time pursuit of both of these talents will result in her doing justice to neither.
Born in Fort Macleod, Joni moved while still an infant, with her parents to Saskatchewan. In school she showed a strong talent for drawing, as well as some aptitude for singing, mainly in the school choir.
Her drawing ability eventually led her to spend her spare time as resident artist at the Louis Riel coffee house in Saskatoon, and it was there, while listening to the beginnings of the folk music boom, she discovered her love for folk singing. From the first, Joni says, she "had it really bad."
Joni's first public performance was on Prince Albert's CKBI-TV, a show which went down so well the station rapidly booked her for a half-hour radio show with further appearances whenever she was available.
And so, with this success to her credit, Joni plucked up enough courage to take the live stage at the Louis Riel -- at first with some of the groups and finally as a solo turn, the way she now prefers to sing.
At home, however, her talent produced no excitement and when she announced her intention of buying herself an accompanying instrument the only reaction was her mother's: "Who do you think you are, Kitty Wells?"
But the dedication and devotion with which Joni approaches both music and art was already apparent. She bought a ukulele and began practising in earnest.
Her regular appearances at the Louis Riel and elsewhere quickly spread her popularity to the rest of the province, and she began to expand her repertoire of songs. Here again Joni added to her reputation by insisting upon accuracy of both words and music in keeping with the high standards set by true folk music adherents.
In spite of her success on the air and on stage, however, Joni decided it was time to try her hand at the visual arts as a possible career and so returned to Alberta to enroll in the four-year arts course at the Tech.
But once again fate, in the form of a coffee house, took a hand in her affairs with the opening in Calgary last summer of the Depression.
Never one to sit long with the spectators, Joni soon found herself on stage and once again the audience's favorite. College, hotel and hootenanny appearances again confirmed her popularity and she began to seriously consider folk music as a career.
To her confusion Joni's instructor at the Tech urged her to give up singing and devote herself to art at which he suggested, she could be very successful.
There, she says, lies her problem. While she has never had to make a living singing, neither has she as an artist. While audiences assure her that she has considerable talent as an entertainer her instructor feels sure she can make a success drawing and painting.
Attractive, unattached and blessed with two talents, Joni Anderson is now struggling with a choice that few 20-year-olds have to make.
Whatever she decides, you have not heard the last of her.