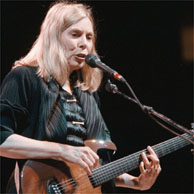 VANCOUVER (CP) - They hooked them young and it appears they snagged them for life. The staying power of Bob Dylan, Joni Mitchell and Van Morrison was evident Thursday as baby boomers predominated a sold-out concert crowd.

Many at the 4-hour show appeared to be on the far side of 40, meaning most likely first heard the music legends in their teens.

It's tough to keep things fresh after all those years but Dylan, Morrison and Mitchell managed fine in Vancouver, the only Canadian stop on the triple bill's seven-date tour.

"We've got the bucks in our pockets and we've been through the trials and tribulations," said Vancouver's Hemme Luttjeboer.

He said he noticed much of the crowd was like him: 40s, settled down but still searching for that sense of freedom he enjoyed years ago.

Not all the fans were relics from the '60s, though.

"I've been a fan of Bob Dylan since I was seven years old," said Victoria resident Omar Kudra, 28, who travelled to Vancouver for the show.

Dylan, Morrison and Mitchell took the audience on a diverse musical journey that was at times sentimental and challenging.

Morrison opened the concert with a tight soul-and-blues-tinged performance that managed to transform the cavernous GM Place hockey arena into an intimate sidewalk cafe setting.

It was like having an excellent set of musicians turn up at a summer barbecue to keep the party rolling. Morrison had the house rocking to favorites like Washing Windows and Tupelo Honey.

Canadian Mitchell, who rose to fame as the prototype '60s flower child, took the audience far beyond Woodstock with a almost jazz-like performance. She stuck to her most recent material but Mitchell had the audience up and dancing when she concluded her set with Big Yellow Taxi, a hit from her folksinger days.

Dylan, wearing white shoes and standing knock-kneed, received standing ovation after standing ovation. He delved deep into his songbook - Mr. Tamborine Man and Highway 61 - to keep the ovations coming.

Dylan and his band were extremely tight, delivering polished and extended versions of Tangled Up in Blue and Stuck Inside of Mobile with the Memphis Blues Again.

Dylan, who warmed up for Thursday's show with a performance at a Vancouver nightclub Wednesday, only played one song - Love Sick - from his Grammy Award winning album Time Out of Mind.