Biography: 1990-1995 Return to Roots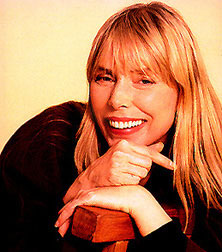 Photo by Stephen Danelian
You look so youthful
Time has been untruthful
Heaven knows I loved you
30 years ago
Hot days your shirt's undone
Rainy days you run
Oh and then you fade so fast
Below my window
No one knows I'm here
One day I just disappeared
And I took these two grey rooms up here
With a view
Only when you walk by
Below my window...
Throughout the first half of 1990 Joni and Larry recorded and worked on the songs that would appear on her next album. The sound was stripped-down and more acoustic in execution than the heavily produced tracks done in the 1980's.
Joni spoke about a song she'd written called "Two Grey Rooms" : "I had a piano piece that I recorded in 1982. No melody to it at that point and certainly no lyrics - just chord changes. After we tracked it, I was in "heart" mode and I overdubbed a beautiful wordless melody on top of it. I called it "Speechless." Seven years later, I finally found a story to set to the fledgling melody. (It was) about a fellow who was part of Fassbinder's scene, homosexual, aristocrat, German who had had a lover in his youth that he never got over and now in his 40's he discovered the route by which this guy went to work. So he moved into these crummy rooms overlooking the street for the sole pleasure of seeing the man walk by in the morning and walk back in the evening."
In the spring, Joni received an invitation from Roger Waters to participate in "The Wall".
When Joni and Larry went back to California, they finished up the basic tracks for the next album, then travelled by car to Joni's birthplace in Fort McCloud, Alberta, continuing up thru the towns she'd grown up in, they made frequent stops and took some wonderful strobe pictures of Joni, the landscape, and the barns and railroad stations of her youth.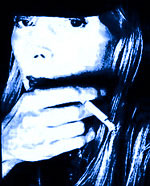 Photo by Stephen Danelian
"I love the man beside me
We love the open road
No phones till Friday
Far from the undertow
Far from the overload
Once in awhile
In a big blue moon
There comes a night like this
Like some surrealist
Invented this 4th of July
Night Ride Home...
On October 17, 1990 the L.A. Theater Center began previews of a revue type show that featured 5 singers (3 women and 2 men) performing the songs of Joni Mitchell with a five piece band. The most well known of the singers was 2 time Tony winner Hinton Battle.
Calling itself "The Joni Mitchell Project" the Jacques Brel style show was directed by David Schweizer and played for three months at L.A.T.C. Joni's then manager Barry Krost was a member of the Theater Center board of trustees.
A few days after the official opening on November 1, 1990, Joni herself showed up for the show and was persuaded to sing a new song.
Joni told Musician magazine about her visit to LATC: "I went to hear the Joni Mitchell Project, this revue that did some of my songs. They called me up and I did "Cherokee Louise" a capella, dancing to keep the groove. I'm coming up on the rape scene and I'm, like, highly mirthful. But it came off because people get feelings from it. Every time you sing it you don't relive it."
The Joni Mitchell Project played for three months in Los Angeles. It was scheduled to open in the fall of 1991 at the Berkeley Repertory Theater in NYC, but I don't believe it ever made it.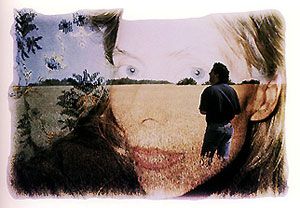 Photo by Joni Mitchell
Entertainment celebrities like k.d. lang had made it hip to do GAP ads but it was still a big surprise to me when early one morning in late 1990 I saw Joni's ten foot tall picture in a glass case at a San Francisco subway station.
On December 10, 1990 Joni appeared at the Billboard Music Awards and presented the award for #1 World Single to Sinead O'Conner for her smash hit version of Prince's "Nothing Compares 2 U."
Joni and Larry delivered the final mixes for the new album to Geffen just before Christmas, after trying nearly a hundred different sequences for the songs.
She talked to the New York Times about her new collection: "My last few albums have been more symphonic and musically expansive...This album is more intimate : the voice is forward and the acoustic guitar is the main instrument."
Joni and Larry went to an Eric Anderson concert at McCabes Guitar Shop in Santa Monica in early 1991. Eric called Joni on stage and she sang her back-up vocal for his song "Blue River." The positive audience reaction encouraged Joni to stay and play 2 songs - "Cherokee Louise" and "How Do You Stop."
Early in 1991 Joni had an exhibition of her paintings traveling around Europe.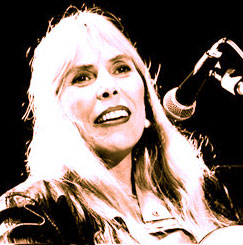 Photo by Sherry Rayn Barnett
In February Joni visited Canada again to do promotion for the upcoming album and she guested on Murray McLauchlan's radio show "Swinging On A Star" (or as Joni jokingly referred to it, "Swinging AT a Star"). Joni and Murray met as teens; Joni remarked that her mom has a drawing on her wall that Murray gave her back in the early 1960's. With an audience consisting solely of Joni's parents and a friend, Murray sang his version of "Woodstock" to open the show. With Larry joining her onstage, Joni then performed "Cherokee Louise," "Night Ride Home," and "Hejira." She also noodled around on the piano singing a rather strange version of Dylan's "It's All Over Now, Baby Blue," using chords that she later melded to the song "Not To Blame." As a closer, Murray and Joni sang "The Circle Game" with Murray's band. The two traded verses and Joni sang a lovely and cool harmony vocal over Murray's choruses.
The album "Night Ride Home" was released by Geffen Records on March 5, 1991.
Also released were 15, 000 special packages of the new album - an all paper and string-tied edition that included 4 of Joni's double exposure photographs.
In the U.S. it premiered on Billboard's Top Album charts on March 23 at #68, moving up to #48 in it's second week, and peaking at #41 in it's 6th week. In the U.K. the new album premiered at #25 on the album charts for the week ending March 9, 1991.
Joni told the Boston Globe about the sound and mood of her new album. She said "The album is mainly variations on the key of C, a lot of C major...major chords are happy, positive chords. It's a very sunny modality, this album, and friendly."
Wayne Shorter, Jim Keltner, David Baerwald, Brenda Russell, and Karen Peris from The Innocence Mission all guested on the new tracks along with Bill Dillon, Alex Acuna, Vinnie Colaiuta, and Michael Landau. Joni is credited with playing the oboe on the track "The Only Joy In Town" but in reality in was an oboe sound from her FAIRLIGHT synthesizer. But I guess an oboe sound is an oboe sound, eh?
Joni told Murray McLaughlin at her "Swinging On A Star" radio appearance: "We got a cricket on the track (Night Ride Home) when we recorded it. He flew into the studio behind the curtain when the door opened. He flew right into the studio like a lucky thing. So we DAT'd him! Stuck him in the FAIRLIGHT and gave him the downbeat." (And she bursts into delighted laughter).
On April 4, ABC-TV's "Good Morning America" aired a short but sweet interview with Joni, and on the 12th, cable network A&E featured a lengthier interview. On the 28th, music channel VH-1 aired a "VH-1 to 1" special called "NIGHT RIDE HOME" that was a full half hour of interview, video bits, and teasingly short peeks of Joni playing the instrumental part of "Cherokee Louise." The special also featured a display of quite a few of her paintings from various eras, and many shots of the double exposure photographs that she and Klein had taken in Canada in 1990.
"I am not some stone commission
Like some statue in a park
I am flesh and blood and vision
I am howling in the dark
Long blue shadows of the jackals
Are falling on a pay phone by the road
Oh all we ever wanted
Was to come in from the cold...
VH-1 also added Joni's video for the first single "Come In From The Cold" as a "VH-1 To Watch" selection during the second week of April.
NIGHT RIDE HOME received almost universally glowing reviews. "Entertainment Weekly" gave it a solid "A", "New York Times" writer Stephen Holden (a longtime Joni supporter) called it "...a kind of retrospective...closer in spirit to her 70's albums than anything else she has released in more than a decade." Nick Coleman in "Time Out" said that this is Joni's "...most coherent and involving album since The Great Days." Reviewer Lori Senger said "The Joni Mitchell found on NIGHT RIDE HOME is an older, reflective woman, one appreciative of the easier things in life while remaining astutely aware of it's sometime hidden difficulties." And Tower Records "Pulse" said "Longtime fans who were impatient with the sometimes overly ambitious production and arrangements on albums like Chalk Mark will dig this." In fact, the only negative review I remember seeing was a typically snippy one in the self-consciously hip rag "Details".
A cover story in "CD Review" magazine for July featured Joni and other 60's survivors such as Carlos Santana.
A new awards show called the "Rock Awards" was aired on ABC-TV in June, and the winner of the Media Event of the Year award was "Roger Water's The Wall : Live in Berlin."
In July, Clannad and Paul Young released a cover of "Both Sides Now" that was featured as the bookend song in the gender-flip film "Switch."
In August, a super concert called "Guitar Legends" was announced to be held in Seville, Spain from October 15-19. Though she was announced as one of the performers, for unknown reasons Joni withdrew from the shows the month before the concert took place.
Also in August, Geffen began offering a free longform video called "Joni Mitchell : The Original Returns" with a movie rental at combo video-audio stores. A half hour in length, it featured Joni's "Come In From The Cold" video and the interview that aired on VH-1 back in April in a slightly rearranged format. Robin Rothman from Geffen said "Since Joni isn't touring, this is another avenue to promote the new release." Joni told Billboard "It would be a logical time to tour...but unfortunately things have conspired...(so) I'm gonna do videos."
On October 2, 1991, Joni joined the revelers at Sting's birthday party held at A & M Studios in L.A. It's been rumoured that she cut quite the rug.
In October, Joni released a collection of videos called "Come In From The Cold". The box reads "Available for the first time on home video: the best-loved videos from NIGHT RIDE HOME, plus three never-before-released selections from a previous album and personal comments interspersed with her fine art photography." The 8 videos are :
1.Come In From The Cold
2.Dancin' Clown
3.The Beat Of Black Wings
4.Nothing Can Be Done
5.Two Grey Rooms
6.Night Ride Home
7.Lakota
8.Passion Play (When All The Slaves Are Free)
In November, "Rolling Stone" magazine voted HEJIRA one of the 100 Best Album Covers, and Joni was quoted in the booklet for Aerosmith's 3 CD boxset "Pandoras Box". She said "Aerosmith is the kind of band that reminds me what I loved about rock 'n' roll in the first place."
In the "Billboard" year-end charts for 1991, Joni was #21 Top Album Artist- Female, and the video for "Roger Water's The Wall : Live In Berlin" was #12 Top Music Video.
The February 1992 issue of "Musician" magazine had a page long interview with Joni on her guitar tunings.
On February 19, 1992 the Pro Set L.A. Music Awards chose NIGHT RIDE HOME as Best AOR album. That's Adult Oriented Rock, I think.
Liz Taylor held a gala party at Disneyland for her 60th birthday and Joni was one of many many guests on the night of February 27.
In May's "Musician" magazine, Joni was one of the rockers quoted in an article called "Drugs and Booze and Creativity (Candid Conversations about Musical Inspiration)" Musicians discussing the effects of drugs on their creative lives were Bonnie Raitt, Eric Clapton, Keith Richards, and others. Joni said: "Out of desperation, when you have no inspiration, (you may try) to stimulate it with the addition of something artificial. But...the road is too dangerous, it can burn you out, and kill your talent."
Also in May, Rhino Records released a 3 volume CD set called "Troubadours of the Folk Era." Joni's original version of 'Both Sides Now" is on volume 2.
In the summer of 1992 Joni joined an audience of other Hollywood musicians and showbiz folks at a benefit concert for singer-songwriter Victoria Williams who had been diagnosed with multiple sclerosis. The event was held at the L.A. Whiskey with headline performers like Maria McKee, T-Bone Burnett, and Michael Penn.
In September, Bill Clinton won the Democratic presidential nomination in a race against the incumbent Republican President George Bush. Much was made in the press about the fact that Clinton's teenage daughter Chelsea had been named after the Joni Mitchell song "Chelsea Morning." Clinton stated that it had been Judy Collins version that he'd heard while in England as a youth. When some early reports stated that "Chelsea Morning" was a Judy Collins song, a flurry of articles followed about how the song was Joni's but the version was Judy's.
In the TV Guide listings for the morning of October 5, 1992 Joni was listed as a guest on Good Morning America to discuss her new book "Both Sides Now" (?!?!?) There was no such appearance and GMA later claimed that they never told TV Guide that information. Well, there was a book named 'Both Sides Now" out that month and it was a children's book - an illustrated representation of the lyrics to the song. Joni did not have anything to do with it's production however.
The October 15th isssue of Rolling Stone was a special issue entitled "The Interviews" and it ran an edited copy of Joni's interview from last May. Only two issues later, RS had another special issue entitled "Portraits" which had a stupendous photograph by Herb Ritts of Joni leaning against a tree with her hair pulled back and throat bared, barefoot and pregnant with thought.
In December a Canadian issued tribute album was released. It was called "Back to the Garden : A Tribute to Joni Mitchell"
>
"I am up a sycamore
Looking through the leaves
A sinner of some position
Who in the world can this heart healer be
This magical physician...

The end of 1992 also saw two reissues of Joni Mitchell albums on gold disc. First was the DCC Compact Classics release of COURT AND SPARK. Mobile Fidelity then issued an original master recording of WILD THINGS RUN FAST. Both had improved sound, of course, but "C&S" was particularly gorgeous and a big improvement over the mix done in the early days of CD mastering in the early 1980's.
Also released late in 1992 was singer-songwriter Shawn Colvin's album FAT CITY produced by Larry Klein. This album is noteworthy here as it was mostly recorded in The Kiva, a studio in Joni and Larry's Bel Air house -the same studio where Joni recorded her albums. I really love Shawn's music and I think her upcoming album A FEW SMALL REPAIRS is a pop masterpiece. It's my favorite album of the year as of the time I'm writing this in September 1996. I also enjoy FAT CITY, but even though Joni did no background vocals on the album (only handclaps and a deep smokey laugh on one song), it sounds like she's everywhere. Imitation is the most sincere sort of flattery, I guess. Shawn's generous wit was evident when she thanked Joni in the liner notes by saying "To Joni Mitchell - me wimp, you master."
With the inauguration of Bill Clinton as the new president in January 1993, more articles appeared about how Chelsea got her name. This time even "The New York Times" got into the act with a full column on the story, with Joni's picture at the top of the column and Judy's at the bottom.
Also in January, Graham Nash held an exhibition of his Nash Edition prints at Photo L.A. 93 which benefitted the L.A. County Museum of Art. Joni was one of the attendees at the show and a sponsor.
In April of 1993, David Crosby released his first new solo album in years called THOUSAND ROADS. It contained his version of a song that he'd co-written with Joni. The song was "Yvette in English." Much more information about this collaboration came out after Joni's version appeared on her 1994 album. (See Part 2).
In May there were incorrect reports that Joni was recording an album of Bob Dylan covers. The artist that was planning this and did it was instead Judy Collins. Jeez! Aren't people clear on the concept of who's Joni, who's Judy, and who's Joan yet?
Also in May Joni won her case in the California Court of Appeal in Mitchell Vs. State Board of Equalization. A panel of judges from the 2nd District California Court of Appeal decided that Joni's pre-1975 recording contracts were for personal services and not for the sale of master recordings. Because of this difference, she could not be forced to pay state sales tax. This decision brought Joni a refund of the tax she'd paid plus interest for a total check of $566,000.00.
Also in May, amazing news! Joni was announced as the headliner act on the first night of the two day "Troubadours of Folk Festival" to be held the first weekend of June at U.C.L.A.'s Drake Stadium. This was the first time in ten years that she'd accepted a gig that was lengthier than a 2 or 3 song guest spot.
"The Spanish steps are crowded
Bunch of bodies brooding there
Dead pan side-walk vendors
Hustling vacant stares
Making all the more exceptional
This fool in a flower crown
On the first day of Spring
I'm looking at the only joy in town...

Joni had just finished recording the tracks for her next album TURBULENT INDIGO when she did the "Troubadours of Folk Fest."
Joni said a few years later that she and Larry broke up on the day they started recording the album. Joni talked to "Mojo" magazine and said "...there were things about living with "Joni Mitchell" - not with me - that pinched on his life in a certain way that made me think he needed a break. Our separation, I think, was wholesome - painful and occasionally a little mean, but never nasty or ugly."
The reviews of the "Troubadours" show were few but those that did appear were all enthusiastic about Joni's return to the live stage. "Musician" magazine had a particularly encouraging write-up that alluded to some of her nervous mis-steps in playing during the show but still praised her performance.
The concert in L.A. was successful enough to make longtime music promoter Jim Rissmiller schedule a series of 6 more shows around the country :
1. Montage Mountain in Scranton, Pennsylvania on August 28th
2. Tanglewood in Lennox, Massachusetts on the 30th
3. Columbia, Maryland on September 3rd
4. Poplar Creek in Chicago, Illinois on the 10th
5. Jones Beach Theater, Wantagh, New York on the 12th
6. Fiddler's Green in Denver, Colorado on the 18th
---
Back to Biography table of contents