Joni Mitchell Finally Comes Across
[Full-page ad for the album "Clouds"]

JONI MITCHELL FINALLY COMES ACROSS

After lo these 14 months - it has happened.

On our part, it's taken blood, sweat, tears, and greed.

Coaxing and cajoling.

Even - yes - chicanery.

But the blonde lady who only recently was subject of a Reprise ad headlined "Joni Mitchell takes forever" has finally, at long last, come across. With ten new songs technically catalogued in our album inventory as CLOUDS (RS 6341). But referred to by Music Lovers Everywhere as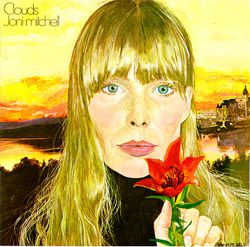 THE NEW JONI MITCHELL
To be foursquare, however, it's not as though Joni has been unfruitful, like just lolling about in Laurel Canyon (where she only sometimes lolls). She HAS been busy. Being the pleasant surprise of last January's Miami Pop Festival. Singing her story of "Nathan La Franeer" from Los Angeles to Montreal. Smiling tearfully through a standing ovation at Carnegie Hall. Making a rare television appearance on the first Johnny Cash show. Giving the following quote to TIME magazine for its April 4 issue:

"If you are sad, then you should feel sad. The French are
good at that. They show what they feel and in that way purge
themselves of it. My next album will be even sadder. It gets
into the pain of the heart."

Ahh, the perfect lead-in to the subject at hand: RS 6341. And its contents.

Over the past 14 months, Joni has, between concerts and lolls, managed to make new songs. Many are included in RS 6341, VIZ "The Gallery," "That Song About the Midway," and "Roses Blue." Plus some of the Joni Mitchells Everyone Knows, like "Chelsea Morning" and "Both Sides, Now." In addition, each and every lyric is printed in its entirety on the inside of a glorious full-color jacket.

And now, they are public. If we had any sense, we'd leave it at that, and end this ad right here.

BUT ONE MORE THING

Joni painted her own portrait for the cover of the album. It's pretty. If you'd like to have a copy to hang where you hang things, a copy without the words on it, just fill out the coupon and get it to us with a quarter. Joni will be with you shortly.

Joni Mitchell's Pretty Picture
Room 208
Warner Bros. Seven Arts Records
Burbank, California 91503

Here's a quarter for that self-portrait,
printed lovingly on expensive paper with
no words on it.

(This offer expires sometime later this year)

CONCLUDING PITCH

Just in case you've been in total seclusion for the last year, CLOUDS is Joni's second album. Her first (known to accounting as RS6293) is called JONI MITCHELL. Pick up either of them. It might make Joni Mitchell come down from Laurel Canyon with her third album. But don't count on it.

Joni Mitchell Records For
Reprise Albums & Tapes
Which Is Where She Belongs.