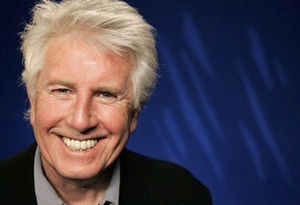 Graham Nash will play the State Theatre on Sunday, Sept. 25. A two-time inductee in the Rock and Roll Hall of Fame for his work with Crosby, Stills and Nash and The Hollies, Nash wrote some of CSN's biggest hits, including "Our House," "Teach Your Children," "Just a Song Before I Go," and "Wasted on the Way." Nash is also a perennial activist, a photograph collector, and a photographer. This year, he released This Path Tonight, his first solo studio album in 14 years, but Nash has hardly been idle. He spoke to the Ithaca Times from Beverly Hills, California, about the creative process, Joni Mitchell, and the time he played "Marrakesh Express" for Johnny Cash and friends ... and what happened next.
Ithaca Times: I've been curious as to what a Graham Nash show would be like, since you're so associated with harmony singing, singing with others.
Graham Nash: My life has changed, and I'm going with it, and I'm havin' a great time. I'm playing with my friend Shane Fontayne, who's an incredible musician of course, and it's basically acoustic, and we're having a fabulous time. We're talking every song that Shane and I wrote for This Path Tonight, this album that he produced for me, and we're having a great time onstage just reducing it to the very essence of the songs we've written, and people are responding incredibly well.
IT: What do you do with down time on the road?
GN: Well, I absorb the news of what's going on, and Shane and I write on the bus. That's what we do, we write. We're musicians. I'm always creating. But don't forget, music is just a part of my life. In my book Eye to Eye, the first portrait is one I took of my mother when I was 11. I collect, and I'm a sculptor and a painter. I have to create every day.
IT: How is Joni Mitchell?
GN: I saw Joni a week ago. She is making remarkable progress. You know, she had a brain aneurysm and was unconscious on her kitchen floor for three days, and that can't be good for anybody. But she has a fantastic team of people, and even though it's slow progress, it's progress every single day.
IT: Please tell me about the night that you and Joni and Johnny Cash and some other people were playing each other new songs.
GN: Oh, yes. That was a nice night. That was when Joni was doing The Johnny Cash Show [on ABC, taped at the Ryman Auditorium in Nashville, Tennessee] in 1969, and I went down with her. And everyone was invited to Johnny and June's house, and halfway through dinner, Johnny steps up, he clinks a glass with a knife to get everyone's attention. And he said, "Here at the Cash house, we have a kind of tradition that people have to sing for their supper. There's a guitar over there. Who's gonna be first?" And nobody moved. And you know why nobody moved? Nobody moved because Bob Dylan and his wife Sara were sitting on the steps right there. Of course nobody f***in' moved. But I had just recorded the first CSN album, screw it, nobody knows who I am. So I got up and sang "Marrakesh Express." And I did a pretty good job of it. I came to the end, and I put my guitar down, people were applauding, I turned around and I walked into a standing lamp that crashed to the ground.
IT: [laughs]
GN: And that kind of broke the ice.
IT: As long as it didn't break you.
GN: No, just the lamp.