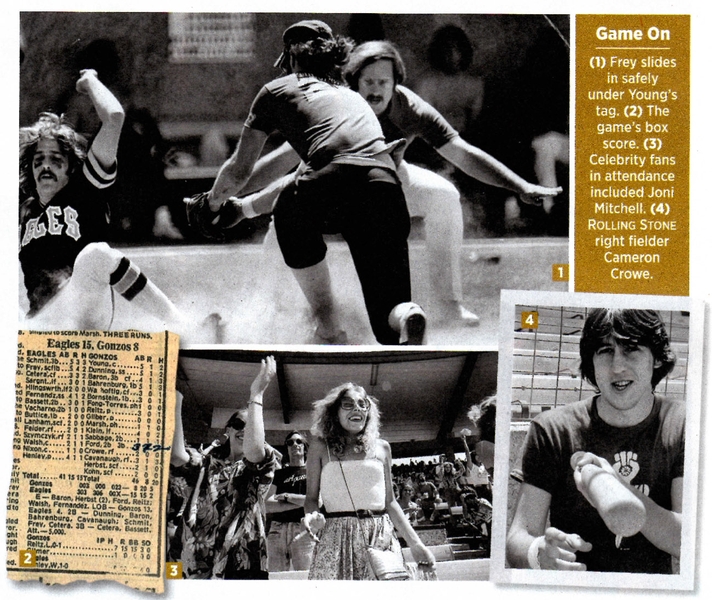 In 1977, a feud erupted between the band and 'Rolling Stone.' It was settled with a grudge-match softball game played in front of a star-packed crowd
IT BEGAN WITH A single sentence in the September 8th, 1977, issue of ROLLING STONE. Tucked into a Random Notes item about Joe Walsh's new solo album was this line by writer Charles M. Young: "The rest of the Eagles, on their first vacation in three years, seem more interested in finding a softball team they can beat - having lost in recent weeks to teams fielded by Andrew Gold, Jimmy Buffett, employees of several San Francisco radio stations and their own road crew."
Singer-guitarist Glenn Frey fired off a response in the magazine. "What you have failed to mention is that the Eagles won two out of three games against Jimmy Buffett," he wrote. "Anytime you pencil-pushing desk jockeys want to put on your spikes, we'll kick your ass, too." The challenge was accepted immediately.
Over the years, the Eagles have had a mostly positive relationship with the magazine. But the band often found itself on the wrong side of the East Coast-based rock-critic establishment, sometimes in ROLLING STONE. ("[The Eagles] flaunt no athletic grace - if anything, they loiter," read a review of a 1977 show.) The game was a chance to settle the score.
It would be played in May 1978 at Dedeaux Field on the campus of the University of Southern California, with the losing team paying $5,000 to UNICEF. ROLLING STONE editor and publisher Jann S. Wenner flew his team - which featured writers and editors like Young, Cameron Crowe and Ben Fong-Torres and was dubbed the Gonzos - in from New York. When they showed up, they found the Eagles had packed the stands with screaming fans and friends such as Chevy Chase, Joni Mitchell and California Gov. Jerry Brown. "I felt like I was walking into the Roman Colosseum," said Young, who died in 2014, "and was about to be eaten by lions."
Tension broke out before the game even began because the Eagles had shown up wearing metal cleats. "Someone might get hurt," Wenner yelled to Eagles manager Irving Azoff. "How exciting," said Azoff, who wore a jersey that read IS JANN WENNER TRAGICALLY HIP? "Do your writers ever think about that?"
The game wasn't much of a contest. The Gonzos managed eight runs off pitcher Don Henley, but the more experienced Eagles won easily, 15-8. "In the end, it was the errors that cost RS the game," Henley and Frey wrote in the magazine a few weeks later. "Their first error was to call the Eagles sissies in Random Notes."
Afterward, the teams made peace at Dan Tana's restaurant. Young would write the definitive Eagles profile the next year. "In spite of how Chuck Young and I may differ in our musical opinions," recalled Frey, who died in 2016, "when the game was over, he said, 'Hey, you guys aren't really sissies.'"