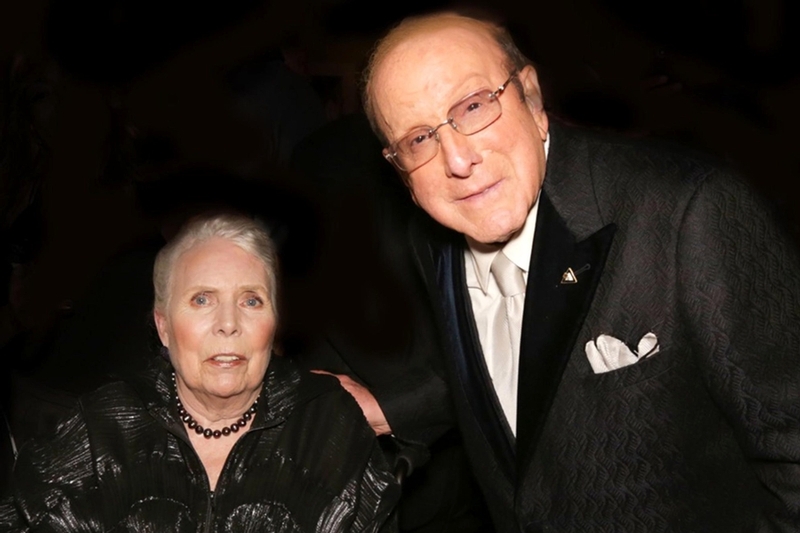 After recovering from a stroke and aneurysm in 2015, Joni Mitchell made a rare public appearance on Saturday at Clive Davis' annual pre-Grammy gala at the Beverly Hilton in Los Angeles. The Grammy-winning singer-songwriter was feted at the star-studded dinner by her industry peers, including Judy Collins, who also performed a tribute to Mitchell.
During his speech, Davis talked about Mitchell's monumental impact on music. "She's one of the most important female recording artists of all time and one of the most influential songwriters of all time," he said. "She really is the quintessential true artist with a creative mind....she communicates not only through her music but through her expressive artwork and photography. She's a member of the Rock and Roll Hall of Fame. She's been presented with the Lifetime Achievement Award by the Academy in 2002. Because she's truly one of a kind, she holds a special place in the heart of everyone in this room. To have her in this ballroom tonight, this has been her favorite night for the last several years, is just so very special to me."
Later, folk icon Judy Collins came out to perform Mitchell's signature tune "Both Sides Now." Collins also reflected on Mitchell's sociopolitical impact - and how her music still resonates in the Trump era. "Joni's music lifted us in the '60s," she said. "And it has and will continue to do so as we continue being active and aware and doing everything we can to bring us back to our senses, and to never let tyrants and bullies anywhere in or out of the government."
Collins' performance and Mitchell's appearance were just two of the highlights that night. As celebrities like Wiz Khalifa, Amber Rose, Diddy, Kris Jenner, Courtney Love, Paris Jackson, and others orbited the room, Grammy-nominated country star Maren Morris, Mary J. Blige, DNCE, and others performed. Chance the Rapper also rocked the room with a tight set. In fact, it was Chance and Blige's set that particularly resonated with Mitchell: On her official website, a statement reads, "She had a good time and was particularly moved by Chance the Rapper and Mary J. Blige's performances."